Valerie's Home Cooking
December 5, 2017 by Jenny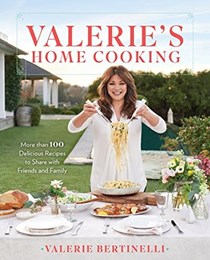 Valerie's Home Cooking: More Than 100 Delicious Recipes to Share with Friends and Family by Valerie Bertinelli is a celebrity cookbook that delivers recipes that present beautifully and taste great.
Rosemary and pepper crackers, Chicken with lemon-wine sauce, and Brown sugar sriracha bacon bites are just a few of the recipes that will become family favorites. Valerie comes from a long line of home cooks and her recipes work. Her Broccoli salad and Ricottta cookies with sour cream glaze are delicious.
This weekend I watched Valerie make her Mom's Christmas Bells and knew those had to be on my baking list this year (they are included in the book and online). The last few years, I haven't been watching many Food Network shows but I do watch Valerie – I've always been a fan. My husband loves Van Halen and always wants to know when Wolfie is on an episode.

Valerie's recipes aren't based on convenience products – much of it is from scratch and all of it is delicious. Roasted asparagus and mushrooms with chile-lemon salt, Bucatini with wilted spinach and lemon mascarpone sauce, and Homemade baked potato tots are other recipes marked to make. Trick techniques and variation tips are shared with certain recipes. The book is organized as follows Rise & Shine; Getting Through the Day; Happy Hour (cocktails included); Around the Table, A Side Note and Finishing Sweet. There is a little something for everyone here. This book is a keeper and I don't keep many celeb titles.
I have to update this review and share the following comment from my friend Rene who posted the following on the promotion thread in The Cookbook Junkies. "My mom, may she Rest In Peace, is giving this cookbook to me for Christmas. She told me before she passed that I was to buy a cookbook every year and put it under the tree to make sure I always get at least one cookbook for Christmas. I knew she would have picked this one!"
Special thanks to Oxmoor House for sharing Valerie's Lobster BLTs with our members today and for providing three copies of this title in our contest below.
Lobster BLTs
Add this recipe to your Bookshelf (click the blue +Bookshelf button).
The first time I ever touched upon this hybrid heaven was when I made these for my good old Louisiana girlfriend, Faith Ford. Faith is one of my favorite people to cook for because she loves and appreciates food. But let's be honest, who wouldn't love and appreciate a creamy lobster roll fused with a crunchy, salty BLT? This sandwich is decadence at its best, which also means it can get pricey and labor-intensive. Here's my time- and wallet-friendly tip: Buy a frozen lobster tail as opposed to buying a whole lobster. It's a lot easier, and by a lot I mean . . . when there's lobster salad, juicy tomato and crispy bacon on the other side, time is of the essence.
Serves 4 Hands-on 20 minutes Total 35 minutes
3 (7-ounce) fresh or frozen, thawed lobster tails
8 bacon slices
1 small shallot, finely chopped
1 tablespoon capers, drained and chopped
1 teaspoon lemon zest, plus 1 tablespoon fresh lemon juice
1⁄3 cup plus 2 tablespoons mayonnaise
½ teaspoon kosher salt
¼ teaspoon black pepper
8 white bread slices, toasted
2 medium tomatoes, sliced
4 green leaf lettuce leaves, torn in half
1. Bring a medium stockpot of water to a boil over high. Add the lobster tails, and boil until the shells are bright red and the lobster is just cooked through, about 7 minutes. Drain and rinse with cold water. Let stand until cool enough to handle. Remove the meat from the shells; coarsely chop.
2. Place the bacon in a large skillet. Cook over medium, turning occasionally, until crisp and browned, 10 to 12 minutes. Transfer the bacon to a plate lined with paper towels.
3. Stir together the shallot, capers, lemon zest, lemon juice, and 1/3 cup of the mayonnaise in a medium bowl. Add the chopped lobster, salt, and pepper, and stir to combine.
4. Spread each of 4 toasted bread slices with a scant 1/4 cup of the lobster salad and top each with 2 bacon slices. Add 2 tomato slices and 2 pieces lettuce. Spread the remaining 2 tablespoons mayonnaise evenly on the remaining 4 bread slices. Cover the sandwiches with bread slices, and serve immediately.
Make Ahead
You can make the lobster salad up to 3 days ahead; store in an airtight container in the fridge.
Trick Technique
Your cooking shears are your best friend when it comes to preparing this salad. Just cut the lobster shells, pull out the meat, and snip it into pieces.
Excerpted from Valerie's Home Cooking by Valerie Bertinelli. Copyright © 2017 Oxmoor House. Reprinted with permission from Time Inc. Books, a division of Time Inc. New York, NY. All rights reserved.
The publisher is offering three copies of this book to EYB Members in the US. One of the entry options is to answer the following question in the comments section of this blog post.
Which recipe in the index would you try first?
Please note that you must be logged into the Rafflecopter contest before posting or your entry won't be counted. For more information on this process, please see our step-by-step help post. Be sure to check your spam filters to receive our email notifications. Prizes can take up to 6 weeks to arrive from the publishers. If you are not already a Member, you can join at no cost. The contest ends at midnight on January 7th, 2017.