Chefs and Company
December 7, 2017 by Jenny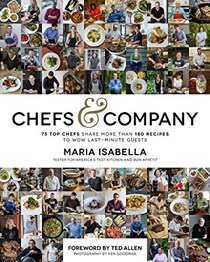 Chefs & Company: 75 Top Chefs Share More Than 180 Recipes to Wow Last-Minute Guests by Maria Isabella is one of my best cookbooks of 2017. There are many factors that contribute to that classification. This beautiful book contains a never-before-assembled collection of recipes that offer a rare and exciting glimpse into the private home kitchens of 75 culinary superstars as they prepare show-stopping meals for their own last-minute guests in an hour or less. The recipes look incredible and the photographs and chef profiles are brilliant.
As I turn each page, I make a mental note to come back to almost every recipe. I gave up on applying post-it notes to recipes that interest me – those supplies would cost a small fortune in this year of magnificant cookbooks. For my last meal I would request: Arugula salad with goat cheese fritters, green apples and pomegranate; Roasted Niman ranch pork chops with black garlic marinade (a pork chop never looked so good) with Roasted coriander carrots and Poppy seed shortcakes with orange blossom cloud cream and blackberries. I'd also have to add the two dishes we are sharing today and go out with a bang. I couldn't decide which recipe I wanted to share so Page Street Publishing allowed us to share both. The pasta is absolutely great and the ribs are on my must make list which is as long as Santa's naughty list this year.
Chef tips, approachable but elegant recipes from major players in the culinary world, measurements in weight and volume and stunning photographs make this book a must have of 2017. In addition to the recipes shared below, the publisher is also offering three copies of this stellar book to our members in the US and Eat Your Books is offering one copy worldwide in our contest below.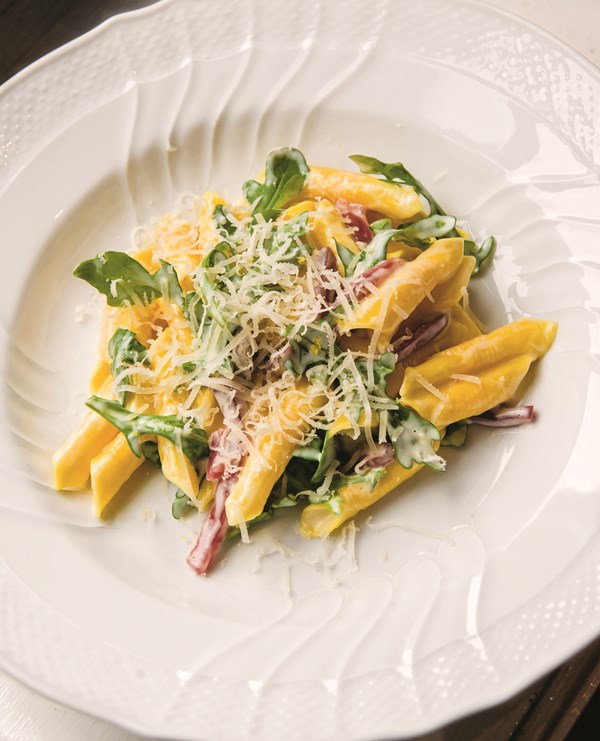 Michael White's Garganelli with Prosciutto, Cream & Arugula
Add this recipe to your Bookshelf (click the blue +Bookshelf button).
Serves 4 as a main course
When you're in a hurry to make a pasta dish for last-minute company, this elegant version makes it look like you slaved all day over it. Yet nothing could be further from the truth. Michael prefers to use garganelli pasta, which he considers to be "the finest of the short fresh pastas because of their textural complexity." Look for them in an Italian market or specialty shop.
Kosher salt
1 cup (151 g) fresh or frozen peas
2 tbsp (28 g) truffle butter (can substitute regular butter), divided
5 oz (140 g) thinly sliced prosciutto, cut into ½-inch (12-mm) wide strips
1½ cups (360 ml) heavy cream
1 lb (450 g) fresh or dried garganelli (can substitute gemelli or penne)
¾ cup (135 g) finely grated Parmigiano-Reggiano cheese, divided
Freshly ground black pepper
1½ cups (45 g) loosely packed arugula, washed, spun dry, and torn or cut into strips
Fill a medium-size pot about two-thirds full of water and salt it liberally. Bring to a boil over high heat. Add the peas and cook just until they start to turn bright green, about 30 seconds. Immediately drain them in a colander and rinse under gently running cold water to stop the cooking and preserve their green color. Set aside.
Fill a large pot about two-thirds full of water and salt it liberally. Bring to a boil over high heat.
Meanwhile, set a large heavy sauté pan over medium-high heat. Add 1 tablespoon (14 g) of the butter and let it melt, tipping and tilting the pan to coat. Add the prosciutto and cook, stirring with a wooden spoon, just to warm it and infuse the butter with its flavor, about 1 minute.
Stir in the cream and bring it to a simmer, then lower the heat and continue simmering gently until it reduces and thickens enough to coat the back of a spoon, about 5 minutes.
When the water comes to a boil, add the pasta and cook until al dente, about 2 minutes for fresh or 7 minutes for dried.
Meanwhile, stir the peas and the remaining 1 tablespoon (14 g) of butter into the sauce, letting the butter melt.
Drain the pasta and add it to the sauté pan. Toss to coat the pasta with the sauce, then stir in ½ cup (90 g) of the cheese until it melts and thickens the sauce.
Divide the pasta among 4 individual plates. Finish with a few grinds of black pepper, a sprinkling of the remaining cheese, and the arugula. Serve promptly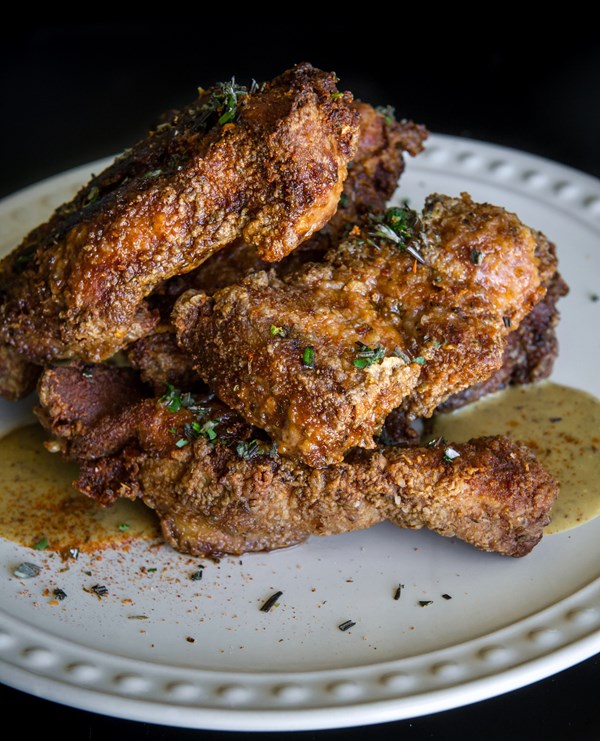 Kenny Gilbert's Fried Western-Style Pork Ribs
Add this recipe to your Bookshelf (click the blue +Bookshelf button).
Serves 4
"My father was from Chicago," explains Kenny. "He took me to Chinatown there when I was a kid, and there was a place that would serve a fried pork chop sandwich between two slices of Wonder bread, topped with smothered peppers and onions with a hot mustard sauce. I remember this was the most delicious combination I ever had. Even now after thirty-plus years, I still remember it." We bet you'll always remember this dish, too!
3 cups (375 g) all-purpose flour
1 cup (112 g) cornstarch
¼ cup (25 g) Chef Kenny's Fried Chicken Seasoning (can substitute Goya Adobo All Purpose Seasoning)
¼ cup (25 g) Chef Kenny's Raging Cajun Spice (can substitute Chef Paul Prudhomme's Blackened Redfish Magic Seasoning)
4 (4-oz [112-g]) western-style-not country-pork ribs (pork shoulder or Boston butt roast, cut into 2-inch [5-cm] thick strips)
2 cups (460 g) lard
2 cups (410 g) Crisco all-vegetable shortening
Salt, to taste
Freshly ground black pepper, to taste
Place the flour, cornstarch, and chicken seasoning in a bowl. Whisk together well.
Massage the Cajun spice into the ribs, then dredge the ribs in the flour mixture. Place on a baking sheet and allow to sit for 10 minutes. Dredge the ribs again in the flour mixture and set aside.
Place the lard and Crisco in a deep 12- to 14-inch (30- to 36-cm) cast-iron skillet over medium to medium-high heat. When hot, add the ribs and fry, rotating every 2 to 3 minutes, until fully cooked, about 9 to 10 minutes. The internal temperature should reach 155°F to 165°F (68°C to 74°C). If necessary, cook ribs two at a time.
Remove the ribs to a platter with tongs and season lightly with salt and pepper.
Recipes excerpted from Chefs & Company by Maria Isabella, Page Street Publishing Co. 2017. Photo credit: Ken Goodman.
The publisher is offering three copies of this book to EYB Members in the US and EYB is sponsoring one copy worldwide. One of the entry options is to answer the following question in the comments section of this blog post.
Which recipe in the index would you try first?
Please note that you must be logged into the Rafflecopter contest before posting or your entry won't be counted. For more information on this process, please see our step-by-step help post. Be sure to check your spam filters to receive our email notifications. Prizes can take up to 6 weeks to arrive from the publishers. If you are not already a Member, you can join at no cost. The contest ends at midnight on January 17th, 2018.