Breakfast Bowls by Caroline Griffiths
February 12, 2017 by Jenny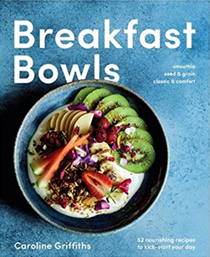 Breakfast Bowls: 52 Nourishing Recipes to Kick-Start Your Day by Caroline Griffiths shares 52 recipes guaranteed to rev up your morning or any time of day. I see no reason why any of these delicious recipes couldn't make a wonderful lunch or dinner as well.
Each recipe has a full page photo to accompany it and with fun offerings such as a Choc-gingerbread Chia Pudding Bowl or a Summer Stone Fruit Smoothie Bowl getting out the door with a nutritious breakfast has never been easier. Bowls such as the Creamy Middle Eastern Rice Bowl and Chicken Congee would be perfect for a soul-warming dinner or hearty lunch.
The book is nicely organized by type of bowl: Smoothie, Seed & Grain, Classic or Comfort Bowls on the inside flap so the reader can head to the recipe they would like to make quickly. Dietary definitions are set out delienating vegan, gluten-free and more along with suggestions to make a dish dairy free or vegan free with substitutions.

Try a new bowl recipe a week for a year's worth of goodness. Start here with two tempting bowls to try. Special thanks to Smith Street Books for sharing these recipes with our readers. Be sure to head over to our contest page which is open for US, UK and Australian members.
Ginger & turmeric rice bowl with crispy egg & kimchi
Makes 4

The rice can be cooked the day before and stored in an airtight container in the refrigerator (or use leftovers from last night's dinner). Gently break it up with your hands before cooking. The crispy rice makes this breakfast bowl extra delicious – I find my large cast iron frying pan gives me the best result.

200 g (7 oz/1 cup) basmati rice, rinsed
60 ml (2 fl oz/ ¼ cup) peanut oil
4 spring onions (scallions), chopped
1 tablespoon sesame seeds
1 teaspoon finely grated fresh ginger
1 garlic clove, very finely sliced
1 teaspoon ground turmeric
4 free-range eggs
1 bunch broccolini, trimmed

To serve

kimchi
shredded spring onion
roasted black sesame
seeds
sesame oil
tamari or soy sauce

Add the rice to a large saucepan with 375 ml (12. fl oz/1 1/2 cups) water. Bring to the boil, cover with a tight-fitting lid and reduce the heat to low. Cook for 10 minutes and then turn off the heat. Without lifting the lid, set the saucepan aside for 10 minutes to rest. Spread the rice over a large tray to cool slightly.
Heat 2 tablespoons of the oil in a large heavy-based frying pan (cast iron if you have one) or wok over medium heat. Add the spring onion, sesame seeds, ginger, garlic and half of the turmeric and cook, stirring, for about 1 minute or until fragrant. Add the rice and stir-fry until heated through, about 2 minutes. Season with salt. Increase the heat to medium-high and let the rice cook, undisturbed, for a further 3-4 minutes so that a crunchy crust forms on the bottom. Be careful that it doesn't burn – turn the heat down a little if necessary.

Meanwhile, heat the remaining oil in a separate heavy-based frying pan over medium-high heat. Add the remaining turmeric and swirl the pan to combine. Carefully break the eggs into the pan and cook for 2-2 ½ minutes until the whites are crispy around the edges, but the yolks are still runny (or until cooked to your liking).

At the same time, in a steamer basket set over a large saucepan of simmering water, steam the broccolini for 2 minutes or until tender but still crisp.
Serve the rice into bowls, ensuring every bowl gets a share of the crispy rice. Top with the broccolini, fried eggs, kimchi, spring onion and sesame seeds. Serve the sesame oil and tamari or soy sauce on the side.

Refined-sugar free | Vegetarian | Dairy free | Gluten free
Smoky Mexican black bean bowl with green rice
Makes 4
These hot, smoky beans are the ultimate in hearty and warming breakfasts, especially when paired with creamy scrambled eggs and the spicy, moreish green rice.
1 tablespoon olive oil
1 leek, pale section finely sliced
1 tablespoon tomato paste (concentrated puree)
2 teaspoons smoked hot paprika
1 garlic clove, crushed
200 g (7 oz) tinned diced tomatoes
400 g (14 oz) tin black beans, drained and rinsed
20 g (¾ oz) butter
4 large free-range eggs

Green rice
500 ml (17 fl oz/2 cups) vegetable or chicken stock
1 tablespoon pickled jalapeno slices
25 g (1 oz/½ cup) chopped coriander (cilantro) stems and leaves
2 teaspoons olive oil
150 g (5. oz/¾ cup) brown wholegrain basmati rice
2 cloves garlic, crushed

To serve
coriander (cilantro) leaves
shredded spring onion
To make the green rice, warm the stock and jalapenos in a small saucepan over low heat for 5 minutes. Stir in the coriander, set aside to cool slightly, then, using a hand-held blender, puree the stock mixture until smooth. Strain into a jug, using a spatula to press some of the green pulp through the strainer. Discard the remaining pulp.
Heat the oil in a medium-sized heavy-based saucepan over medium heat and cook the rice and garlic, stirring for 1 minute or until fragrant. Add 330 ml (11 fl oz/1 1/3 cups) of the jalapeno stock, bring to the boil, reduce the heat to low and then cook, covered for 25-30 minutes or until the stock has been absorbed and the rice is tender. Remove from the heat and stand for 10 minutes, covered.
Meanwhile, heat the oil in a large non-stick frying pan over medium-low heat. Add the leek and cook, stirring occasionally, for 8-10 minutes until tender. Add the tomato paste, paprika and garlic, increase the heat to medium and cook, stirring, for about 1 minute or until fragrant. Stir in the tinned tomato, beans and ½ cup (125 ml) water, bring to the boil, reduce the heat and simmer for 10-15 minutes or until thickened. Remove from the heat and cover to keep warm.
While the rice is resting, heat the butter in a large heavy-based frying pan over medium heat. Whisk the eggs in a bowl with 60 ml (2 fl oz/¼ cup) water and a pinch of salt, making sure the salt has a chance to dissolve. When the butter is foaming, add the egg mixture to the pan. Gently move the egg around the pan with a spatula until scrambled to your liking. When the egg is almost set, remove from the heat.
Serve the rice into bowls and top with the smoky beans and scrambled egg. Finish with coriander and spring onion.
Refined-sugar free | Vegetarian | Gluten free
Credit: © Breakfast Bowls by Caroline Griffiths, Smith Street Books, 2017. Photographs © Chris Middleman.