Unforgettable: The Bold Flavors of Paula Wolfert's Renegade Life
March 16, 2017 by Jenny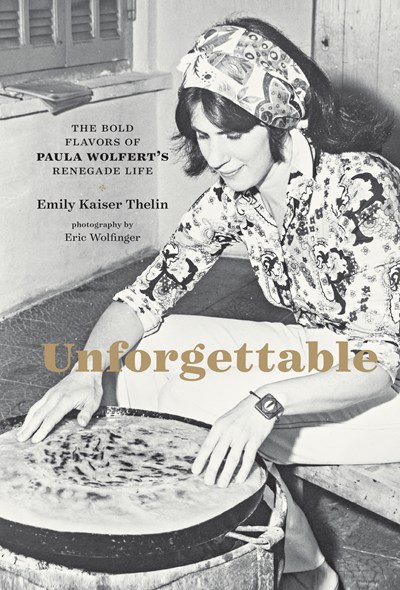 One cannot write about Mediterranean cuisine (or culinary icons in general) and forego mentioning the incomparable Paula Wolfert who has written nine titles devoted to international cooking and culture. The Cooking of the Eastern Mediterranean is tops in my collection and I have to confess I have all her books (and maybe some duplicates). Paula Wolfert is a force of nature and one must have her brilliance in their cooking arsenal.
Unforgettable The Bold Flavors of Paula Wolfert's Renegade Life by Emily Thelin and her team of culinary greatness is ready to ship. 1,112 backers pledged $91,465 to help bring this project to life on Kickstarter and I am proud to be one of them. I was privileged to see the digital copy of this title and it is beautifully perfect and so deserving of every accolade it will receive – this book will surely be the highlight of award season. I'm counting the days until I can hold the actual book in my hand.
Emily Thelin, the driving force behind this project, was kind enough to answer a few questions for our members. If you wish to order Unforgettable: The Bold Flavors of Paula Wolfert's Renegade Life our BUY BOOK button will direct you to buying options. Follow news of this project on Facebook and Instagram and we have updated our calendar with the current events planned for this book.
Q: I, just one of countless others, am excited about the upcoming release of UNFORGETTABLE: Bold Flavors from a Renegade Life. I know you worked with the incomparable Paula Wolfert and have traveled with her. Can you share a little bit of what it is like to work and travel to Morocco with such an expert? (Photo right: 1973, Morocco: Paula shops at a market outside Tangier. From Unforgettable Paula website.)
A: Thank you so much, and thank you for the opportunity to do this Q&A! Absolutely: The phrase "mind-blowing" gets tossed around a lot these days, but traveling with Paula in Marrakech was just that. It's rare to watch a hero at work in the field and have reality exceed expectations. Paula has so many gifts as a recipe explorer: she's able to form instant yet enduring bonds with good cooks she meets, often in unexpected settings. A story I share in the book, one of the best cooks we met on the trip, Paula met through a woman she encountered at the Marrakech airport, who'd helped her recover her lost bank card. They remain in touch today. But she also matches that openness with unrelenting high standards, which not even the most romantic setting can sway. One story that didn't make it into the text, I'll never forget visiting a wizened old spice merchant in his cave-like warehouse, tucked away off the souks of the medina. I was enchanted, until Paula broke the spell to sternly upbraid him (in a mix of Arabic and French) for storing his saffron in clear plastic bags, instead of airtight and light-proof metal tins. What shocked me the most, I assumed the merchant would take offense, but her high standards made him respect her the more. He ended up offering her a bunch of spices on the house, though she insisted on paying.
Q: How did the Unforgettable Project start up and did you expect the response you received with your kickstarter campaign?
The idea came from our photographer, Eric Wolfinger, when he and I were assigned to report on Paula's dementia diagnosis for The Washington Post in October 2013. When I confided that traditional publishers were turning down my proposal for her biography, saying that Paula's time had passed, he suggested we Kickstart it and offered to take the pictures. Once Andrea Nguyen and Toni Tajima offered to help us, we laid a plan. We were cautiously optimistic we would be able to meet our initial goal of $45,000 – though we toyed with the idea of cutting the goal to as little as $35,000. We were absolutely gobsmacked to raise the $45,000 in just four days, and ultimately more than double it, raising just over $91,000. We never dared hope for that level of success.
Q: As you know, I am the Cookbook Promotions Manager for Eat Your Books – and review hundreds of cookbooks along with my work at The Cookbook Junkies. Paula Wolfert's books are magical and recommended highly – which of her books is your favorite and have you made all the recipes from this new title?
One of the hardest challenges of the book was choosing the recipes! As you point out, there are literally thousands of gems to choose from: Paula published 9 books, each with between 100 and 200 recipes. That's a very big pool. I was lucky to use some of the Kickstarter proceeds to hire an incredible assistant, Nathalie Christian, who described our process in a fantastic blog post for her cooking school. We started by taking nominations, both from Paula and others we trust, then cooked through about 20 recipes per book, to whittle down to our 50+ selections, 5 or so per book. It was agonizing making the final calls. I often had to remind myself that our readers could still go buy her books to cook the rest!
As I say in the book, which of her books is best depends on what kind of adventure you want to take. When I feel like visiting an entire country, I go for Couscous and Other Good Foods of Morocco. When I want to play with my tagine or cazuela, I reach for Mediterranean Clay Pot Cooking. I would say my most frequent weeknight go-to is her Cooking of the Eastern Mediterranean, which helped introduce meze and Middle Eastern pantry staples to American cooks. I turn to The Mediterranean Slow Kitchen when I want a relaxed weekend meal.
Q: We all love Paula and hope that she is doing well. This project is such a powerful one focusing on food and memories. Was Paula an integral part in the selection of recipes? I remember seeing photos of Paula in her kitchen surrounded by tagines – and that's one that will stay in my memory. Is she still cooking and enjoying her beautiful kitchen?
Paula was absolutely an integral part of the recipe selection. We had a lot of fun cooking for her and seeing what memories came up. Sometimes none did, but we learned to live with it. She has cut back on her cooking and her clay pots, but she still uses her dishwasher-safe tagines almost every day. Now she loves to cook meals to fuel her brain, loaded with vegetables and her favorite proteins, whether wild-caught salmon, grass-fed beef, or pastured eggs. Just today she emailed me about how excited she was to discover Lior Lev Sercarz' inspiring new book, The Spice Companion.
Q: Is there anything else you would like to share about this project?
Having worked so hard on the narrative for the last five years, and on the photographs, recipes, and book design the last three years, we are all very excited to share the final results. We have attempted to create a new kind of book – a hybrid cookbook and biography, where the recipes are as compelling as her adventure stories.
Special thanks to Emily Thelin for her time and her passion for this memorable book along with her talented team. Thank you to Paula Wolfert who has provided a world of cooking enthusiasts and cookbook lovers with her knowledge and enthusiasm – everytime I see a tagine I think of her brilliance.
The New York Times' piece on this wonderful project was published on the 21st and Unforgettable hit the Washington Post on the 23rd.
Credits: Photograph of Paula in Morocco from Unforgettable Paula website and recent photograph of Paula used on our home page credited to Eric Wolfinger.