Vibrant India
March 22, 2017 by Jenny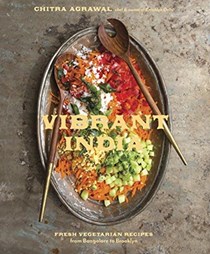 Vibrant India: Fresh Vegetarian Recipes from Bangalore to Brooklyn by Chitra Agrawal, the chef and owner of Brooklyn Delhi, takes us on a culinary journey to her mother's hometown of Bangalore and back to Brooklyn.

In this gorgeous book, she adapts her family's South Indian recipes for home cooks using satisfyingly rich, bold and complex flavors. Grains, legumes, fresh produce, coconut, and yogurt – along with herbs, citrus, chiles, and spice – form the foundation of this cuisine, rooted in vegetarian customs. Vibrant India is a symphony of colors and flavors and a sign to me that a higher being loves us and wants us to be happy.

Every recipe in this title appeals to me and will be a fantastic way to zhoosh up our meals to bring more exciting vegetarian options to our table. As my eighty five year old neighbor would say while as I was growing up "this book really blows up my skirt" (but she was usually talking about a man). Potato Stir-fry with Onion and Ginger and Green Bean and Coconut Stir-Fry I have made already and I could totally go vegetarian with recipes like these! Spiced Spring Vegetable and Coconut Polenta (which we are sharing here for you today) and Lemon Peanut Rice are next up from this book in my kitchen. I cannot wait until fresh corn is readily available to make the Stir-fried Corn with Basil and Leeks but this recipe looks so tempting I may make do with corn that has some miles on it.
Our thanks to Ten Speed Press and the author for sharing this affirmation of Spring in a bowl with our members. Be sure to enter our contest for a chance to win one of three copies of this title for our members in the US.
SPICED SPRING VEGETABLE AND COCONUT POLENTA
Uppittu or Upma

Spring • Serves 3 or 4
Gluten-Free

This is my gluten-free spin on uppittu or upma, a savory South Indian semolina breakfast or light snack. In Kannada, uppu means "salt" and hittu means "flour," so uppittu roughly translates to "salted flour" and is sometimes referred to as upma. In place of Indian semolina flour or farina, I use polenta and pair it with crunchy spring vegetables and traditional flavors of black mustard seeds, curry leaves, chile, coconut, and lemon.

Feel free to substitute other vegetables like potato, green bell pepper, onion, grated carrot, peas, or tomatoes. Uppittu is usually served with a pat of butter or yogurt and hot pickle and sometimes a topping of fried cashews. In the past, I have used cooked quinoa or couscous in this recipe in place of polenta, so feel free to experiment with different grains as well.

1⁄2 cup unsweetened grated coconut (fresh, frozen, or dried)
1 teaspoon salt, plus more for sprinking
1 cup polenta* or medium or coarsely ground cornmeal
2 tablespoons unsalted butter
8 ounces asparagus, tough parts of spears broken off
1⁄2 cup snap peas, trimmed and stringed
1 1⁄2 tablespoons coconut oil
1 teaspoon black mustard seeds
1⁄2 teaspoon chana dal
1 teaspoon urad dal
5 or 6 fresh curry leaves
1⁄2-inch piece fresh ginger, peeled and grated
1 Indian green chile or serrano chile, finely chopped
2 or 3 scallions or seasonal ramps, both white and green parts, chopped
1⁄4 teaspoon turmeric powder
4 or 5 red radishes, trimmed and quartered
Juice of half a lemon (about 1 1⁄2 tablespoons), plus more as needed
2 tablespoons chopped cilantro leaves

SERVING OPTIONS

Plain yogurt or butter
Hot pickle or Brooklyn Delhi achaar
*If using quick-cooking polenta, adjust cooking times accordingly.

Thaw frozen coconut or place dried coconut in a little hot water to plump it up.

Bring 4 cups water to a boil in a saucepan, and add the salt. Turn the heat to low and slowly whisk in the polenta until there are no lumps. Cook the polenta, partially covered, for 30 minutes, whisking it well every few minutes. When cooked, the
polenta should look creamy. Add the butter and coconut and mix well. The polenta should become fluffy and lighter in color when you do this.

While the polenta is cooking, cut the asparagus into 1-inch pieces on the diagonal. Cut the snap peas into 1-inch pieces on the diagonal.

Put the oil in a wok over medium heat. When the oil is hot and shimmering, add one black mustard seed. When the seed sizzles and pops, add the rest of the mustard seeds. Keep a lid handy to cover the pan while the mustard seeds are popping. When the popping starts to subside (a few seconds), immediately add the chana dal and urad dal. Stir to coat with oil and turn the heat to medium-low.

Continue to stir the dals so they evenly roast, until they turn a reddish golden brown and smell nutty, less than a minute. Rub the curry leaves between your fingers a little to release their natural oils, and drop them, the ginger, and green chile into the oil. Cover immediately, as moisture from the curry leaves will cause the oil to spatter. Then stir to evenly coat everything with oil and continue to fry until the ginger and chile are less raw, 10 to 15 seconds.

Add the scallions and turmeric powder. Stir-fry for 1 minute on medium heat. Mix in the asparagus, snap peas, and radishes with a sprinkling of salt. Stir-fry the vegetables over high heat until tender but still crisp and just cooked through, about 3 minutes. During cooking, if the pan is looking dry, add a little water to it. Turn off the heat. Mix in the lemon juice and chopped cilantro. Taste for salt and lemon juice and adjust as needed.

Serve the polenta hot, topped with the vegetables, a dollop of plain yogurt, and a spoonful of hot pickle.