Provence to Pondicherry – Tessa Kiros
March 6, 2017 by Jenny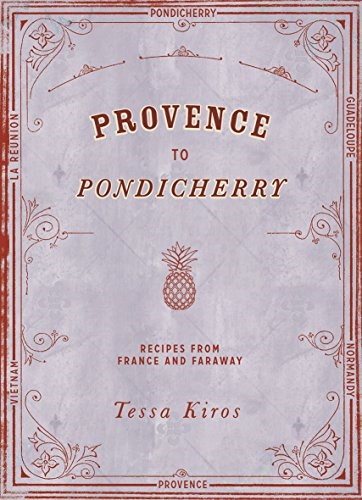 Provence to Pondicherry: Recipes from France and Faraway from the incomparable Tessa Kiros is pleasure wrapped in words and photographs. Tessa's books are journeys to glorious locales filled with beautiful people and food. I have almost all off her titles and working on procuring the few that I need.

This paragraph has me wanting to buy a small home to be able to do just the same: "I am lucky that I live near enough to Provence to be able to drive there on a whim for an almond croissant, or bouillabaisse. And come home then, with baskets of treasures, resources and tales of aioli." I long for tales of aioli – now that's a longing that is new to me and where has it been all my life?

Provence to Pondicherry covers the influence of French cuisine from Provence, Guadeloupe, Vietnam, Pondicherry, La Réunion to Normandy. There is nothing better, for me, than a stunning book that transports me to wonderful locations all while delivering tempting beautiful dishes. Stove-Top Garlic and Spice Pork, Sticky Rice with Coconut and Ginger, Tarte Au Citron and Plantation Chocolate Cake are a few of the recipes that have a tab adhered firmly to their respective pages. Tessa's recipes have always worked providing comfort and nourishment, just as her words, photographs and stories feed my soul which hungers to travel to these faraway lands.
Special thanks to the author and pubisher, Quadrille, for allowing us to share the recipe for Ashok's Masala Prawns. Be sure to head to our contest page to enter our giveaway for three copies of this latest treasure from Tessa Kiros.
ASHOK'S MASALA PRAWNS
Ashok is an amazing cook from Pondicherry who taught me to make many things. He served this with raita, chapati and a small salad of finely shredded white and red cabbage, lettuce and carrot, with a lime for squeezing. I loved this combination.
Serves 3-4
800g (1 3/4 lb/about 18) shell-on medium prawns (shrimp), heads removed
2 tablespoons sesame oil
1/4 teaspoon black mustard seeds
1/4 teaspoon cumin seeds
1 small green chilli (chile pepper), minced
2 teaspoons Garlic and ginger paste (see below)
2 teaspoons Masala mix (see below)
125g (1/2 cup) tinned chopped tomatoes
2 tablespoons chopped coriander (cilantro) leaves, plus extra for serving
salt
To serve: Raita (see below)
Peel away the shells from the prawns, leaving the tail on. Devein them.
Heat the oil in a wide pan, add the mustard and cumin seeds and fry until the mustard seeds start to pop. Add the chilli and the garlic and ginger paste and sauté until it smells good. Stir the masala through and cook for another 10 seconds or so to toast it quickly.
Now add the tomatoes and 125ml (1/2 cup) water. Lower the heat and simmer, uncovered, for about 5 minutes to thicken. Add the prawns, season with salt, then turn them through the sauce. Cover and simmer for 5-6 minutes, until cooked through and opaque. Check that nothing is sticking.
Scatter in the coriander, cover and leave to stand for a few minutes before serving.
Accompany with raita, chapati, salad and lime wedges (and small dishes of lemon pickle and coriander chutney, if you like).
GARLIC AND GINGER PASTE
An extremely handy paste to keep in the fridge, ready for spooning into your pans; I can guarantee you will be glad at having made the effort, especially if you are making many Indian meals over a few days.
Makes about 185ml (3/4 cup)
150g (5 1/2 oz) garlic cloves (from about 3 heads of garlic), peeled
75g (2 1/2 oz) peeled ginger, coarsely chopped
1/2 teaspoon salt
sesame oil
Crush the garlic and ginger together with the salt, using a pestle and mortar, in batches if necessary. (Alternatively, pulse in a blender or small processor until smooth.)
Spoon into a jar and cover with a thin layer of sesame oil (which will help it keep longer). Put the lid on and store in the fridge for 2-3 weeks.
MASALA MIX
Here is a basic masala, which you can make up very easily if you have a spice or coffee grinder. It is good to grind fresh, little and often, so it keeps its aroma.
Makes about 8 tablespoons
2 teaspoons cardamom seeds (removed from pods)
3 tablespoons coriander seeds
2 tablespoons cumin seeds
1 teaspoon fennel seeds
10cm (4in) piece of cinnamon stick, broken up
2 teaspoons black peppercorns
5 cloves
a few allspice berries
1 1/2 teaspoons ground nutmeg
2 small dried bay leaves
Put everything except the nutmeg and bay leaves into a dry frying pan and dry-roast for a few minutes, stirring, until aromatic. Grind to a powder in a spice grinder, in batches if necessary. Stir through the nutmeg, transfer to an airtight container or jar and tuck in the bay leaves. Store away from heat or light.
RAITA
Refreshing and delicious, you can serve raita with just about anything, even with just a chapati. If you want it spicier, add a pinch or two of chilli powder. This can be eaten almost immediately, or left to mingle for a couple of hours.
Serves 4-6
250g (1 cup) yogurt or curd
2 teaspoons ground cumin
1 small green chilli (chile pepper), finely chopped
1 small tomato (about 100g / 3 1/2 oz), peeled, deseeded and diced
80g (3oz) cucumber, peeled, deseeded and diced
2 tablespoons finely diced red onion
a few torn coriander (cilantro) leaves
salt
Mix everything together in a bowl, adding salt to taste. Leave for 15 minutes or so for the flavours to mingle before serving. The texture will loosen a bit due to the water in the vegetables.
Recipes excerpted fromProvence to Pondicherry: Recipes from France and Faraway by Tessa Kiros, published by Quadrille March 2017, RRP $35.00 hardcover. Photography: Manos Chatzikonstantis