My Master Recipes – Patricia Wells
March 9, 2017 by Jenny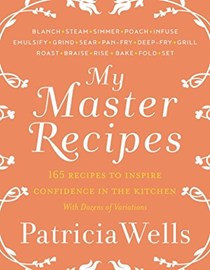 My Master Recipes: 165 Recipes to Inspire Confidence in the Kitchen with Dozens of Variations by Patricia Wells was written by the beloved cooking instructor and author to build confidence in home cooks.

She begins with breaking down the basics – the importance of ingredients, keeping an organized and clean kitchen, tips for what kitchen items you really need and more. In the first few pages, I learned a wonderful tip – make your stock in a pot with a strainer – pull up the strainer and all the aromatics and proteins come out easily. All these years of making stock and you would have thought I would have come up with that one – instead I scoop out ingredients with a spider usually splattering broth as I go.

My Master Recipes is organized by technique – Blanch, Steam, Simmer and so forth with well thought out and detailed instructions so we may perfect each cooking method. The recipes span the range of classic dishes and those with international flair – Charred Green Bean and Almond Salad with Smoky Baba Ghanoush, Mushroom, Seafood and Shiso Tempura, Lemon Curd and Candied Lemon Brioche Cake and Ginger and Enoki Mushroom "Egg Drop" Soup. The recipes in this collection aren't basic by any means but Wells' master recipes that she has chosen from her cooking schools in France to hone our skills.
This is a truly beautiful book with lovely photographs and a quality feel even to the paper used for the pages. Everything rings class in this title, the information on basics like infused salts, oils and techniques is worth the price of the book – but add in the 165 recipes (with variations) and the magic that is Patricia Wells and you have gold.
Special thanks to William Morrow, the publisher and Patricia for sharing the recipe for this tasty treat below. Enter
our contest to win one of two copies
of
My Master Recipes
open to US members.
Ginger and Almond Bars

I've been making for years, always to rave reviews from my students and friends. Here, fresh and candied ginger team up to make an uplifting, zesty treat that can be prepared in any season. This quick yet impressive dessert lends itself to endless reincarnations, using various dried fruits and citrus zests, or even cocoa for chocolate lovers-see the recipes that follow for ideas!

Makes 16 bars
EQUIPMENT: A 9-1/2-inch (24 cm) square baking pan; baking parchment; a 2-quart (2 l) saucepan; a baking rack.

BASE

3 tablespoons (45 g) unsalted butter
1-3/4 cups (165 g) almond meal (also called almond flour or almond powder)
2 tablespoons peeled and grated fresh ginger
3 tablespoons mild honey, such as clover
1 large egg, free-range and organic, lightly beaten
1/2 teaspoon fine sea salt
1 teaspoon Homemade Vanilla Extract (page 439) or pure vanilla extract

TOPPING

4 tablespoons (60 g) unsalted butter
1 cup (80 g) sliced almonds
1/3 cup (45 g) minced candied ginger
1/3 cup (80 ml) mild honey, such as clover
1/4 teaspoon fine sea salt
1 teaspoon Homemade Vanilla Extract (page 439) or pure vanilla extract

Fresh Thyme Sorbet (page 92) or Rosemary Sorbet (page 491), for serving (optional)

1. Center a rack in the oven. Preheat the oven to 400°F (200°C). Line the pan with baking parchment, letting the parchment hang over the sides. (This will make it easier to remove the dessert once baked.)

2. PREPARE THE BASE: In the saucepan, melt the butter. Add the almond meal, fresh ginger, honey, egg, salt, and vanilla. Stir until well combined. The mixture should be thick and sticky.

3. Turn the mixture out into the prepared pan. To help make a level and even base, place a piece of plastic wrap on top of the base. Using a flat-bottomed glass (or your fingers), smooth out the base by pressing gently to evenly cover the bottom of the pan. Remove and discard the plastic wrap. Bake until the base is slightly firm, 12 to 15 minutes.

4. MEANWHILE, PREPARE THE TOPPING: In the same saucepan, melt the butter over low heat. Add the almonds, candied ginger, honey, salt, and vanilla. Stir just until the ingredients are incorporated.

5. When the base is baked, spread the topping evenly over the base and bake until the topping is dark and sizzling, 12 to 15 minutes. Do not underbake.

6. Transfer the pan to the baking rack to cool. When the dessert is completely cool, remove it from the pan using the overhanging parchment as handles and cut it into 16 even squares. Serve with fresh thyme or rosemary sorbet.

MAKE-AHEAD NOTE: Store in an airtight container at room temperature for up to 1 week.

VARIATION

CHESTNUT HONEY SQUARES
For the base, replace 1 cup (90g) almond meal with 3/4 cup (120 g) unbleached, all-purpose flour and use a strong honey, such as chestnut, in place of the mild honey. For the topping, replace the candied ginger with organic candied orange or lemon peel, cut into tiny cubes.

From My Master Recipes by Patricia Wells. Copyright © 2017 by Patricia Wells. Reprinted by permission of William Morrow, an imprint of HarperCollins Publishers.