Croque Monsieur Battle * Melts v. Milk. Made.
April 12, 2017 by Jenny
Today, April 12th, is National Grilled Cheese Day and to celebrate such a gooey, delicious observation, I put two great Croque Monsieur recipes to the test. Who won? Keep reading to find out.
The bottom Croque Monsieur (and the one to the right on the spatula in the photo above) is from Melts, a new release from Fern Green. The Croque Monsieur directly above (and to the left top) is Nick Haddow's version from Milk. Made., a recent James Beard nominated book.

Roughly the same amount of time was needed to make each sandwich and I was able to not confuse the two thankfully because Fern's recipe calls for the crusts to be removed. Thank you Fern, or I would have been putting sticky notes on my sandwiches. The hardest part of making these two recipes was keeping the two giant Labs that I am taking care of for a friend out of my way.
I followed both recipes to the letter for the competition but then switched them up a bit to use Cabot's Sharp Light Cheddar in lieu of Gruyère. Actually, my son loved the Cabot cheddar version better and I thought it was delicious.

Since 1919, the farm families that own Cabot Creamery Co-operative love what they do. Almost 100 years later, they are proud of their thriving farms, strong communities, and happy, healthy cows that produce the rich, buttery milk that is used to make Cabot's awarding-winning cheese and dairy products. Fans of Cabot and Hardie Grant who are visiting this post today – we would like to extend a warm welcome with a three month free trial of Eat Your Books' services using the code CABOT17.

Back to the competition – both recipes were delicious. Milk. Made.'s version was more creamy and Melts' was tangy from the Dijon which I personally loved. The verdict from my two taste testers – my husband preferred the Melts' sandwich and my son preferred Milk. Made.'s. It was a hard call for me, but I have to say I think the Dijon won me over in the Melts' version – but I wouldn't turn down either. The winner: Fern Green's Croque Monsieur from Melts. You can try both for yourself and have your own Croque Monsieur battle as Hardie Grant and the authors are sharing both recipes below for our members today.
After you have read about these two great books, head over to our contest page for a chance to win one of three prize packages that consist of: a copy of Melts, a copy of Milk. Made. and a gift box of Cabot's delicious cheeses. Our appreciation to both Hardie Grant for supplying these beautiful books and the folks at Cabot Creamery for the gift of delicious cheese!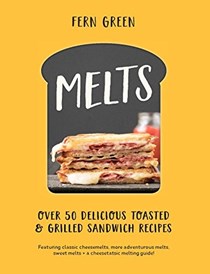 Melts: Over 50 Delicious Toasted and Grilled Sandwich Recipes by Fern Green will help you reignite your love of grilled sandwiches in her fun new book. I remember when I was in grade school, the best lunch of the week was Friday – tomato soup and a grilled cheese. Now as an adult, I'm not sure why I don't make grilled cheese very often – I really need to rectify that situation.

Fern shares a wonderful variety of delicious combinations and lovely photographs of classics and unique sandwiches alike. Recipes such as Portobello Mushroom and Thyme Butter, Vintage Cheddar, Bloody Mary Butter, Bacon & Rocket, and Bombay Masala or Spiced Potato await you in this perfect book for the grilled cheese lover in all of us. And a side note, I love the cutout bread window on the cover!


Fern Green's Croque Monsieur from Melts

The French take on a ham and cheese toastie. Croque comes from the French word croquer, meaning 'to be crunchy'. The ever-so-delicious Gruyère makes this a total classic.

prep time: 10 minutes
cook time: 15 minutes
toasting method: Grill/Broiler
best bread: white farmhouse

2 tbsp butter
4 slices white farmhouse bread, crusts removed
1 tbsp plain (all-purpose) flour
100 ml (31∕2 fl oz) full-fat (whole) milk
80 g (23∕4 oz/2∕3 cup) grated Gruyère
1∕4 tsp grated nutmeg
1 tbsp Dijon mustard
2 slices good-quality ham
sea salt and freshly ground black pepper

Set the grill (broiler) to a medium-high heat and line a baking tray with baking parchment.

Melt the butter in a small saucepan, then turn off the heat. Brush one side of each slice of bread with about half of the butter and grill (broil) the bread butter side up until golden, then set aside.

Stir the flour into the saucepan with the remaining butter to make a paste. Cook over a medium heat for 1 minute, stirring continuously. Gradually whisk in the milk and continue whisking until smooth. Reduce the heat and simmer for 4-5 minutes or until the sauce has thickened. If you find it splits and the fat starts to separate, don't worry; sprinkle in a little more flour and whisk it through.

Take the saucepan off the heat and stir in 30 g (1 oz) of the Gruyère until it has incorporated into the sauce. Add the nutmeg and Dijon mustard, then season.
Put the ham and the rest of the Gruyère on the untoasted side of one of the slices of bread and pop it under the grill for about 4-5 minutes or until the cheese has melted.

Top with the other slice of bread, toasted side facing out, and pour over the cheese sauce. Grill for about 5 minutes or until the sauce is golden and bubbling.
Add this recipe to your Bookshelf (click the blue +Bookshelf button)

Recipe excerpted with permission from Melts by Fern Green, published by Hardie Grant Books April 2017, RRP $19.99 hardcover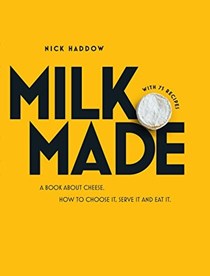 Milk. Made. : A Book About Cheese: How to Make It, Buy It and Eat It
by Nick Haddow is a stunner of a book and justifiably a James Beard nominated cookbook in best single subject. (
make that James Beard Award winner as of April 25th! Congratulations, Nick!
) For this title, Haddow traveled the world interviewing some of the most inspiring cheese connoisseurs as well as sharing his own knowledge of cheese. 75 recipes from Yoghurt Soup with Chicken and Rice, Shish Barak, Buttermilk Fried Chicken, and Baked Onions in Brie Custard are found in this title. Instructions for making all good things that are derived from milk are also shared such as crème fraîche, cultured butter and more.
Haddow is the founder of The Bruny Island Cheese Company in Tasmania, Australia and has spent more than 10 years working with cheese makers around the globe – he knows his stuff. This book is gorgeous and the story it shares is inspiring.
Nick Haddow's Milk. Made. Croque Monsieur
It gives me a wry smile to think that of all the incredible dishes the French have contributed to the world of gastronomy there is none more famous than their version of the humble toasted ham and cheese sandwich. That said, they do do it better than anyone else. There are a hundred ways to make croque monsieur, with variations including the use of béchamel sauce, frying the sandwich, toasting the sandwich … My thinking is that this is a simple dish and should therefore be simple to make. It's essentially a workers' lunch, so cooking a separate béchamel is probably out. Toasting, frying, grilling – it doesn't matter, as long as the result is crunchy and not soggy.

SERVES 4

8 slices good quality
sandwich bread
8 slices ham
250 g (9 oz) grated gruyere cheese plus 8 slices
2 egg yolks
4 tablespoons thick (double/heavy) cream
Preheat the gill (broiler).

Toast 4 slices of the bread – these will be your sandwich bases. Top each toasted slice with a slice of ham, a slice of gruyère, then another slice of ham and another slice of gruyère.

Mix the grated cheese, egg yolks and cream in a bowl and season well. Spread half of this mixture on the 4 untoasted slices of bread and place these, cheese side down, on top of the bases. Spread the remaining cheese and egg mixture on the top of each sandwich. Place under the grill until golden brown and bubbling hot. Serve immediately.

Add this recipe to your Bookshelf (click the blue +Bookshelf button)

Recipe excerpted with permission from Milk. Made. by Nick Haddow, published by Hardie Grant Books September 2016, RRP $39.99 hardcover.