Cin Cin Wood-Fired Cucina
April 19, 2017 by Jenny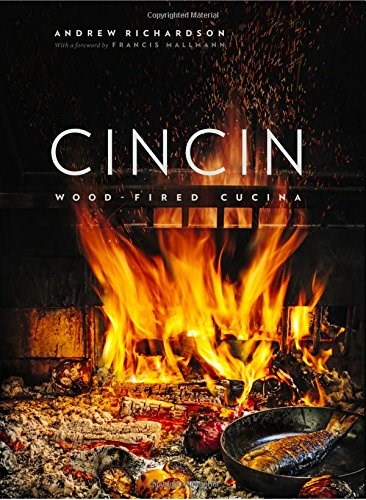 Cin Cin Wood-Fired Cucina by Andrew Richardson celebrates the 25th anniversary of the famous Cin Cin Ristorante + Bar in Vancouver. The restaurant and cookbook both focus on fresh, local ingredients that are allowed to shine in recipes.

Showcasing wood-oven cooking techniques and filled with spectacular photographs, each ingredient is highlighted by section. With recipes for Fried Zucchini Blossoms – Montasio, Goat Cheese and Parmesan with Arugula and Red Radish; Spaghetti al Ragu – 6-hour Bolognese, Veal and Pork with Pancetta, Parmesan; and Red-wine-braised Short Rib of Beef – Braised Carrots and Cannellini Beans – this is elevated restaurant cuisine that has been crafted for our home kitchens.

Is Cin Cin a little fancy? Yes. Is it approachable? Definitely. This book is for anyone who enjoys cooking although a culinary degree is not necessary to recreate the elegant dishes in this book. Tuesday, while writing up this post – I made the recipe we are sharing below – and my house smells amazing (see my photo below). This dish is perfect for a relatively quick weeknight meal and delicious enough for company. Of note, the recipe calls for three pounds of chorizo – I used two pounds. The sauce becomes like a bolognese and even though the author states that this recipe makes four servings – it is more like eight servings for mere mortals – so it can easily be halved or follow the recipe exactly for a dinner party. It is even better the next day.

Can we talk dolci for a moment? The dolci chapter will make make you sing – from Warm Dark Chocolate Fondant Caramélia Gelato and Fresh Berries to CinCin Tiramisù. The sweet dishes in this chapter will take some time committment but will impress a pastry chef.
Special thanks to Figure 1 and the author for sharing this stellar recipe with us today. Be sure to head over to our contest page to enter the giveaway for this title – one winner in the US and one winner in Canada.


Casarecce with Spicy Chorizo Sausage – Tomato, Chili, Rosemary and Parmesan
Serves 4
2 Tbsp (30 mL) olive oil
1 small red onion, minced
3 lbs (1.4 kg) chorizo sausage, removed from the casing and crumbled
1 1/2 Tbsp (22 mL) chopped fresh rosemary
2 fresh or dried bay leaves
Pinch of dried chili flakes
One 28 oz (796 mL) can peeled Roma tomatoes, drained and chopped
Sea salt and freshly ground black pepper
2 cups (500 mL) dried casarecce pasta (9 oz/250 g)
1/2 cup (125 mL) heavy cream
4 1/2 oz (125 g) freshly grated Parmesan (1 1/4 cups/310 mL), divided

In a large frying pan, heat the olive oil and fry the onion until golden brown.
Add the sausage, rosemary, bay leaves and chili, and cook over high heat, breaking down the sausage as it cooks. As the fat appears, remove all but 1 Tbsp (15 mL) of it, and continue to cook for 20 minutes.

When the sausage meat is broken down and browned, add the tomatoes, and stir while the mixture returns to the boil. Lower the heat and simmer for 20 minutes, stirring and breaking up the tomatoes. Remove from the heat.

Bring a pot of salted water to a boil. Cook the pasta until al dente and drain, allowing a little water to cling to the pasta.

Add the pasta to the chorizo mixture in the frying pan. Stir in the cream and half the Parmesan.

Divide between 4 bowls. Serve with the remaining Parmesan on the side.

Photo of recipe by Jenny Hartin and contents therein eaten by Jenny Hartin.
Add this recipe to your Bookshelf (click the blue +Bookshelf button)