Add a Pinch – Robyn Stone
April 24, 2017 by Jenny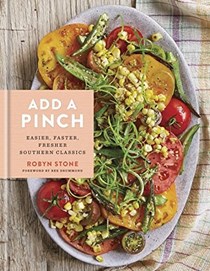 Add a Pinch: Easier, Faster, Fresher Southern Classics by popular blogger, Robyn Stone, puts fresh ingredients center stage in slow cooker meals, casseroles and one-dish suppers, salads, soups, and desserts that have deep, satisfying flavors but are a cinch to make.

Smart swaps like Greek yogurt for mayo in pimento cheese and cauliflower "rice" put a modern spin on these dishes. I have made many recipes from Robyn's blog – Add a Pinch – and her yellow and chocolate cake recipes are my go to. In fact, I'm making her chocolate cake recipe for my husband's birthday tomorrow. It is perfect.
My only complaint is that I wished she had more of her fantastic dessert recipes in this book – especially her cake recipes that I mentioned above. I am one of those people who doesn't mind recipes from the blog or website that make their way into the book. Overall, this is a beautiful cookbook with family type recipes – Pot Roast with Root Vegetables, Balsamic Beef, and Grandmother's Chicken and Dumplings for example. Another bonus is her leftover makeover tips and recipes (as shown in the salmon recipe below).

Special thanks to Robyn and Clarkson Potter for sharing the recipe below with our members today. Be sure to head over to our contest page for your chance to win a copy of this book.
BROWN SUGAR BAKED SALMON AND VEGETABLES
SERVES 6


Salmon is another favorite fish in my house. I could eat it every single day and be a happy girl! And it's so good for you too. This savory-sweet one-dish meal is one of my favorite ways to prepare it-especially for busy weeknights. I prefer to use wild-caught Alaskan salmon, so I stock up when it's in season or I find a great sale.


1 whole salmon fillet (about 2 pounds)
3 medium squash, thinly sliced
2 medium zucchini, thinly sliced
1 medium onion, thinly sliced
2 tablespoons olive oil
1 teaspoon kosher salt
½ teaspoon freshly ground black pepper
¼ cup packed dark brown sugar
1½ teaspoons stone-ground mustard


1 Preheat the oven to 425°F. Line a rimmed baking sheet with parchment paper or foil.

2 Place the salmon, skin side down, on the prepared baking sheet. Arrange the vegetables alongside the salmon around the edges of the baking sheet. Drizzle the vegetables with the olive oil. Sprinkle the salmon and vegetables with the salt and pepper. Cover the fish and vegetables with another piece of parchment paper or foil. Bake for 10 minutes.

3 Meanwhile, in a small bowl, combine the brown sugar and mustard.

4 Remove the salmon and vegetables from the oven and remove the top piece of parchment paper or foil. Spread the brown sugar mixture over the salmon and return the pan to the oven. Bake until the salmon is firm to the touch and a thermometer inserted in the thickest part registers 135°F, about 15 minutes.

leftover makeover

SALMON WITH SPINACH AND EGG

Sauté fresh spinach in a bit of olive oil until wilted. Transfer to a plate and top with some leftover salmon, veggies, and a poached or fried egg.
Add this recipe to your Bookshelf (click the blue +Bookshelf button)