Bread Toast Crumbs by Alexandra Stafford
April 26, 2017 by Jenny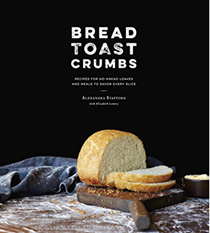 Bread Toast Crumbs: Recipes for No-Knead Loaves & Meals to Savor Every Slice by Alexandra Stafford is the debut cookbook from the writer behind Alexandra's Kitchen. I love this book!

Right off, we learn that for years the author's mother lied about her bread recipe (stating it was a King Arthur recipe from the back of the bag) whenever anyone asked for it. That recipe – the subject of fun-spirited deceit for years – has never been shared until now – it's front and center at the beginning of this book. This story won me over. I want to hang with the author and her mom.

There are 75 pages of gorgeous bread recipes from Apple, Almond, and Thyme Bread to Dark Chocolate Loaf in the Bread section. The Toast portion shares 60 pages of recipes to use those loaves from Breakfast Strata with Sausage, Onion and Cheddar to Tarragon Chicken Salad Sandwiches. The author finishes with Crumbs which has 70 pages of recipes for Salads, Sides, Pasta, Mains and Sweets.

The selection of recipes are a perfect balance to make any cook happy – breads that are totally approachable and recipes to utilize those bread recipes are a huge bonus. I made the Vinaigrette Toasts with Soft-Boiled Eggs for Andrew and myself the other evening and it was wonderful. We already have several other recipes slated to be made – the Orecchiette with Brown Butter, Brussels Sprouts, and Crumbs, Fried Custard Cream, and the Savory Monkey Bread with Gruyére, Scallions and Bacon – yes please.

Bread Toast Crumbs would make an ideal gift for Mother's Day, a hostess gift, housewarming present (with something made from the pages as a bonus) or a just because you deserve a beautiful cookbook gift. I'm hoping that The Cookbook Junkies Cookbook Club will cook through it this Fall.

Special thanks to Alexandra and Clarkson Potter for sharing this showstopping Frittata with our members – a great dish to make for Mother's Day brunch! Be sure to head over to our contest page to enter our giveaway for three copies of Alexandra's book along with a lovely bowl and bowl cover set supplied by the author herself for one lucky winner.

FRITTATA WITH MUSTARD CROUTONS AND FONTINA
SERVES 2

Dressed in a mustard vinaigrette before toasting in the oven, shards of bread crisp into irresistible morsels. These chewy bites add texture to a frittata, where they soften and absorb the flavor of the eggs. Cubing the fontina, as opposed to grating it, allows it to suspend in the baked eggs, where it gently melts without totally disappearing. Any extra croutons can be tossed into a salad on the side, the perfect accompaniment for this simple dinner or lunch for two.

for the mustard croutons

2 tablespoons extra-virgin olive oil
1 tablespoon vinegar (white wine, red wine, cider, or white balsamic)
1 tablespoon Dijon mustard
¼ teaspoon kosher salt
Freshly cracked black pepper to taste
2 cups ¾-inch-cubed bread, such as peasant bread (see page 22), Three Seed Bread (page 28), Roasted Garlic Bread (page 49), Cheesy Cheddar and Parmigiano Bread (page 52), or Potato Bread (page 53)

for the frittata

1 tablespoon unsalted butter
¼ cup finely diced onion
Kosher salt and freshly cracked black pepper to taste
4 large eggs, beaten
½ cup ¼-inch-cubed fontina cheese

1. Make the mustard croutons: Preheat the oven to 400°F. In a large bowl, whisk together the oil, vinegar, mustard, salt, and pepper. Add the bread cubes and toss to coat. Spread onto a rimmed sheet pan in an even layer, transfer it to the oven, and bake for 10 to 12 minutes, until golden. Remove the pan from the oven and set it aside. Leave the oven on.

2. Make the frittata: In an 8-inch ovenproof nonstick skillet (see Note), melt the butter over high heat. Add the onion and immediately reduce the heat to medium. Season with salt and pepper. Sauté for 2 to 3 minutes, stirring occasionally, until the onions have softened slightly.

3. Add the beaten eggs to the skillet. Use a spatula to drag the edges of the eggs toward the center. Stir in this fashion for 1 to 2 minutes, until the eggs just begin to hold their shape. Add 1 cup of the mustard croutons and scatter the cheese on top.

4. Transfer the skillet to the oven and cook the frittata until just set, 2 to 5 minutes, keeping a close watch to prevent overcooking-the eggs will continue to cook out of the oven.

5. Remove the frittata from the oven, cut it into wedges, and serve.

NOTE: An ovenproof nonstick skillet is best for making this a hassle-free endeavor. This frittata bakes best on the small scale-an 8-inch pan allows for even and quick cooking.