Cooking with Cocktails
May 10, 2017 by Jenny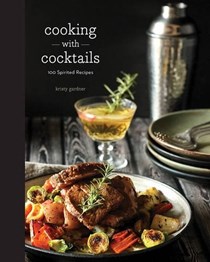 In Kristy Gardner's Cooking with Cocktails: 100 Spirited Recipes, recipes based in Italian and French roots are blended with spirits – those of the libation variety. One hundred recipes with alcohol – sign me up!

Julia Child said it best "I enjoy cooking with wine, sometimes I even put it in the food". Myself, I'm not a wine drinker – although I enjoy it as a cooking ingredient – as well as using liquor as a flavor enhancer in recipes. Gardner brings a little spark to every dish in this book with the addition of alcohol – all wrapped in a tapestry of her stunning photographs.

A few dishes that have my immediate attention are JD Mac & Peas, Irish Whisky French Onion Soup, Limoncello Spot Prawns with Fresh Black Pepper, and Maple Whiskey-Laced BBQ Meatballs – hmmm I wonder what it says about me that three of those dishes include whiskey. Bottoms up.

Reading her demands in "How to Consume This Book" – it is as if I wrote it. How many times have I said "Google That…." – and to read the recipe – twice. I like her style, razor-sharp wit and her use of bold flavors makes this a book that will be used frequently in my kitchen. The Lager-Simmered Chicken Thighs were brilliant – it is the only recipe in the book that utilizes chicken, however as Gardner prefers other proteins. We are chicken lovers here – affordable, pleases the whole family and is versatile. It's okay Kristy if chicken isn't your thing – I still love your book!

Special thanks to Countryman Press and the author for sharing this recipe with our readers. I love soup any time of year and we're entering the rainy season here in Colorado – today is a dark, cold day – perfect soup weather. Be sure to head over to our contest page to enter our giveaway for five copies of this book open to US and Canada members.

Mushroom Thyme Sherry Soup

I've always savored mushroom soup. Especially a creamy one. There's something so comforting about it-like coming home on a cold fall afternoon to snuggle up with a book and your grandmother's blanket in front of a roaring fire.

This soup is hearty, soothing, and oh so rustic. It's like cooking up a delectable bowl of the forest floor and eating it. Mmmm . . . forest floor.

Serves 4 to 6

INGREDIENTS

5 tablespoons unsalted butter
3 large shallots, minced (½ cup)
3 garlic cloves, minced
1 pound fresh mushrooms (button, portobello, oyster, shiitakes, morels, or chanterelles are all good), chopped into ½-inch pieces
1 cup dry sherry
1/3 cup all-purpose flour
4 cups chicken, beef, or vegetable stock
1 teaspoon dried Italian seasoning
2 bay leaves
¼ cup roughly chopped
fresh flat-leaf parsley
1 tablespoon fresh thyme leaves
Coarse sea salt
½ to ¼ cup heavy cream
Freshly ground black pepper
To garnish: chopped fresh chives and crusty bread

INSTRUCTIONS

1. Heat 2 tablespoons of the butter in a large, heavy-based pot over medium heat. When sizzling, add the shallots. Soften for 3 minutes. Stir in the garlic and cook for 1 minute, or until fragrant.

2. Add the mushrooms. Cook through, 12 to 15 minutes. If using more delicate mushrooms, such as shiitakes, morels, or chanterelles, lessen the cooking time by 5 minutes.

3. Pour in the sherry. Reduce for 2 minutes.

4. Stir in the remaining 3 tablespoons of butter and the flour and cook for 3 minutes to develop a roux (this will thicken your soup).

5. Whisk in the stock, Italian seasoning, herbs, and 2 teaspoons of salt. Bring to a light boil, lower the heat to low, and simmer, uncovered, for 25 minutes.

6. Remove from the heat and stir in the cream: If you like your soup more creamy, add it all; if you like less cream, only use about ½ cup.

7. Season to taste with salt and pepper.

8. Ladle into bowls and garnish with chopped chives. Serve with crusty bread.

Tipsy Tip
When buying sherry, spring for the midpriced bottle. For a few extra dollars you can get decent sherry that's actually quite delicious to drink on its own.
Recipe and image courtesy of Countryman Press and Kristy Gardner.
Add this recipe to your Bookshelf (click the blue +Bookshelf button)