Ima Cuisine – Yael Shochat
June 29, 2017 by Jenny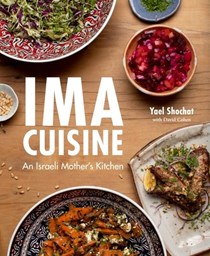 Ima Cuisine: An Israeli Mother's Kitchen
by Yael Shochat with David Cohen was published last year in New Zealand where Middle Eastern food is gaining popularity.
Yael is an Israeli mother and restaurateur who shares recipes showcasing her love of eastern Mediterranean cuisine in her restaurant, Ima – which translates to Mother in Hebrew.
In this her debut book, recipe and chapter introductions giving valuable information about how local dishes are prepared and served, while the comprehensive glossary explains unfamiliar ingredients which are making their way to mainstream markets around the world.

The photographs are beautiful which is typical of this genre – vibrant colors, dishes that forge together to form a gorgeous tapestry reflecting the food and people of the region. In her introduction, she talks of Israelis and Palestinians that their hospitality, generosity and the love of food is a common thread. She goes on to say, "Maybe if we can invite each other into our homes to share this food we can imagine a future where we share the land and live together in peace." If only people all over the world could truly hear this message – what a wonderful difference it would make. Sitting and sharing a meal could with those we perceive as enemies could heal the world.

Another message that struck me was written by David Cohen in the Food and Culture glossary. He shares information on dukka, fennel and other spices and ingredients and the last ingredient is peace which he states "can sometimes be a difficult ingredient to source in the Middle East, but can usually be found in abundance whenever people of any ethnicity or religion gather together at tables around ingredients such as these."

The recipes shared are not overly complicated and cover a wide range of the Middle East and Mediterranean countries – pastries from Italy, blintzes from Eastern Europe, and krupnik from Poland. Brioche Scrolls (three ways), step-by-step photos to make Malawach – a flaky pancake, Danish (four ways) and a world of other recipes call to me. This book is a little bit New Zealand and a whole lot of Yael.

Special thanks to Random House New Zealand for sharing this recipe for Pear & Ginger Upside-Down Cake. Be sure to head over to our contest page to enter our giveaway open to New Zealand and Australian members.
PEAR AND GINGER UPSIDE-DOWN CAKE – Serves 10
This cake is a wonderful harmony of spicy ginger, rich batter and sweet fruit. To get the balance right, be sure to use the full amount of ginger and really fill the bottom layer with pears, packed tightly. Note the low baking temperature, which allows the soft batter to cook through.
FOR THE PEAR CARAMEL
6 large pears (about 1.2kg)
45g unsalted butter
130g (1 lightly packed cup) brown sugar
FOR THE CAKE
225g (1 1/2 cups plus 1 tbsp) plain flour
2 tsp ground ginger
2 tsp baking soda
3 tsp flaky salt, crushed
125g unsalted butter, softened
150g (1 medium packed cup) brown sugar
3 large eggs
280ml (1 cup plus 2 tbsp) golden syrup
225g (1 scant cup) sour cream
1 large piece of fresh ginger (approximatelythumb-sized), peeled and finely grated
Preheat your oven to 150°C. Line a 24cm round cake tin with non-stick baking paper and lightly grease the paper.
Prepare the pear caramel: peel, core and quarter the pears (if they are particularly large cut them into 6 or 8 even wedges). Melt the butter and brown sugar together, stirring well. Pour into the bottom of your tin to cover the base, then arrange the pears in a single decorative layer on top.
Make the cake:sift the flour, ground ginger, baking soda and salt into a medium-sized bowl, stir to combine and set aside.
In a large bowl, use a hand, electric or stand mixer to cream the butter and brown sugar on medium speed for 5-10 minutes until light and fluffy.
Pause occasionally to scrape down the sides of the bowl with a spatula to ensure that all the butter is mixed in. With the mixer on, slowly add the eggs one at a time, then the golden syrup, sour cream and grated ginger, again pausing and scraping once or twice to ensure that all the ingredients are mixed in. Continue to beat for another few minutes. The mixture will be fairly runny at this point, and don't worry if it looks a little curdled; it will all come together.
Add half of the dry ingredients and use a silicon spatula or large metal spoon to fold them in until just mixed with no white streaks remaining.
Repeat with the remaining dry ingredients.
Pour the mixture into the prepared tin, being careful not to disturb the pears. Bake for 70-80 minutes, until a knife comes out clean but damp from the centre. Cool in the tin for 5 minutes before carefully turning out on a wire rack, pear side up, to cool fully.
Recipes extracted from Ima Cuisine by Yael Shochat with David Cohen, published by Random House NZ, RRP: $55.00. Photography by Callum Thomas.
Seen anything interesting?
Let us know
& we'll share it!