100 Percent Real by Sam Talbot
June 5, 2017 by Jenny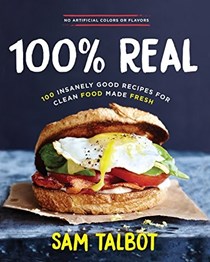 100% Real: 100 Insanely Good Recipes for Clean Food Made Fresh* by Sam Talbot delivers100 whole-food recipes and down-to-earth advice about clean eating proving that real food is an enjoyable choice you can make every day. The Top Chef alumni's nourishing dishes are overflowing with natural flavor and free of processed ingredients, questionable additives, sweeteners, or preservatives.

Sam starts out providing the five steps to keeping it real. 1) Eat plants and green for real. 2) Cook at home at least three times a week. 3) Don't eat fabricated or super processed foods. 4) Focus on the Fat, Fiber and Protein Super Trio. and Lastly, 5) Find the fun in food.

The recipes in this book are gluten-free and mostly dairy and processed sugar free. One of the things that hit home for me was his advice on the pantry – to overhaul it. I have things in that pantry that I'll never see again – time to donate to a food bank and keep a minimum in that location. I think many cooks do this – they stock up because they want to be able to always feed their family but we aren't the Ingalls trying to survive the harsh winters of Minnesota – the grocery store is three minutes away.

The recipes have some global influences such as the Chicken Meatball Banh Mi, Scallop and Chicken Shumai, Chinese Long Beans with Sesame and Rutabaga Caponata and Chile-Rubbed Skirt Steak with Rustic Chimichurri and we all know how much I love international flavors.
Special thanks to the publisher Oxmoor House and Sam for sharing the following recipe with us. Be sure to head over to our contest page to enter our giveaway for this gorgeous book that is good for us.
Sweet potato hash brown open-face sandwich with ham and cranberry-dijon Brussels slaw.
Add this recipe to your Bookshelf (click the blue +Bookshelf button).
Hands-on: 15 minutes Total: 1 hour, 2 minutes Serves 4 
Is it lunch or is it breakfast? Get ready because waffled hash browns are about to become your new favorite thing. Topping them with ham and veggies makes this a satisfying and complete meal.
2 medium-size sweet potatoes (about 20 ounces), peeled and grated
1 cup thinly sliced yellow onion
3 tablespoons brown rice flour
1 tablespoon coconut oil, melted, plus more for greasing waffle iron
1 large egg, lightly beaten
1 teaspoon kosher salt
3 tablespoons olive oil
2 tablespoons apple cider vinegar
2 teaspoons Dijon mustard
1 teaspoon pure maple syrup
8 ounces Brussels sprouts, shaved
1/3 cup dried cranberries
8 ounces nitrate-free reduced-sodium thinly sliced cooked ham
1. Preheat a waffle iron to HIGH. Combine the grated sweet potato, onion slices, flour, 1 tablespoon coconut oil, egg, and 1/2 teaspoon of the salt in a medium bowl. Grease the waffle iron with coconut oil, and place about 1 1/2 cups of the sweet potato mixture in the center of the waffle iron, spreading the mixture to create a 6-inch square. Close the waffle iron, and cook until browned and tender, about 13 minutes. Remove the waffled sweet potato hash brown, and repeat the procedure to make 3 more hash browns.
2. Whisk together the olive oil, vinegar, mustard, maple syrup, and remaining 1/2 teaspoon salt in a medium bowl. Add the shaved Brussels sprouts; toss to coat. Let stand until the sprouts are tender, about 10 minutes. Fold in the cranberries.
3. Put 1 hash brown on each of 4 plates. Top each with 2 ounces ham slices and about 2/3 cup Brussels slaw.
Excerpted from 100% Real by Sam Talbot. Copyright © 2017 Oxmoor House. Reprinted with permission from Time Inc. Books, a division of Time Inc. New York, NY. All rights reserved.
*Please note in our post title we had to spell out word instead of using the symbol due to technical issues.
Add this recipe to your Bookshelf (click the blue +Bookshelf button)