Vegetarian Heartland – Shelly Westerhausen
July 10, 2017 by Jenny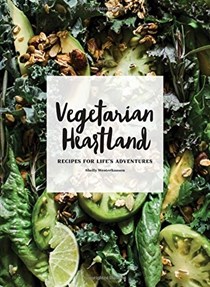 Vegetarian Heartland: Recipes for Life's Adventures by Shelly Westerhausen is a cookbook of approximately 85 recipes for vegetarian comfort food delivered from a fresh and exciting point of view.

Recipes are organized by 'adventure' and each features a drink, salads, soups, main courses, and desserts. One of my favorite Midwestern cookbook authors is Amy Theilen and Shelly's voice and style remind me of Amy's – midwestern comfort with elegant undertones – I am in love with this book. The photographs are stunning (taken by the author herself) and gently coax you into the kitchen to create the dishes.

Ricotta Spaetzle with Lemon-Pea Pesto, Broiled Green Tomatoes with Creamy Mascarpone Grits, Chilled Peanut Noodles, and Wild Rice Veggie Sliders with Herbed Ricotta are a few standouts in a book of standout recipes. Nothing is overly complicated or dumbed down – approachable vegetarian food focusing on great flavor with an assist from herbs and spices and a healthy dose of Shelly's innovative spirit.

Pierogies are one of my all time favorites and I look forward to making this sweet treat that we are sharing with you today. Special thanks to Chronicle Books and the author for allowing our members to try one of Shelly's recipes and be sure to head over to our contest page to enter our giveaway!
BLUEBERRY & SWEET CHEESE PIEROGI
Makes 74 Pierogi
If you aren't familiar with pierogi, it's a pillowy dumpling that is most commonly filled with cheesy mashed potatoes, cabbage, or an assortment of fruit fillings. Where I grew up in northern Indiana, there was a huge Polish community that happily fed homemade pierogi to the entire region. There were weekly church-organized sales and a yearly Pierogi Fest in Whiting, Indiana, that we always made a trip to.
Pierogi was always one of my favorites, so my mother and I have a tradition of making our own once or twice a year. When we first started out, we would make each individual pierogi by hand but, after a few years, we invested in a pierogi press (similar to a ravioli press) so we could quickly make double or triple batches.
We always make a batch of the traditional cheddar-potato pierogi and then a batch of sweet pierogi. Many sweet versions you find in stores are stuffed with a fruit pie filling, which is too sweet for my taste buds. I've discovered that the sweetness is toned down when you add a creamy cheese into the mix, like farmer cheese or ricotta. We've tried fruit fillings in the form of strawberries, apples, and peaches, but my favorite is the blueberry version I share here.
FILLING
12 oz [340 g] fresh blueberries
2 Tbsp sugar
2 Tbsp water
13 oz [370 g] farmer cheese or whole-milk ricotta cheese
DOUGH
6 cups [840 g] all-purpose flour, plus more as needed
1 Tbsp fine sea salt
1 cup [240 ml] whole milk, plus more as needed
3/4 cup [165 g] cold unsalted butter, cut into cubes
2 eggs
6 Tbsp unsalted butter
To make the filling: In a small skillet over medium heat, sauté the blueberries, sugar, and water until a thick syrup begins to form, 7 to 10 minutes. While cooking, use the back of a wooden spoon to carefully smash the softened blue- berries until they're the consistency of thick jam. Remove from the heat and set aside.
To make the dough: In a food processor, combine the flour, salt, milk, cold butter, and eggs and pulse until well combined, about 30 seconds. Add more flour, a tablespoon at a time, if the dough is too sticky. Add more milk, a tablespoon at a time, if the dough is too crumbly. (You may have to make the dough in two batches, depending on the size of your food processor.)
Transfer the dough to a floured surface and divide into four equal pieces. Wrap the dough pieces in a damp kitchen towel and set aside.
T
o assemble with a pierogi press: Working with two pieces of dough at a time, roll the dough into two rectangles that are about 1/8 in [4 mm] thick each. Lay one rectangle dough piece over the pierogi press, fill each pierogi indentation with 1 tsp of the cheese and 1/2 tsp of the blueberry mixture and place the other dough rectangle directly over the top. Push a rolling pin over the dough to seal the dumplings and turn the pierogi press over so the pierogi fall out of the press, removing any excess dough. Continue with the remaining filling and dough.
To assemble by hand: Fill a small dish with water and set aside. Working with one piece of dough at a time, roll the dough into a rectangle that's about 1/8 in [4 mm] thick. Use the rim of a 4-in-[10-cm-] wide pint glass or biscuit cutter to cut out rounds. Place 1 tsp of the cheese and 1/2 tsp of the blueberry mixture in the center of each round and dot a little water around the edges of the circle. Fold one side of the round over the other side to form a half-moon and use a fork to press the edges to seal the pierogi. Transfer the pierogi to a floured baking sheet and set aside. Continue with the remaining filling and dough.
Bring a large pot of salted water to a boil over high heat. Working in batches, add enough pierogi to fit in a single layer and boil until they float to the surface, 4 to 5 minutes. Remove the pierogi with a slotted spoon and set aside on a plate.
In a large nonstick skillet over medium heat, melt 1 Tbsp of the butter. Working in batches, toss in 12 pierogi or enough pierogi to fill the pan in a single layer. Cook, stirring often, until the pierogi are brown on all sides, 7 to 10 minutes. Repeat with the remaining butter and pierogi. Serve immediately.
Any pierogi that won't be eaten right away should be boiled but not yet sautéed. To store, place in an airtight container and keep in the fridge for up to 5 days, or wrap in wax paper (to avoid sticking and freezer burn), transfer to a resealable plastic bag, and keep in the freezer for up to three months.
POTATO-CHEDDAR FILLING VARIATION:
6 medium russet potatoes, peeled and cut into 1-in [2.5-cm] chunks
1/2 cup [40 g] shredded sharp cheddar
2 garlic cloves, minced
Bring a large pot of salted water to a boil over high heat. Add the potatoes and boil until they are easily pierced with a fork, about 10 minutes. Drain the potatoes and transfer to a large bowl. Using a potato masher or handheld electric mixer, mash the potatoes until smooth. Fold in the cheddar and garlic until combined. Place 1 1/2 teaspoons filling into each pierogi. Assemble and cook or store as directed above.
Recipe excerpted and photographs used with permission from Chronicle Books. Copyright 2017 Vegetarian Heartland by Shelly Westerhausen.
Add this recipe to your Bookshelf (click the blue +Bookshelf button)