Green Plate Special – Christine Burns Rudalevige
July 16, 2017 by Jenny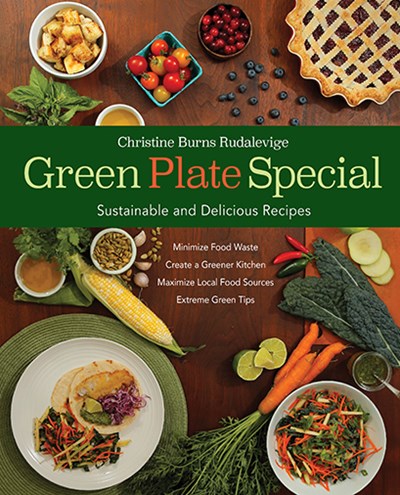 Green Plate Special: Sustainable, Healthy, and Delicious Recipes by Christine Burns Rudalevige is packed with the author's wealth of knowledge on sustainable cooking along with tips on how to take advantage of local fare and reduce waste to creatively revamp leftovers.

The author, a culinary school graduate, writes for numerous outlets including Food52 and Fine Cooking and is an expert in minimizing food waste and creating a greener kitchen. The style of the recipes in this, her first book, how they are written, the quality and uniqueness of the recipes and the photographs – all appeal to me.
Why not make a Veiled Country Lass and then use the apple peels to create Cinnamon-and-Spice Apple Peel Crisps or make your own Soba Noodles to use in the Hot Smoked Trout, Soba, and Asian Greens Salad. I particularly love Christine's plan-over for leftovers – creative recipes to use your leftover potatoes or delicious Lobster and Corn Wontons to enjoy in a soup and freeze the remainder for a another day. There are myraid examples in this cookbook of the author's unique and innovative way to make our meals special.
Green Plate Special: Sustainable, Healthy, and Delicious Recipes picked up a Boston Readable Feast Socially Conscious Award and was runner up as Best Cookbook to Ana Sortun's book, Soframiz (that's high praise indeed). With recipes like Bacon Bubble and Squeak Cakes, Savory Double Dutch Baby, Grilled Lemon Thyme Buttermilk Biscuits with Strawberries and Cream, and Bulgogi Burgers with Quick Pickles and Spicy Mayonnaise it is little wonder it is an award winner. The recipes are approachable and perfect for weeknight meals or weekend entertaining.

Special thanks to the author and Islandport Port press for sharing this tempting recipe (inspired by one of our mutual friends) with our members today. Be sure to head over to our contest page to enter our giveaway.
Lavender Lemon Posset with Candied Lemon Peel
This is a recipe based on one introduced to me by my virtual-world friend Liz Larkin of Pound Ridge, New York. It's ironic that we share a real-world connection to High Lawn Farm in Lee, Massachusetts. I grew up on the milk of the Jersey cows on that farm, and her relatives delivered it around the county. The cream from Jersey cows make this simple custard simply decadent.
Serves 8
For the zest
4 lemons, limes, Meyer lemons, oranges or blood oranges
3/4 cup raw sugar
1/4 cups granulated sugar

For the pudding
2 cups heavy cream
2/3 cups granulated
2 teaspoons dried culinary lavender
5 tablespoons lemon juice
To make the zest, use either a citrus zesting tool or a vegetable peeler to remove the peel from the fruit in long pieces, getting as little of the pith as possible. If you used a peeler, take a sharp knife and slice the peel into very thin strips. Place julienned zest in a small bowl; cover with boiling water. Let stand 30 minutes, then drain.
Place raw sugar and 1 cup water in a saucepan over medium high heat. Stir until the sugar has dissolved. Add zest. Reduce heat to medium. Simmer zest for about 15 minutes until it is slightly opaque.
Drain zest, reserving syrup for other uses. Allow the zest to sit in the strainer for 30 minutes to dry slightly. Place 1/4 cup sugar in a large bowl and add drained zest. Toss zest in the sugar. Shake off the excess sugar and place candied zest on a dry towel. After it has dried for 2 hours, move zest to an airtight container and store at room temperature for up to 2 weeks.
To make the pudding, heat the cream and sugar over medium heat to scalding in a small saucepan, stirring constantly. Remove from the heat, stir in lavender and let steep for 30 minutes.
Strain the lavender from the sweetened cream and return the cream to medium heat to simmer for 5 minutes. Remove the pan from the heat and stir in the lemon juice. Let the mixture cool, about 15 minutes. Divide evenly among 8 small ramekins. Refrigerate at least 2 hours, until set.
Garnish with a pinch of candied zest.
Add this recipe to your Bookshelf (click the blue +Bookshelf button).