The Butcher Babe Cookbook
July 8, 2017 by Jenny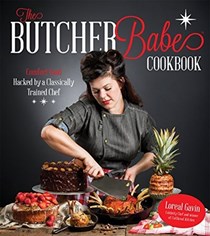 The Butcher Babe Cookbook: Comfort Food Hacked by a Classically Trained Chef by Loreal Gavin brings a delicious collision of down home dishes and classic French cooking in this incredible collection of new comfort food recipes. This Southern belle's specialty of baking, butchery and bourbon all make for one exciting cookbook.
Root Beer Bites (pork with a sticky sweet root beer glaze), a Bourbon Chocolate Cake with Candied Pecans, and a Crispy Chicken Skin, Lettuce and Tomato Sandwich with Tarragon Mayo all look amazing. Other recipes that caught my attention were Cream Corn Stuffed Cornish Hens, Crustacean Corn Cakes and Lemon-Scallion Cream and the best looking Seven Layer Bar I have ever laid eyes on – which I'm going to try to whip up this weekend.
This book covers a great range of recipes starting with One Pot Wonders (Buttermilk Beef Stronganoff and Buttermilk Biscuits anyone?); making the perfect Hollandaise and Volute; as well as desserts and boozy drinks. I was really pleasantly surprised by the innovative recipes along with twists on the classics – don't let the title fool you – it's not all about the meat! Loreal knows her stuff – she made it to spot five in the Next Food Network Star Season 10 and did win Cutthroat Kitchen.
Special thanks to Page Street Publishing for sharing the Boneless Pork Chops with Blackberry Jam with our members today. (I am all about the sweet and savory and imagine this will be made soon.) Be sure to head over to our contest page to enter for a chance to win one of three copies of this fun and approachable book.
BONELESS PORK CHOPS with BLACKBERRY JAM
This recipe is quick and easy with few ingredients, and the blackberry jam is nice and sweet with a bright acidity-it takes me back to my childhood. In the South, blackberries are everywhere. They are easy to find, easy to pick and even easier to eat. In lots of my neighbors' backyards, the plants seemed to form a jungle among the honeysuckles. I encourage you to take look at what types of edible plants are all around you. I'm not saying you've got to match the foraging style of chef René Redzepi, but you could give it a try.
SERVES 4
4 (½-inch [13-mm]-thick) boneless pork chops
1 tsp chopped fresh rosemary
1 tsp salt
1 tsp freshly cracked black pepper
2 tbsp (28 g) butter
BLACKBERRY JAM
8 oz (228 g) fresh blackberries
1 tbsp (15 ml) bourbon
½ cup (96 g) sugar
¼ cup (60 ml) freshly squeezed lemon juice
1 tsp salt
Season the pork chops with the rosemary, salt and pepper. Melt the butter on the stovetop over medium heat, then sear the chops 5 minutes on the first side and 4 minutes on the other side. Let the pork chops rest.
In a small saucepan over medium heat, cook the blackberries, bourbon, sugar, lemon juice and salt until the mixture is thick and candy-like, about 15 to 20 minutes. I like how rustic this sauce is. When you use the best ingredients, they get a chance to sing. You don't have to play the "I didn't buy quality ingredients" cover-up game. Less is more.
Serve the pork chops hot and covered in the blackberry jam.
Add this recipe to your Bookshelf (click the blue +Bookshelf button)