Cookbook Giveaway – Saffron Soul
August 1, 2017 by Jenny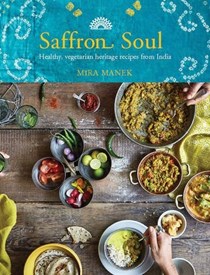 Saffron Soul: Healthy, Vegetarian Heritage Recipes from India by Mira Manek delivers a modern interpretation of Indian classics, creating naturally healthy dishes that are as flavorful as their original counterparts. Mira combines the best of the core elements of Indian cooking with original health-promoting twists. Mira also recreates some perennial favourites, replacing traditionally used grains and sugar with more nutritious ingredients such as millet, chia and jaggery, and cutting down on oils and fats, to make her dishes even healthier.

For more information on this cookbook, please see our review post which shares a recipe for soul-warming porridge.
We are pleased to offer three copies of this title to our EYB Members in the US and UK. One of the entry options is to answer the following question in the comments section of this blog post.
Which recipe in the index would you like to try first?

Please note that you must be logged into the Rafflecopter contest before posting or your entry won't be counted. Please be sure to check your spam filters to make sure you receive our email notifications. Prizes can take up to 6 weeks to arrive from the publishers. If you are not already a Member, you can join at no cost. The contest ends at midnight on September 9th, 2017.