Cookbook Giveaway – The Adriatic Kitchen
August 2, 2017 by Jenny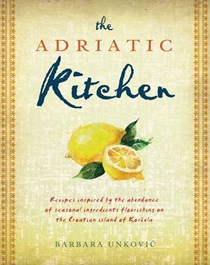 The Adriatic Kitchen: Recipes Inspired by the Abundance of Seasonal Ingredients Flourishing on the Croatian Island of Korcula by Barbara Unković shares 70 simple yet flavorful dishes as well as the author's memories from this beautiful part of the world.
Croatian cuisine is differs from the mountainous regions of the interior to the gorgeous Dalmatian Coast with its myriad islands. With influences from Italy, Turkey and Austria, the people here live off the bounty of the sea and fruit of the land.
This simple but lovely book is divided by seasons, contains measurements in both weight and volume and has lovely illustrations sprinkled throughout created by the author's brother, Colin. Recipes include Croatian Sweet Easter Bread; Black Risotto; Fresh Fig Crumble; Roast Chicken with Pomegranate and Spinach; Dalmatian Shepherd's Lamb with Potatoes and Broad Beans; Sugared Almonds; Croatian Pepper Biscuits and Carrot and Mint Salad.
We are pleased to offer three copies of this title to our EYB Members worldwide. One of the entry options is to answer the following question in the comments section of this blog post.
Which recipe in the index would you like to try first?

Please note that you must be logged into the Rafflecopter contest before posting or your entry won't be counted. Please be sure to check your spam filters to make sure you receive our email notifications. Prizes can take up to 6 weeks to arrive from the publishers. If you are not already a Member, you can join at no cost. The contest ends at midnight on September 6th, 2017.
Seen anything interesting?
Let us know
& we'll share it!