Cookbooks to Help us Ease into our Back-to-School Schedules
August 23, 2017 by Jenny
Most families are already back to school or preparing to return after the Labor Day weekend in the US. School not only means more work for the students but also puts a strain on the family cook. With the extracurricular activities that come with school sessions or busy college course loads, menu planning can take a hit – leaving fast food and bad choices knocking at our door.

Today, I would like to highlight a few titles that will not only help us get dinner on the table – painlessly – but also keep those meals delicious, varied and healthy. These cookbooks will guarantee less grumbling from the peanut gallery around your table – and no more complaints of "this again??"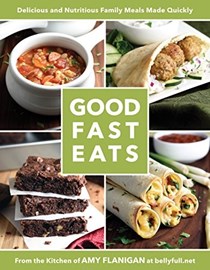 First up, Good Fast Eats: Delicious and Nutritious Family Meals Made Quickly by Amy Flanigan is a great book to send off with your college student or as gift for a cook who wants some quick options for weeknight dinners. I have made several recipes from this book for my piece at Sunday Supper Movement and they were outstanding. In fact, I made the Sesame Chicken Wraps for dinner today with homemade tenders – always a hit here. A wonderful resource for good – fast – eats.
Toby Amidor is a recipe developer, dietitian, and mother of three children who wanted to provide healthy, nutritious choices for her family not only at dinner but at every meal. The Healthy Meal Prep Cookbook: Easy and Wholesome Meals to Cook, Prep, Grab, and Go delivers 100 simple, wholesome recipes for breakfast, lunch, and dinner, complete with nutritional breakdowns and portion control to keep calories in check. Also included are three two-week flexible meal guides, shopping lists and illustrated guidelines to freeze, thaw and reheat your meals to keep food fresh, safe, and tasty.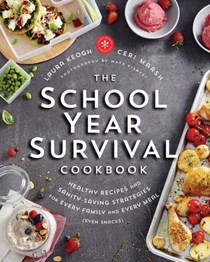 The School Year Survival Cookbook: Healthy Recipes and Sanity-Saving Strategies for Every Family and Every Meal (Even Snacks) by Laura Keogh and Ceri Marsh is a fail-proof guide to providing healthy dinners, getting everyone fed before the school bus arrives, fueling kids up for soccer practice and figuring out dinner when you get home after the dance recital (or after a long day at the office). The authors also wrote the bestselling cookbook How to Feed a Family (which is also another great book for weeknight dinners) and are the bloggers behind The Sweet Potato Chronicles. The School Year Survival Cookbook is jammed packed with slow cooker meals, plans to revitalize leftovers and fresh, wholesome recipes.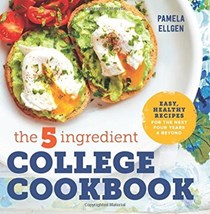 The 5-Ingredient College Cookbook: Easy, Healthy Recipes for the Next Four Years & Beyond by Pamela Ellgen is another title geared toward the busy college student who wants to avoid unhealthy fast food and the cafeteria line. With just 5 ingredients and 30 minutes meals such as Classic French Toast, No-bake Energy Balls, Mozzarella Sticks, Greek Pita Sandwiches, Thai Chicken Ramen, Creamy Chicken and Mushroom Fettuccine can be on the table (and these recipes could come in handy for a busy weeknight for anyone, student or not).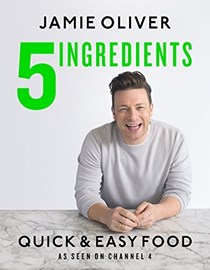 Speaking of five ingredient recipes, one of my favorite celebrity chefs, Jamie Oliver, is back with a new title 5 Ingredients: Quick & Easy Food. Each recipe in this book uses just five key ingredients, ensuring you can get a plate of food together fast, whether it's finished and on the table super-quickly, or after minimal hands-on prep, you've let the oven do the hard work for you. We're talking quality over quantity, a little diligence on the cooking front, and in return massive flavour. Each recipe has been tried and tested (and tested again!) to ensure the book is packed with no-fuss, budget-friendly dishes that you can create, any day of the week. With over 130 recipes, and chapters on Chicken, Beef, Pork, Lamb, Fish, Eggs, Veg, Salads, Pasta, Rice & Noodles and Sweet Things, there's plenty of quick and easy recipe inspiration to choose from.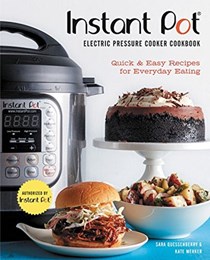 Instant Pot® Electric Pressure Cooker Cookbook (An Authorized Instant Pot® Cookbook): Quick & Easy Recipes for Everyday Eating by Sara Quessenberry and Kate Merker is featured in a promotion title this month along with a chance to win a new mini Instant Pot. The 3 quart Instant Pot is perfect for the college dorm room (and kitchen countertop) as it takes very little room. Find more information on this book and the Instant Pot check out our review, recipe and giveaway post and be sure to enter!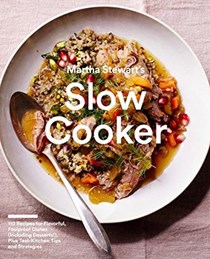 Martha Stewart's Slow Cooker: 110 Recipes for Fast-Prep, Flavorful, Foolproof Dishes, Plus Test-Kitchen Tips and Strategies and One Pot: 120+ Easy Meals from Your Skillet, Slow Cooker, Stockpot, and Moreby the Editors of Martha Stewart Living are both excellent books with gorgeous photographs and approachable, nutritious family meals. These two books, in my opinion, are two of the best books that Martha Stewart Living has put together. From One Pot, the Chicken with Creamy Corn and Bacon and Pork Chops with Bacon and Cabbage were excellent. The Slow Cooker title just arrived and I haven't had an opportunity to cook from it yet – but the recipes look like winners.
The Essential Instant Pot Cookbook: Fresh and Foolproof Recipes for Your Electric Pressure Cooker by Coco Morante features more than 75 recipes developed specifically for the Instant Pot. The recipes take into consideration the vegan diet and gluten and dairy free folks. The photographs are lovely in this book and even include desserts! I plan on making the Korean Braised Beef Short Ribs (Galbijjim), the Braised Brisket with Onion Gravy and the Plum Chili Chicken soon. I love that there are so many dishes with global flavors included in this book. Other examples are: Risotto with Lemon and Peas, Pomegranate Walnut Chicken, and Jamaican Jerk-Spiced Oxtails.
In addition to the above recommendations, here are a list of great go-to books for quick and delicious and/or dinner planning titles:
My post on cookbooks for the home cook shares a few of my favorite titles for home cooks who need help shoehorning a tasty meal in their already packed schedules. And as always, Eat Your Books is the perfect tool to search online recipes and locate exactly what book has the recipe that utilizes the ingredients you have on hand. Try something new and leave the menu to our search feature – you may find a new favorite.

What are some of your favorite books to turn to for days when time is working against you?