The Blossom Cookbook – Promotion
September 10, 2017 by Jenny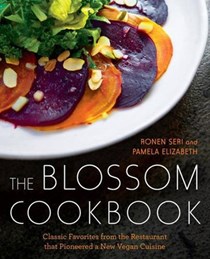 Ronen Seri and Pamela Elizabeth, the co-founders of the Blossom restaurants in Manhattan, share their favorite recipes in their debut cookbook, The Blossom Cookbook: Classic Favorites from the Restaurant that Pioneered a New Vegan Cuisine. Over eighty recipes from a Tofu Scramble that can be whipped up in minutes or an impressive Autumn Tower which layers tempeh, roasted vegetables, chickpea cakes with a simple tomato sauce that will take some time commitment but will impress all around your table. The dishes here are sure to ignite a spark of fresh culinary passion for vegan cooks with recipes from sauces and condiments and meals from breakfast to dinner. For non vegans, this will be the book to turn to for guests who have adopted the vegan lifestyle. Even the desserts look as if they were photographed behind the glass case of a patisserie.
Special thanks to Avery for sharing a recipe with our members today and for sponsoring three books in our contest open to Eat Your Book members in the US. Scroll down to enter and don't forget you can add this recipe to your bookshelf by following the instructions below.
Cauliflower Risotto
Add this recipe to your Bookshelf (click the blue +Bookshelf button).
I am especially proud of this dish because it is so inventive; a vegetable-based spin on a traditional risotto. We replaced the rice with cauliflower, which is an incredibly versatile vegetable. To add a meaty kick, we added shiitakes to this dish to balance the milder taste of the cauliflower. It's incredible how many other restaurants and chefs are now using cauliflower as a meat or grain replacement!
Serves 2
Ingredients
5 tablespoons vegan butter
1 tablespoon minced garlic, plus 1 garlic clove
1 teaspoon salt, plus more as needed
1/2 teaspoon black pepper, plus more as needed
1¼ cups polenta
1 medium head cauliflower
2 whole shallots plus 2 tablespoons chopped shallot
5 tablespoons olive oil
½ cup white wine
½ teaspoon salt
3 tablespoons chopped fresh parsley
2 cups sliced shiitake mushrooms
In a large pot, combine 1 tablespoon of the vegan butter, the minced garlic, 1 teaspoon of the salt, ½ teaspoon of the pepper, and 3 cups water. Bring to a boil. Add the polenta and stir until the water has been absorbed, 1 to 2 minutes. Remove from the pan and spread the polenta over a baking sheet; let cool in the refrigerator.
Remove the cauliflower stem, coarsely chop it, and place it in a food processor. Pulse seven or eight times, or until it is finely minced, similar to the size and consistency of grains of rice. Divide the cauliflower into two equal portions.
Fill a large pot with water and add half the cauliflower, the whole shallots, and the garlic clove. Bring to a boil, and boil for 20 to 25 minutes, or until the cauliflower is soft. Drain the water and transfer the boiled cauliflower, shallots, and garlic to high-speed blender. Blend until smooth.
In a large sauté pan, heat 2 tablespoons of the olive oil over medium-high heat. Add the chopped shallot and sauté for 1 to 2 minutes, then add the rest of the minced cauliflower and stir well. Add the white wine and sauté for 1 to 2 minutes, then add the pureed cauliflower and stir. Add 1 cup water, ½ teaspoon salt, and 2 tablespoons of the vegan butter and stir. Add the parsley and stir to combine.
In a medium skillet, heat 2 tablespoons of the olive oil over medium-high heat. Add the mushrooms and a pinch each of salt and pepper. Sauté until the mushrooms begin to brown. Set aside.
Remove the polenta from the refrigerator and use a large thin-rimmed glass or a cookie cutter to cut it into rounds.
In a separate medium sauté pan, heat the remaining 1 tablespoon of olive oil over medium heat. Add the polenta cakes and sauté for 1 to 2 minutes on each side, or until golden brown on both sides.
To assemble, divide the polenta cakes between two plates, then top with the cauliflower risotto and finally the sautéed mushrooms.
Reprinted from THE BLOSSOM COOKBOOK by arrangement with Avery Books, a member of Penguin Group (USA) LLC, A Penguin Random House Company. Copyright © 2017, Ronen Seri and Pamela Elizabeth Photo: Alex Etling
The publisher is offering three copies of this title to EYB Members in the US. One of the entry options is to answer the following question in the comments section of this blog post.
Which recipe in the index are you excited to try first?

Please note that you must be logged into the Rafflecopter contest before posting or your entry won't be counted. Please be sure to check your spam filters to make sure you receive our email notifications. Prizes can take up to 6 weeks to arrive from the publishers. If you are not already a Member, you can join at no cost. The contest ends at midnight on October 15th, 2017.