Bravetart – Review, recipe and giveaway
September 11, 2017 by Jenny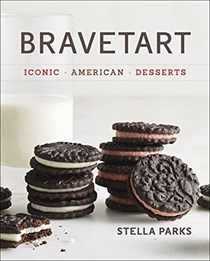 Stella Parks, pastry genius at Serious Eats, delivers a book that has eliminated all the guess work from the baking equation. Honestly, if you can't bake after reading and following the advice and recipes in BraveTart: Iconic American Desserts – you might want to hang up your apron and retire your flour sifter.
These are not just basic recipes – these are the basic recipes that will be your go-tos from here forward – carefully tested, all scenarios played out and planned for, variations to give a twist to the recipes and more – much, much more. This is one of the titles I had been waiting for (read stalking) Stella about for years. BraveTart will surely be shining at the cookbook awards this year – Stella's baking book is the equivalent of Kenji's The Food Lab – both books must be in your collection.
Little touches throughout the book make it spectacular – cutting out pineapple stars for the Upside Down Pineapple Cake, Homemade Sprinkles – chocolate and rainbow, Five Minute Muffins using Stella's Top Shelf Muffin Mix, recipes for all our childhood favorites – Thin Mints, Twinkies, Heath Bars – you name it, Stella has re-invented it for us.
BraveTart goes the extra mile in this complete textbook to American classic desserts, for instance:
setting forth precautions
thinking ahead as to what mistakes one might make – i.e. is it safe to add an extract to an angel food cake recipe (see recipe below)
what to look for in batter consistency, beating egg whites, etc.
what to avoid
what setting the mixer should be on and for how long
why we need to weigh everything
instructing what temperature butter should be for a particular recipe
should eggs be room temperature or cold
providing step-by-step game plans for celebration planning, decorating cakes and more
The only thing that would be better than owning this book – is having Stella in your kitchen actually making the recipes for you with Idris Elba pouring you a glass of ice cold milk. The mix it up! section of each recipe provides a wealth of options to alter the recipe and experience new flavors and textures including gluten-free options. The woman has thought of it all.
The butter is currently coming to 65 degrees on my counter so that I can make the Chopped Chocolate Chip Cookies (recipe one) and I'll upload my photo later. I've made many a Stella Parks' recipe and they are all golden – she even has me foregoing my beautiful Emile Henry pie plates for grandma's plain glass pie plates that I donated years ago and had to rebuy – just doing my part for the economy – one pie plate at a time.
Special thanks to W.W. Norton for sharing this heavenly (I couldn't help myself) Angel Food Cake with variations to boot. Scroll below to enter our giveaway for two copies of this book. Stella's packed book tour is available on our calendar – be sure to check if she is in your area.
Effortless Angel's Food Cake
Add this recipe to your Bookshelf (click the blue +Bookshelf button).
This is probably the easiest meringue you'll ever make. Just put some cold egg whites and sugar in a bowl, start whipping, and then stop before they're stiff. With a squeeze of lemon for stability, this seemingly underwhipped meringue puffs the angel's food until it's as light as cotton candy. The lemon disappears in the oven, leaving behind a soft, tender vanilla cake.
Aside from my unusual treatment of the meringue, the success of this angel's food hinges on bleached cake flour. It has a super-low protein content that can't be faked with cornstarch or replaced by pastry flour. Look for brands like Swans Down or Softasilk in the baking aisle, and avoid anything marked self-rising or unbleached.
Because this recipe may present a couple of new techniques for the uninitiated, give yourself room to learn. Like a kiss, angel's food only gets better with experience. That's not to say your first time won't be deliciously sweet, only that half the fun is in perfecting your technique.
Yield: one 10-inch cake; 10 to 12 servings | Active time: 30 minutes | Downtime: 2 hours to cool
1 cup plus 2 tablespoons | 5 ounces bleached cake flour, such as Swans Down
2 cups | 15 ounces egg whites (from a dozen large eggs), straight from the fridge
2 cups | 15 ounces sugar
1 tablespoon vanilla extract
2 tablespoons | 1 ounce freshly squeezed lemon juice
1/4 teaspoon Diamond Crystal kosher salt (half as much if iodized)
Key Point: The unique behavior of bleached cake flour is vital to this recipe's success; unbleached cake flour will cause the angel's food cake to collapse.
Get ready:
Adjust oven rack to middle position and preheat to 350°F. Have ready an aluminum tube pan with a removable bottom, roughly 10 inches across and 4 inches deep. Nonstick pans will not work. If the pan doesn't have stilts, set out a bottle with a slender neck that will fit into the mouth of the tube.
Sift flour (if using a cup measure, spoon into the cup and level with a knife before sifting).
Make the cake:
Combine egg whites, sugar, and vanilla in the bowl of a stand mixer fitted with the whisk attachment. Mix on low speed to moisten, about 1 minute, then increase to medium-low (4 on a KitchenAid) and whip for 3 minutes; the whites will look very dense, and dark from the vanilla. Add the lemon juice and salt, increase speed to medium (6 on a KitchenAid), and whip for 3 minutes; the meringue will be light but thin, not foamy. Increase to medium-high (8 on a KitchenAid), and continue whipping until the wires leave a distinct vortex pattern in the thick, glossy meringue, another 3 minutes or so, depending on the freshness of the whites. To check the meringue, detach the whisk; when whipped to very soft peaks, the meringue will run off the wires but retain enough body to pile up on itself in a soft mound.
Sprinkle cake flour over the meringue and stir gently with a flexible spatula to disperse. Switch to a folding motion and work from the bottom up, cutting through the middle, until no pockets of flour remain. Pour the batter into the pan; if you notice a small patch of unmixed flour as you pour, incorporate it into the surrounding batter with a gentle wiggle of your spatula. The pan should be about two-thirds full.
Bake until the cake has risen well above the rim of the pan, with a firm, golden blonde crust, about 45 minutes (206°F). Immediately invert the pan on its stilts, or over the neck of the bottle, and cool upside down until no trace of warmth remains, at least 2 hours.
Serve:
Turn the cooled cake right side up and loosen the outer edges with a metal spatula. Lift the center tube to remove the cake, then loosen it from the bottom too. Invert onto a serving plate; the cake will slide right off the tube. With a chef's knife or serrated bread knife, cut into 10 or 12 servings with a gentle sawing motion, applying very little downward pressure. Angel's food is mostly air, so the big slices will be less filling than they look.
Wrapped tightly in plastic, leftovers will keep for up to a week at room temperature. You can also drop thin slices of angel's food into a toaster to crisp like a campfire marshmallow.
Troubleshooting
If a speck of yolk slips into the whites, fish it out with an eggshell. If the yolk can't be removed, save those whites for Tahitian Vanilla Pudding (page 225) or White Mountain Layer Cake (page 110) and start fresh.
Extracts like peppermint and orange, made from essential oils, may cause the meringue to collapse; take care when experimenting with flavorings.
In a kitchen below 68°F, cold air may cause the cake to contract and fall from the pan before its crumb has set. As a workaround, open the oven door and place the inverted cake on the stovetop, where drafts of warm air will stabilize its temperature.
Through trial and error, I've discovered that the highly polished sides of stainless steel angel's food cake pans may cause the cake to fall from the pan as it cools. For best results, use an untreated aluminum tube pan.
Mix it up!
Brown Sugar Cinnamon: A cozy flavor for fall, or to end a heavy holiday meal. Sift the cake flour with 4 teaspoons ground cinnamon, and replace the sugar with an equal amount of light brown sugar (dark will not work as well).
Chocolate: However angelic its texture, this variation turns out as dark as devil's food. Reduce the cake flour to 3 ounces (2/3 cup), sifted with 2 ounces (2/3 cup) Dutch-process cocoa powder, such as Cacao Barry Extra Brute. After cooling the cake, use a slender knife or bamboo skewer to loosen it from the center tube too, as this version tends to stick.
Creamsicle: Pulse the cake flour with 2 tablespoons orange zest in a food processor for 1 minute. Replace the vanilla extract with 2 teaspoons orange flower water and the seeds from 1 Tahitian vanilla bean (split and scraped). Trade the lemon juice for 11/2 ounces (3 tablespoons) freshly squeezed orange juice.
Green Tea: The sweetness of angel's food mellows the bitterness of Japanese matcha, for a mossy-green cake with an earthy but aromatic flavor. Sift the cake flour with 2 tablespoons matcha (see page 22). I love to serve slices alongside Whipped Chocolate Crémeux (page 263) with a scattering of Cocoa Nib Crunch (page 321).
Lemonade: Grinding lemon zest into the flour helps release its essential oil, making this variation particularly aromatic. Pulse the cake flour with 2 tablespoons lemon zest in a food processor for about 1 minute. Omit the vanilla extract and salt. Increase the lemon juice to 11/2 ounces (3 tablespoons). Also lovely with lime juice and zest instead.
Roasted Sugar and Vanilla Bean: This is, without a doubt, my favorite way to make Angel's Food. It's not my "basic" recipe, because the process of roasting sugar is time-consuming, and not everyone keeps a vanilla bean on hand, but these two upgrades make the cake even more extraordinary. Replace the sugar with 15 ounces (2 cups) Roasted Sugar (page 102). Along with the vanilla extract, use the seeds from 1 Mexican vanilla bean, split and scraped.
Gluten-Free: Sift 2 ounces (1/2 cup) arrowroot, 11/2 ounces (1/3 cup) white rice flour, 11/2 ounces (1/3 cup) cornstarch, 1 ounce (1/4 cup) coconut flour, and 1 teaspoon baking powder into a medium bowl, then whisk to combine.
The publisher is offering two copies of this title to EYB Members in the US. One of the entry options is to answer the following question in the comments section of this blog post.
Which recipe in the index are you excited to try first?

Please note that you must be logged into the Rafflecopter contest before posting or your entry won't be counted. Please be sure to check your spam filters to make sure you receive our email notifications. Prizes can take up to 6 weeks to arrive from the publishers. If you are not already a Member, you can join at no cost. The contest ends at midnight on October 16th, 2017.
Seen anything interesting?
Let us know
& we'll share it!