Fruit and Corn – Savor the South Cookbooks
September 14, 2017 by Jenny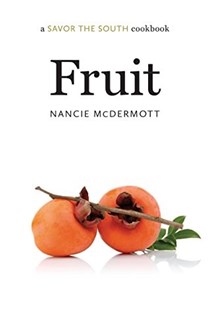 Savor the South® is a collection of little cookbooks that celebrate the food and tradition of the American South. They are written by well-known cooks and food lovers – full of personality with fifty recipes each. I only have three of these amazing books – but I want them all. Today, we are featuring two of the latest.
First up we have, Fruit: A Savor the South® Cookbook by Nancie McDermott which features recipes for blackberries, cantaloupe, damson plums, figs, mayhaws, muscadine and scuppernong grapes, pawpaws, peaches, persimmons, quince, strawberries, and watermelon. Nancie also shares tips on how to sterilize jars, storing jams, making the perfect pie crust, how to prepare pawpaws for eating, cooking and storing and how to peel and prepare other fruits.
Nancie, not only is an incredible friend, but a knowledgeable food expert in both Southern and Asian cuisine. Many of her books sit proudly on my shelves and her recipes always work. The publisher is sharing a recipe with our members today for Fresh peach chutney (I need to grab some peaches and make this soon) as well as providing three copies of this book (and Corn) in our giveaway – scroll to the bottom of this post to enter.
Fresh peach chutney
Add this recipe to your Bookshelf (click the blue +Bookshelf button).
I love the sunny color and piquant flavors of this British-style chutney. It pairs wonderfully with roast chicken, spicy shrimp curry, rice pilaf, or anything sizzling-hot off the grill.
Makes 3 cups
3 cups coarsely chopped ripe peaches
1 cup coarsely chopped apple
1 cup finely chopped onion
1/2 cup finely chopped bell pepper, any color
1/2 cup raisins
1/4 cup chopped candied ginger (optional)
1/2 cup sugar
1/2 cup apple cider vinegar or white vinegar
1 1/2 teaspoons mustard seeds
1 teaspoon red pepper flakes
1/2 teaspoon salt
In a 3-quart saucepan or Dutch oven, combine the peaches, apples, onions, and bell peppers. Stir with a large spoon to mix them well. Add the raisins, candied ginger, if using, sugar, vinegar, mustard seeds, red pepper flakes, and salt and stir well. Bring to a lively boil over medium-high heat. Stir to coat all the ingredients evenly.
Adjust the heat to maintain a gentle but active simmer. Cook, stirring now and then, until the chutney has thickened a little, formed a pleasing syrup, and developed its flavor, 30-40 minutes. Remove from the heat and let cool to room temperature. Serve at room temperature. Cover and store in the refrigerator for up to 2-3 weeks.
From FRUIT: A SAVOR THE SOUTH® COOKBOOK. Copyright © 2017 by the University of North Carolina Press. Used by permission of the publisher. www.uncpress.unc.edu
*******************************************************************************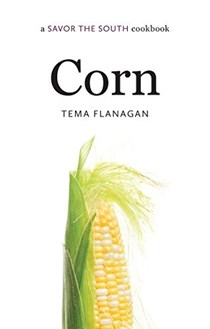 Next up is Corn: A Savor the South® Cookbook by Tema Flanagan that shares recipes for on- and off- the cob dishes, dried and ground, nixtamalized and popped, mashed and fermented along with plenty of tips and facts – from polenta versus grits, Southern cornbread in black and white, canned versus dried hominy, brown-bag microwave popcorn and pitting cherries (cherries are needed in one recipe).
Special thanks again to the publisher for sharing this tasty recipe with our members. I want this right now! Be sure to scroll to the bottom of this post to enter our contest to win a set of these great books.
Molasses caramel corn with candied bacon, peanuts, and sesame
Add this recipe to your Bookshelf (click the blue +Bookshelf button).
With candied bacon bits, roasted peanuts, and crunchy sesame seeds, this sweet-and-salty molasses caramel corn may be the most addictive thing that's ever come out of my kitchen. The recipe makes a large quantity, but trust me when I say that you won't have any problems "getting rid" of it. Moreover, it makes for a great holiday gift when packaged in little baggies and tied with a bit of twine.
Makes 5 1/2 quarts
For the candied bacon
1/4 cup light brown sugar
2 tablespoons pure maple syrup
1/2 teaspoon salt
1/4 teaspoon freshly ground black pepper
1/8 teaspoon cayenne pepper
2/3 pound thick-cut bacon (about 7 strips, uncooked)
For the caramel corn
12 tablespoons (1 1/2 sticks) unsalted butter
2 cups light brown sugar
2/3 cup molasses
1 teaspoon sea salt
1 teaspoon pure vanilla extract
1 teaspoon baking soda
2/3 cup roasted peanuts
1/3 cup sesame seeds
5 quarts freshly popped Buttery Stovetop Popcorn (butter and salt omitted)
To make the candied bacon, preheat the oven to 350º. Line a baking sheet with two layers of aluminum foil, wrapping the foil around the edges of the pan. Fit a metal cooling rack over the baking sheet and set aside.
In a large bowl, whisk together the brown sugar, maple syrup, salt, black pepper, and cayenne pepper. Put the uncooked bacon strips in the brown sugar mixture and toss to coat the strips evenly. Place the strips in a single layer on the metal rack and bake until the bacon is a deep reddish-brown and crispy looking, about 30 minutes. Remove the bacon from the oven and let it cool for 5 minutes before transferring to a sheet of parchment paper to fully cool.
To make the caramel corn, preheat the oven to 250°. Line two baking sheets with parchment paper.
Melt the butter in a small saucepan over medium heat. Add the brown sugar, molasses, salt, and vanilla and stir to mix. Bring the mixture to a boil and cook, stirring constantly, until the sugar melts, 3-5 minutes.
Remove the butter mixture from the heat and immediately stir in the baking soda (be careful, as the mixture may bubble up or foam when you add the soda). Stir in the candied bacon, roasted peanuts, and sesame seeds and stir to evenly mix.
Place the popcorn in a large mixing bowl. Pour the caramel mixture over the popcorn and stir and toss to coat the popcorn and evenly distribute the bacon, peanuts, and sesame seeds. Spread the caramel corn mixture evenly over the two prepared baking sheets.
Bake for 1 hour, stirring every 20 minutes to prevent burning and to coat evenly. Remove the caramel corn from the oven and let it cool completely before breaking up any large chunks and storing in an airtight container.
From CORN: A SAVOR THE SOUTH® COOKBOOK. Copyright © 2017 by the University of North Carolina Press. Used by permission of the publisher. www.uncpress.unc.edu
The publisher is offering three sets of these titles to EYB Members in the US. One of the entry options is to answer the following question in the comments section of this blog post.
Which book are you most excited about?

Please note that you must be logged into the Rafflecopter contest before posting or your entry won't be counted. Please be sure to check your spam filters to make sure you receive our email notifications. Prizes can take up to 6 weeks to arrive from the publishers. If you are not already a Member, you can join at no cost. The contest ends at midnight on October 18th, 2017.