I Love India by Anjum Anand
January 7, 2018 by Jenny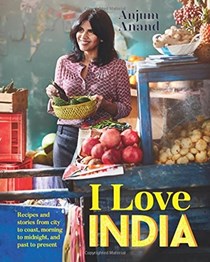 I Love India: Recipes and Stories from City to Coast, Morning to Midnight, and Past to Present is Anjum Anand's eighth book. Here, she delivers her favourite dishes in a beautiful tribute to her homeland and its extraordinary food culture, drawn from its diverse regions as well as from a host of traders, settlers and immigrants over the years.

The author shares her personal collection of the most authentic recipes she has gathered over years of travelling throughout the regions of India. There are also features on key ingredients to illustrate how versatile, vibrant and accessible Indian food really is.

Every vibrant recipe in I Love India begs to be created. The Spiced Andhra tomato rice was delicious and I utilized the recipe for Tangy Andhra lamb with fat green chillies – but made it with beef (I know, I know) and skipped the fat green chilies with wonderful results. I also make the Crispy potato salli which are small thin fried potato perfection. The Indo-Chinese chilli paneer is next on my list – I have the paneer waiting.
I Love India will entice you to order all of Anjum's other titles – Anjum's Indian Vegetarian Feast and Anjum's New Indian are two of her books that are on my shelf. Special thanks to Quadrille for sharing this gorgeous recipe for Kutch chicken biryani with our members today and for offering three copies of this book in our contest below.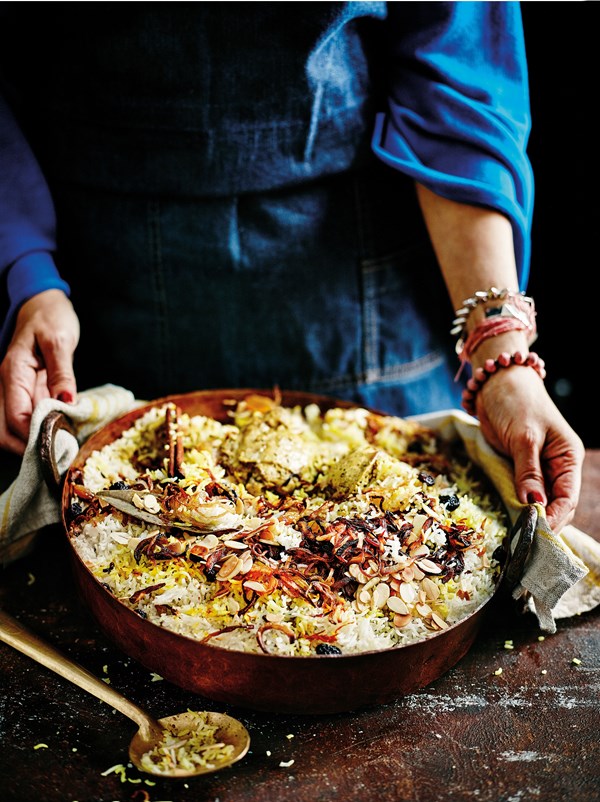 Kutch chicken biryani
Add this recipe to your Bookshelf (click the blue +Bookshelf button).
The Kutch are people from Gujarat. It is a small community and one I only heard about when my brother became really close friends with one of them in university. He often told me how delicious their food was and what a great cook his mum is. I think at some point he even wrote down a chicken curry recipe for me to try to cook… but I don't think I ever did. However, in Mumbai I tried some Kutchi food and it is indeed delicate, fresh and fragrant. Their chicken biryani is probably one of their more famous dishes and, while it has a few steps as does any biryani, it is fun and easy to do. You can put the whole thing together in advance and simply heat it through when you are ready. You can also just make the chicken curry separately; it is just as good.
Serves 6-8
For the marinade
125g (scant 1⁄2 cup) Greek yogurt
30g (2 tbsp) finely grated root ginger (peeled weight)
10 large garlic cloves
1⁄3-2⁄3 tsp chilli (chili) powder, or to taste
1 tbsp garam masala (fresh if possible)
3⁄4 tsp ground turmeric
1 tsp salt
30g (1 1⁄2 packed cups) coriander (cilantro) stalks and leaves
12g (generous 1⁄2 packed cup) mint leaves
3 tomatoes, skinned if you have time, roughly chopped
For the biryani
1kg (2lb 4oz) skinned, bone-in chicken joints, cut into large pieces by the butcher
550g (3 cups) basmati rice
4-5 tbsp ghee
5cm (2in) cinnamon stick
2 dried bay leaves
8 green cardamom pods
8 cloves
1 tsp black peppercorns
2 black cardamom pods
1 large onion, finely chopped
To serve
vegetable oil, as needed
1 medium-large onion, thinly sliced
handful of flaked (slivered) almonds
2 tbsp raisins (optional)
3 tbsp milk
good pinch of saffron threads
Start with the marinade. Blend together the yogurt, ginger, garlic, chilli powder, garam masala, turmeric, salt, herbs and 1 tbsp oil until smooth. Pour into a non-reactive glass or ceramic bowl. Add the tomatoes and the chicken, mix well and leave to marinate as you cook the rice.
Rinse the rice under several changes of water or until the water remains clear when left in a bowl with the rice. Soak for 15 minutes.
Heat half the ghee in a large heavy-based saucepan. Add the cinnamon, bay leaves, 4 each of the green cardamom pods and cloves and half the peppercorns; cook until the spices puff up a little. Add the rice and sauté in the spiced ghee for 2 minutes. Add 1 litre (generous 4 cups) water and salt to taste (the water should taste well seasoned). Bring to the boil, then cover and cook very gently for 5 minutes. The grains should be only slightly undercooked in the middle. Take off the heat.
Now for the onion, to serve. Heat up 5cm (2in) oil in a very small saucepan. Add the sliced onion and fry until golden brown, then remove with a slotted spoon and place on kitchen paper to blot off the excess oil. Once dry, they should crisp up. Set aside. Remove and reserve the oil (you can use this in cooking for the next few days and it will impart a lovely onion flavour to the food).
Heat the remaining ghee and 2 tbsp of the onion oil in a large non-stick pan. Add the remaining green cardamom pods, cloves and peppercorns and the black cardamom pods and cook until these puff up. Add the finely chopped onion and fry until soft and browning at the edges. Then add the chicken with its marinade. Bring to the boil, cover and simmer until the masala has dried, 20-25 minutes. Stir occasionally. Once the moisture has dried up and it has released oil back into the pan, increase the heat and stir-fry the meat in the masala for a few minutes to intensify the flavours. The chicken should be done by now; if not, add a small splash of water and continue to cook, covered, until the chicken is cooked. When done, adjust the seasoning and take off the heat. There should be a little sauce in the pan – it shouldn't be too dry.
Heat 1 tbsp more of the onion oil in a small saucepan, add the almonds and raisins, if using, and fry for 1 minute or until the raisins have puffed up and the almonds have browned Set aside. Rinse the pan out. Add the saffron, stir-fry gently for a minute, then add the milk, simmer for a minute or so and set aside.
Now you need to layer up the biryani in an appropriate-sized pan or oven dish. You can have as many layers as you like; traditionally it is 5 in total. Choose your pot or dish. Start by spooning in one-third of the rice, then spoon over half the chicken, add the next layer of rice, then the chicken then the last layer of rice. Drizzle over the saffron milk.
Cover with a tight-fitting lid, making sure nothing escapes the lid. Place on the flame, turn the heat up and cook for 2 minutes on a high flame and then 10-15 minutes on a very low flame. (You can also cook this in a preheated 180°C/350°F/gas mark 4 oven for 20-30 minutes.) When you can see steam under the lid, you will know everything is well heated through. Serve garnished with the fried sliced onions, toasted almonds and raisins, if using.
The publisher is offering three copies of this book to EYB Members in the US, UK and Australia and EYB is offering one copy worldwide. One of the entry options is to answer the following question in the comments section of this blog post.
Which recipe in the index would you try first?
Please note that you must be logged into the Rafflecopter contest before posting or your entry won't be counted. For more information on this process, please see our step-by-step help post. Be sure to check your spam filters to receive our email notifications. Prizes can take up to 6 weeks to arrive from the publishers. If you are not already a Member, you can join at no cost. The contest ends at midnight on February 15th, 2018.