The Farm Cooking School
January 8, 2018 by Jenny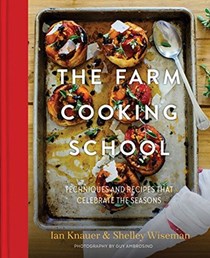 The Farm Cooking School: Techniques and Recipes for Inspired Seasonal Cooking by Ian Knauer and Shelley Wiseman is one of the titles that made my best of 2017 list. Ian and Shelley run The Farm Cooking School in New Jersey and their schedule of classes can always be found on our Calendar.
Ian has written or co-written three other books: The Farm; Field & Feast and the Short Stack Edition Volume 1: Eggs. I have the first two titles and love them and need to catch up on all the Short Stack volumes I'm missing.
The Farm Cooking School: is gorgeous, full of the chefs' combined knowledge hitting on the foundations of cooking with inspirational, rustic and thoughtful recipes. I love the seasonal theme that carries throughout the book. For instance, the section on the 4 seasons of panna cotta share recipes for Vanilla panna cotta with rhubarb syrup, Lemon verbana panna cotta with summer fruit, Maple panna cotta with apple cider syrup and Honey panna cotta with candied orange zest. Other subjects covered in this style include pasta, pavlova, savory tarte tatins and more.
The Fennel tarte tatin is a show stopper and so easy. I also made the mustard sauce for the Braised rabbit recipe for a chicken dish and it was flavorful and elevated the simple roasted bird to new heights. Beautiful photographs, rustic dishes and technique driven narrative make this book a keeper. Special thanks to Burgess Lea Press who is sharing the Hot-smoked oysters recipe with us today and for providing three copies of this book for our contest below.
Hot-smoked oysters with harissa butter
Add this recipe to your bookshelf (click the blue +Bookshelf button)
The simplicity of this first course is deceptive. Once you slip these buttered bivalves into your mouth, you'll get hit with 1,000 percent umami. The pantry ingredients, combined to make a compound butter, are doing the heavy lifting here, adding balance and depth to the already briny oysters. (Try this butter dotted on a grilled steak-incredible.)
Serves 6
12 large oysters
8 tablespoons (1 stick) unsalted butter, at room temperature
2 tablespoons Smoked Fermented Harissa (below)
1 tablespoon finely chopped Preserved Lemon (below)
Kosher salt and freshly ground black pepper
Light a fire in the grill using hardwood or hardwood charcoal, and when the wood has burned down to coals, spread the glowing coals to create a direct and indirect grilling area. Shuck the oysters, keeping them in their bottom shells.
Stir together the butter, harissa, and preserved lemon until combined, then taste a little and season to taste with salt and pepper. Dollop the compound butter over the oysters.
Grill the oysters over indirect heat, covered so they pick up more smoky flavor, until the butter is melted and the oysters are barely cooked, 1 to 2 minutes. Place a pile of salt on each serving plate, then transfer the oysters to the plates, taking care not to spill their liquid as you nestle them in the salt.
Smoked fermented harissa
The fathoms of flavor that we coax from just peppers and salt is, well, unfathomable. This recipe will dramatically change the dishes that come out of your kitchen-it is well worth the days (of hands-off time) it takes to make. After they are smoked, the peppers are puréed with enough salt to ward off any bad bacteria and then fermented before the purée is dehydrated, concentrating their smokiness and funky fermented complexity. We stir harissa into stews, soups, tagines, and anything else that could benefit from a real umami boost.
Makes about 1 pint
5 pounds mixed red sweet peppers, such as bell peppers, Jimmy Nardello sweet peppers, or Red Marconi peppers
2 to 3 fresh hot red chiles
¼ cup kosher salt
A smoker
Hardwood chips such as apple, cherry, or oak
Soak the wood chips in water for several hours. Start the smoker over low heat. Remove the stems from the peppers and chiles and halve the peppers and chiles lengthwise. Cut out and discard the ribs and seeds, which would cause a bitter aftertaste in the harissa. Smoke the peppers and chiles, adding more wood chips as needed, for about 1 hour. The temperature of the smoker doesn't matter too much as long as it doesn't get too hot-at or under 200°F is fine. Remove the peppers and chiles from the smoker and cut them into pieces small enough to catch in your blender, about 1 inch. Purée the peppers and chiles with ¼ cup salt, in batches if your blender is small, until smooth. Pour the purée into two 1-quart plastic or glass containers with lids. (We use the kind of plastic containers that you get when ordering Chinese takeout.) Place a small piece of plastic wrap directly over the surface of the purée; this helps prevent any mold from developing as the purée ferments. Seal the containers with their lids and place them in a cool dark place, such as a pantry, to ferment. Stir the purée once a day for 10 days. Don't worry if the purée starts to bubble-that is part of the fermentation process. After 10 days, taste the purée; it is ready when it is gently sour. If you prefer an even more sour flavor, age the purée for another 1 or 2 days. When you are ready to stop the fermentation, spread the fermented purée evenly on a large rimmed baking sheet. Preheat the oven to its lowest setting, about 175°F. Place the purée in the oven to dehydrate, stirring it every hour or so, until it is paste-like. This can take anywhere from 4 to 8 hours. Transfer the harissa to an airtight container and cover. Refrigerated, it will keep for 1 year or more. Any spice from the chiles will mellow over time.
Preserved lemon
Right around Christmas, a box of citrus often arrives in the mail from one friend or another, boasting about their sunny California or Florida weather. Taking things in stride, we save some of the fruit by preserving it in both sweet and savory ways. This preserved lemon can keep in the fridge until next winter.
Makes 1 pint
4 teaspoons kosher salt
2 to 3 tablespoons fresh lemon juice, or as needed
Quarter the lemons lengthwise, remove any visible seeds, and stuff them into a pint jar. Add 4 teaspoons salt and top off with additional lemon juice so that the lemons are covered with juice. Seal and refrigerate for at least 1 week before using. Preserved lemons will keep in the fridge for up to 1 year.
The publisher is offering three copies of this book to EYB Members in the US and Canada. One of the entry options is to answer the following question in the comments section of this blog post.
Which recipe in the index would you try first?
Please note that you must be logged into the Rafflecopter contest before posting or your entry won't be counted. For more information on this process, please see our step-by-step help post. Be sure to check your spam filters to receive our email notifications. Prizes can take up to 6 weeks to arrive from the publishers. If you are not already a Member, you can join at no cost. The contest ends at midnight on February 15th, 2018.



Seen anything interesting?
Let us know
& we'll share it!