The Pie Book – Worldwide Giveaway
October 10, 2018 by Jenny
Baking books are my downfall. While I can sometimes pull away from a cookbook (like a piece of metal from a magnet), I do not have much restraint when facing a title devoted to baking. Today, we have a worldwide promotion for The Pie Book: Over 400 Classic Recipes by Louis P. De Gouy and it is brilliant.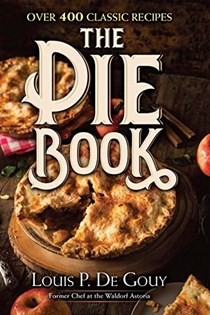 Here, master chef Louis P. De Gouy (former chef at the Waldorf Astoria) presents more than 400 tasty pie recipes. De Gouy, a founder of Gourmet magazine, is an expert at concise instruction. In addition to his carefully chosen recipes, he offers advice on flour selection, fruit preparation, and baking procedures, including the secrets to turning out a flaky, golden-brown crust every time.

Here a few examples of the unique recipes in this title: Frozen orange pie, Prune molasses cream pie, Prune nut cream pie, White House pecan pie, Green tomato mincemeat, Frozen maraschino pie, and Orange cream meringue pie. In addition, throughout The Pie Book, De Gouy provides various "methods" such as "the Southern method" or "the Florida method" because every region of the world puts their spin on recipes. The thoroughness of the contents will amaze you – for example the Marzipan meringue border and Boiled meringue topping recipes have over a dozen variations from angel food. coffee, pineapple to ginger meringue.
There are eight versions of pumpkin pie and more than 25 varieties of apple pie. A special section covers the use of toppings and glazes, with complete recipes for meringues, glazed cherry topping, almond paste, cheese topping, and many other finishes. This treasury of recipes puts all the essentials of good pie baking at the fingertips of amateurs and professionals alike. This book is an incredible reference tool for bakers. Update: I made the pecan pie this weekend and was able to snap a photo before baking. Next up the Frozen chocolate pie as I finally picked up gelatin!

Our EYBD Preview showcases three recipes: Apple crumb pie, Pecan custard pie and Frozen chocolate pie.
Thanks to our friends at Dover Books we are pleased to share a worldwide giveaway for The Pie Book below. If you are planning your holiday shopping, Dover is offering our members 25% off of their cookbook collection using this link and the code: WRBY.
Coming soon we will have an interview with baking guru, Nick Malgieri including a giveaway of his best selling How to Bake, being reissued by Dover Books. Anolon is joining us in this promotion and providing a set of their springform baking pans (round and square)!
The publisher is offering two copies of this book to EYB Members worldwide. One of the entry options is to answer the following question in the comments section of this blog post.
What is your favorite pie to make or to eat?
Please note that you must be logged into the Rafflecopter contest before posting or your entry won't be counted. For more information on this process, please see our step-by-step help post. Be sure to check your spam filters to receive our email notifications. Prizes can take up to 6 weeks to arrive from the publishers. If you are not already a Member, you can join at no cost. The contest ends at midnight on November 30th, 2018.