When is 'almost as good' good enough?
October 11, 2018 by Darcie
For home cooks, learning how to make something that they usually purchase is exhilarating and can be transformative. Whether it is a curry paste made from whole spices and fresh peppers, a loaf of sourdough bread, or an all-butter puff pastry, making a dish from scratch carries a sense of accomplishment and often results in a superior product than one purchased from a supermarket.
That's when the trouble begins. Once you've created the perfect curry paste, the canned or boxed versions no longer cut it. Now you are forever destined to make the homemade product, even though it usually takes more time and is sometimes more expensive than using the store bought product. In an ironic twist, learning how to make the component results in you making the dishes that use said items less frequently than before, because you want to have the best version of it.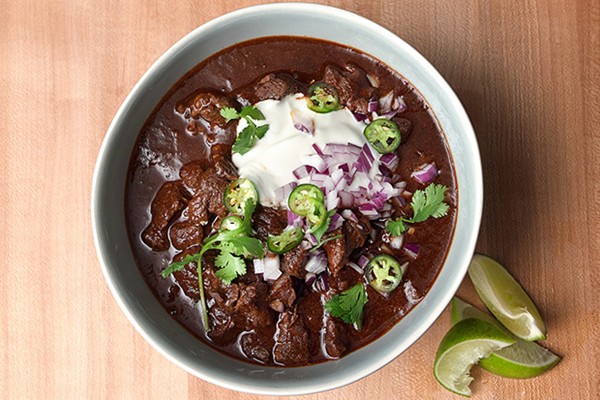 I was reminded of this last weekend, when I made a big batch of chili. After I pulled four different types of dried chile peppers from the pantry, toasted them in a dry skillet, added water to soften, and whizzed them up in a blender to create a homemade flavoring compound, I realized that I could already be nearly finished with a pot of almost-as-good chili using a high-quality dried chili powder. Most of the people who were eating it would have been satisfied with that version, too.
But for me, almost-as-good is rarely good enough. I would rather pass up the chili than make a lesser quality version of it. The "yums" and requests for the recipe from my guests (including one who initially said "I usually don't like chili") reinforced my decision to spend the additional time making the chili paste from scratch.
Sometimes, however, I question whether I would be happier eating slightly lesser quality (but still tasty) chili more frequently or having more puff pastry desserts using purchased dough, rather than holding out for the "best" quality version of each. There are a few items for which I will never use a shortcut, such as pie crust or buttercream icing, but I should probably reconsider my devotion to the homemade versions of other dishes – especially when takeout becomes the alternative choice. What homemade food items have spoiled you for purchasing them?
Photo of Our favorite Texas beef chili from Epicurious
Seen anything interesting?
Let us know
& we'll share it!