The Cookie Book – Rebecca Firth
October 14, 2018 by Jenny
Rebecca Firth knows cookies. She knows much more than cookies which is evident if you follow her blog Displaced Housewife, but the woman gets brownie points (pun intended) for her showstopping cookie recipes. Her debut cookbook, The Cookie Book: Decadent Bites for Every Occasion is spectacular and a must have for every baker. Two cookie books this season have me excited about holiday baking and her title is one of them – I'll have a promotion up soon for the second book. Trust me, you need both.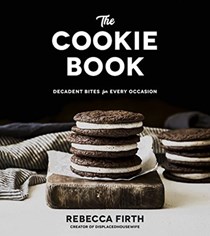 You may think "I have plenty of cookie recipes or books", but you would be wrong, so wrong. It's okay to be wrong. I'm here to keep you on the straight and narrow. The Cookie Book is not only beautiful and filled with photographs that will inspire you, but the recipes are exciting and interesting.

These sweet treats are unlike any you've come across. Chocolate espresso cream bars, Dark rye midnight cookies, Vanilla bean thumbprint cookies with dulce de leche, and Peanut butter cup meringues are calling to be made. Rebecca also shares her version of classics along with truffles, brownies, blondies and more.
It is snowing here in Colorado and I am planning to bake one of Rebecca's recipes tonight or tomorrow. My only issue is that I'm not sure which one because I want to make them all. I'll report back later this week to keep you all on the edge of your seat. Maybe the Everything chocolate chip cookie below will be the winner!
Our
provides a look inside this tempting book and shares the following treats in our
feature:
Rebecca has events planned and her dates are on our calendar, go see her if she is in your area. This title is one of our baking selections in our Eat Your Books Cookbook Club this fall. Special thanks to Page Street Publishing for providing EYB with the materials for the preview above and for sharing three copies of this title in our giveaway below.
The publisher is offering three copies of this book to EYB Members in the US. One of the entry options is to answer the following question in the comments section of this blog post.
Which recipe in the index would you try first?
Please note that you must be logged into the Rafflecopter contest before posting or your entry won't be counted. For more information on this process, please see our step-by-step help post. Be sure to check your spam filters to receive our email notifications. Prizes can take up to 6 weeks to arrive from the publishers. If you are not already a Member, you can join at no cost. The contest ends at midnight on November 27th, 2018.