Is The Great American Baking Show coming back?
October 15, 2018 by Darcie
Although ABC is being coy and hasn't yet confirmed it, word on the street is that The Great American Baking Show will return to the airwaves. As one would expect, disgraced host Johnny Iuzzini is out, and talented pastry chef Sherry Yard, who has made several appearances on other cooking shows, will be taking his place.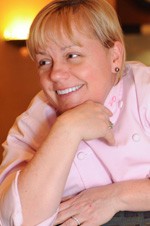 Also out for the alleged reboot is Ayesha Curry, who has moved on to do her own show called 'Family Food Fight'. Her replacement is rumoured to be Spice Girl Emma Bunton, a.k.a. Baby Spice, who will join remaining judges Paul Hollywood and Anthony "Spice" Adams. Since no official announcement has been made, we're left guessing as to when the program will return.
Will the program be able to overcome its tarnished reputation? Will it ever catch on with US audiences in the same way that GBBO did? Will Season 3 winner Vallery Lomas take part in the relaunch? Are they ever going to release great cookbooks like GBBO? These questions remain unanswered, and we'll just have to patiently wait for an announcement from ABC to find out.