Pasta, Pretty Please EYBD Promotion & Anolon Giveaway
October 16, 2018 by Jenny
Now with EYBDigital, if you buy a print book within the promotional period, for the first time you will have access to the full EYBD cookbook wherever you can access EYB – on vacation, at work, in the grocery store, etc. In addition to the digital book, all the features of EYB will be included in the access, at no cost to the book purchaser. For more information see our EYBD Page.
• Recipe search
• Bookmarks
• Recipe ratings and reviews
• Photo upload (personal photos of dishes cooked)
• Shopping lists
We are pleased to share a promotion for our next EYBD Book, Pasta, Pretty Please: A Vibrant Approach to Creative Handmade Noodles by Linda Miller Nicholson, today on its publication day.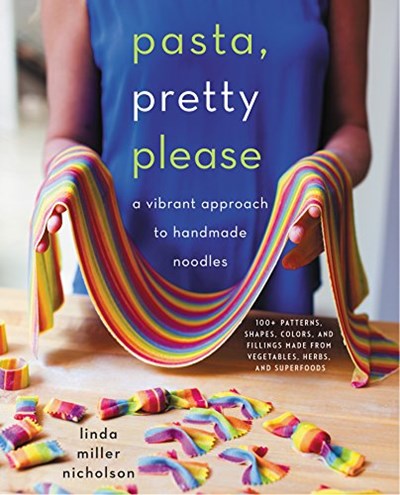 Over the last few years, Linda, the voice behind the Salty Seattle blog, has become a viral sensation. Her amazing techni-color pasta made naturally with vegetables, herbs and superfoods, has popped up everywhere. The hosts of The Chew discussed her pasta prowess, she made the rounds at Home & Family and Saveur magazine, and even at 35,000 feet – in an airline magazine on a flight to New York – there she was with her rainbow of pasta greatness inspiring me to dust off my pasta maker.
The "Lady Gaga of Noodles" has shared all of her secrets in her debut cookbook, Pasta, Pretty Please which is equally stunning in content and photography. The recipes are approachable and the resulting dishes are spectacular. Step-by-step photographs are coupled with Linda's detailed instructions from "pasta dos and don'ts" to "how to choose the correct ricotta". As you will garner from the index, the range and uniqueness of her creations are inspiring but are not limited just to dough recipes. For instance, Bacon-peanut tomato sauce, Golden milk ragu, and Burrata-speck pea sauce are genius and shared to gild the delicious pasta art.
Linda's book tour has been shared on our calendar with a kick off celebration at Eataly in New York tomorrow. If you purchase a book at one of her events, you also qualify for digital access on EYB. See more information below.
Our
takes you inside this book and features the following
:
If you have pre-ordered or order Pasta, Pretty Please before December 31st, 2018, register here (be sure you have a photo of your receipt or screenshot from your online order ready to upload). Once your purchase has been verified, this button
will appear on the book on your Bookshelf next to the title and will take you to the digital access for this gorgeous book.
Below are screenshots showing how these features will appear.
Now that Linda has enlightened us to the magic of her stunning pasta, Anolon would like to help us create them in one their stunning pieces of cookware, the Tri-Ply Clad Stainless Steel 5-Quart Covered Dutch Oven.
From Anolon's website: With the professional-quality of Anolon, making delicious gourmet-class dinners at home has never been so enjoyable. The cookware's durable three-ply construction features an aluminum core between layers of stainless steel for excellent, efficient heat distribution all the way up the sides of the pan. This cookware is suitable for use on all stovetops, including induction, and the polished, sophisticated stainless steel exterior is easy to clean. Comfortable, stylish handles are dual riveted for strength, and the deep-seated coordinating stainless steel lid seals in heat and moisture for a clean, professional look and performance. The cookware is dishwasher safe for convenient cleanup and oven safe to 500°F.
Anolon provided the technical facts above, I will add that Anolon's cookware is stellar and works as well as cookware three times the price. I often take the pieces from stovetop to table for serving because, yes, it is that gorgeous. They clean up beautifully and are stylish. You may remember I have a thing for cookware – good looking, hard working cookware, that is.

Special thanks to the publisher, for working with us to bring this exclusive incentive to our members and providing three copies of this book in our giveaway below. We also extend thanks to Anolon for their generosity in providing three Dutch ovens in our contest.
The publisher is offering three copies of Pasta, Pretty Please to EYB Members in US and Anolon is offering three of their Tri-Ply Clad Stainless Steel 5-Quart Covered Dutch Oven to those winners! Two of the entry options are to answer the following questions in the comments section of this blog post.
Which recipe in the index would you try first?
Which Anolon product would you like to own?
Please note that you must be logged into the Rafflecopter contest before posting or your entry won't be counted. For more information on this process, please see our step-by-step help post. Be sure to check your spam filters to receive our email notifications. Prizes can take up to 6 weeks to arrive from the publishers. If you are not already a Member, you can join at no cost. The contest ends at midnight on December 6th, 2018.