Copenhagen Food – EYBD Promotion
October 2, 2018 by Jenny
Now with EYBDigital, if you buy a print book within the promotional period, for the first time you will have access to the full EYBD cookbook wherever you can access EYB – on vacation, at work, in the grocery store, etc. In addition to the digital book, all the features of EYB will be included in the access, at no cost to the book purchaser. For more information see our EYBD Page.
• Recipe search
• Bookmarks
• Recipe ratings and reviews
• Photo upload (personal photos of dishes cooked)
• Shopping lists
We are pleased to share a promotion for our next EYBD Book, Copenhagen Food: Stories, Traditions and Recipes by Trine Hahnemann today on its publication day.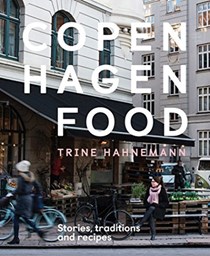 Copenhagen Food is far more than a beautiful cookbook, it is a trip to the cosmopolitan city where the author has lived for nearly 50 years. Trine brilliantly captures the atmosphere of her hometown with details that include her favorite places to walk, bike, and meet friends to drink coffee and enjoy lunch, pastries, and dinner.
Organized by borough, each chapter shares personal stories of each neighborhood and the title delivers over 70 local and traditional recipes. Saffron buns, Blackcurrant roulade, Roast pork buns with red cabbage and cucumber salad are a few examples of those recipes. What I love the most is the wealth of photographs. The city is captured beautifully in myriad photographs from cafes, shops, parks, architecture, not to mention the food!

This is a book to cozy up to near the fireplace and dream of visiting Copenhagen. Then later to take into the kitchen to bring some of Copenhagen home to you. The book is pure comfort from the recipes to the captivating writing the takes us magically to Denmark.
The author has a few events which have been added to our calendar. Please remember if you buy a book at event come back and follow the directions below to register for your digital access.
Our
will take you inside this title. This preview highlights the following recipes in
:
If you have already bought Copenhagen Food or do so before December 31st, 2018, register here (be sure you have a photo of your receipt or screenshot from your online order ready to upload). Once your purchase has been verified, this button
will appear on the book on your Bookshelf next to the title and will take you to the digital access for this gorgeous book. Below are screenshots showing how these features will appear.
Special thanks to Quadrille Publishing for working with us on this special feature as well as providing three copies of this book in our giveaway below.
The publisher is offering three copies of this book to EYB Members in the US, UK, AU and NZ. One of the entry options is to answer the following question in the comments section of this blog post.
Which recipe in the index would you try first?
Please note that you must be logged into the Rafflecopter contest before posting or your entry won't be counted. For more information on this process, please see our step-by-step help post. Be sure to check your spam filters to receive our email notifications. Prizes can take up to 6 weeks to arrive from the publishers. If you are not already a Member, you can join at no cost. The contest ends at midnight on November 10th, 2018.
Seen anything interesting?
Let us know
& we'll share it!