Together – Annabel Langbein
October 20, 2018 by Jenny
Beloved author, Annabel Langbein and her daughter, Rose, have joined forces to deliver A Free Range Life: Together which brings together Annabel's years of kitchen wisdom and commitment to garden-to-table eating, with Rose's youthful enthusiasm for living and cooking sustainably and affordably, to create a guidebook for a fresh new approach to food. Delicious modern vegetarian recipes are accompanied by succulent burgers, ideas for cooking with sustainable fish species, meals for one, fruit-based desserts, picnic baking and on-trend recipes for fermented and pickled foods.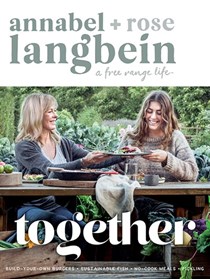 The seed of the idea for this book was sown when Annabel and her family were on holiday in Greece, and Annabel realised what a confident, creative cook her daughter Rose had become during her years of studying and flatting. They decided it would be fun to work on a project together, and A Free Range Life: Together was born!
A four-week meal planner offers simple solutions for weeknight meals, while menu suggestions throughout take the guesswork out of every entertaining occasion. Each week shares international dishes, meat-free options, easy oven bakes and more to keep your meals varied, fun and fresh.
Annabel and Rose share their top tips for tweaking recipes to suit special diets, eating for wellness, saving money at the checkout, preventing food waste and living more sustainably. This inspiring new recipe collection is backed up by shopping lists, blogs and bonus content on Annabel's website.
I was able to review an electronic version of this beautiful offering. It is apparent that Annabel is as lovely a mother as she is a cook and author. The photography is stunning and the recipes are a perfect combination of both Langbein women. Recipes are designated throughout to highlight which are suitable for a vegan or vegetarian variation as well as gluten- or dairy-free substitutions with "take it free range" tips to boot.
Our
takes you inside for a peek at this title that highlights the following
Annabel is offering two copies of this book to EYB Members in New Zealand and Australia. One of the entry options is to answer the following question in the comments section of this blog post.
Which recipe in the index would you try first?
Please note that you must be logged into the Rafflecopter contest before posting or your entry won't be counted. For more information on this process, please see our step-by-step help post. Be sure to check your spam filters to receive our email notifications. Prizes can take up to 6 weeks to arrive from the publishers. If you are not already a Member, you can join at no cost. The contest ends at midnight on December 17th, 2018.
Seen anything interesting?
Let us know
& we'll share it!