Israeli Soul
October 23, 2018 by Jenny
There is pure magic in books that can deliver a world of adventure with each flip of a page. Israeli Soul: Easy, Essential, Delicious by Michael Solomonov and Steven Cook is such a book. As many of us know, the authors have written two prior books together the award-winning Zahav and Federal Donuts. Their latest offering is sure to be preceded by the words "award-winning" soon.
Between the covers of Israeli Soul lies a whirlwind experience that is wrought by the passion of the authors' love of Israel. My work, while exhausting at this time of year, is a labor of love and there are instances where I can't spend enough time with a book before a promotion goes up. Today, after a few weeks of long days, I took an hour and sat on the couch to connect with this book. It was hard to pull away to make dinner, pull the trash to the curb and perform other mundane duties that we all are responsible for in our daily lives, but I did. I knew one thing after spending an hour in Israeli Soul, I had to write about it tonight and I am going back for more.
This year marks 70 years of Independence for Israel and the publication of this book was planned to coincide with this anniversary. While Israeli Soul is indeed filled with 177 recipes, its true value is found in the narrative of a man who loves his birth country. His gift to us is bringing the culture and cuisine of Israel into our hearts. The countless photographs that capture the beauty of Israel, its people and its food are captivating.
Let me be clear, the recipes look spectacular from spice blends and sauces, to schnitzel and falafel, to yeasted rugelach. I am particularly enamored with the breads and desserts shared here but the first recipe I have planned to make is the Chicken thigh shawarma which looks like it will come together in a snap. The recipes are the bonus – the warmth and spirit of Solomonov is life giving. There are books that make you want to cook, then there is this book that makes you want to live. When our days are filled with stressful world news and obligations, an escape into another world is just the balm needed for our weary souls.
Our
shares a look inside of this title that highlights the following
for Lamb shoulder shawarma. The preview also shares pages that reflect how vibrantly beautiful the content is. Special thanks to Houghton Mifflin Harcourt for allowing us to share these pages in our preview and for providing copies in our giveaway below.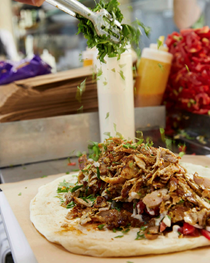 The publisher is offering three copies of this book to EYB Members in the US and Canada. One of the entry options is to answer the following question in the comments section of this blog post.
Which recipe in the index would you try first?
Please note that you must be logged into the Rafflecopter contest before posting or your entry won't be counted. For more information on this process, please see our step-by-step help post. Be sure to check your spam filters to receive our email notifications. Prizes can take up to 6 weeks to arrive from the publishers. If you are not already a Member, you can join at no cost. The contest ends at midnight on December 13th, 2018.
Excerpt used with permission of Houghton Mifflin Harcourt from Israeli Soul by Michael Solomonov and Steven Cook, 2018.