Pie Squared – EYBD
October 23, 2018 by Jenny
Now with EYBDigital, if you buy a print book within the promotional period, for the first time you will have access to the full EYBD cookbook wherever you can access EYB – on vacation, at work, in the grocery store, etc. In addition to the digital book, all the features of EYB will be included in the access, at no cost to the book purchaser. For more information see our EYBD Page.
• Recipe search
• Bookmarks
• Recipe ratings and reviews
• Photo upload (personal photos of dishes cooked)
• Shopping lists
We are pleased to share a promotion for our next EYBD Book, Pie Squared: Irresistibly Easy Sweet and Savory Slab Pies by Cathy Barrow, today on its publication day. The author is on a whirlwind tour and her extensive schedule can be found on our calendar.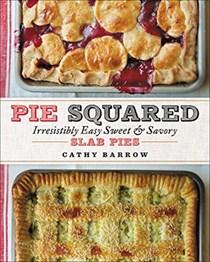 Need to feed a crowd or, in my case, a 14 year old boy? Pie Squared is the answer. Savory dinner and sweet dessert pies fill this book which shares a total of 121 recipes. Cathy's invaluable tips and expertise with plenty of gorgeous photographs make this book a baker's dream. You will be the star of the potluck or family gathering when you arrive with a Favorite turkey chili Frito slab pie with a cornbread crust for the gang (or again, in my case, I will be the best mom ever). Andrew likes to say when I've made something he really likes "Mom, you were chosen as star baker this week."


I particularly love that Cathy has gone an extra step in providing as much information as possible for her recipes. For example which crusts work for savory, sweet or both and which pie recipes work with that particular crust. Throughout the pages, Cathy offers variations on recipes, swap ideas and techniques including "how to set up a double boiler" and more.

Pies don't need to be perfect they just need to be delicious and in this case – you can have your perfectly beautiful pie and eat it, too. This book is one of our upcoming Eat Your Book Cookbook Club titles.
Our
takes you inside this book and features the following
If you have pre-ordered or order Pie Squared before December 31st, 2018 (or buy this title at one of the author's events) register here (be sure you have a photo of your receipt or screenshot from your online order ready to upload). Once your purchase has been verified, this button
will appear on the book on your Bookshelf next to the title and will take you to the digital access of certain portions of Cathy's book including two exclusive recipes from her upcoming title When Pies Fly: Portable Pastries from Hand Pies to Knishes to be published on September 17, 2019 from Grand Central Life & Style. For more information see our EYBD Page.
Below are screenshots showing how these features will appear.

Special thanks to the publisher, Grand Central Life & Style for working with us to bring this exclusive incentive to our members as well as for providing three copies of Pie Squared in our giveaway below. Update: OXO would like to celebrate Cathy's book release in providing one OXO 13 x 9 jelly roll pan to bake your slab pies in style to each of our three US winners! This is the pan that Cathy recommends!
The publisher is offering three copies of this book to EYB Members in the US with OXO offering one 9 x 13 jelly roll pan to each winner. One of the entry options is to answer the following question in the comments section of this blog post.
Which recipe in the index would you try first?
Please note that you must be logged into the Rafflecopter contest before posting or your entry won't be counted. For more information on this process, please see our step-by-step help post. Be sure to check your spam filters to receive our email notifications. Prizes can take up to 6 weeks to arrive from the publishers. If you are not already a Member, you can join at no cost. The contest ends at midnight on December 13th, 2018.