Matt Moran's Australian Food – EYBD Promotion
October 28, 2018 by Jenny
Now with EYBDigital, if you buy a print book within the promotional period, for the first time you will have access to the full EYBD cookbook wherever you can access EYB – on vacation, at work, in the grocery store, etc. In addition to the digital book, all the features of EYB will be included in the access, at no cost to the book purchaser. For more information about this program and other EYBD titles, please see our updated EYBD Page.
• Recipe search
• Bookmarks
• Recipe ratings and reviews
• Photo upload (personal photos of dishes cooked)
• Shopping lists
Today, we are pleased to share a promotion for our EYBD Book, Matt Moran's Australian Food: Coast + Country.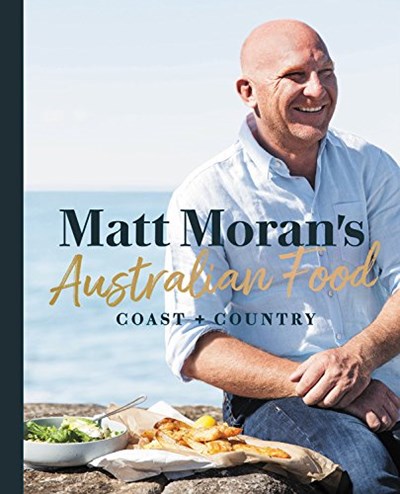 Thirty years ago, when Matt Moran first started cooking in commercial kitchens, lettuce meant iceberg, fish was always sold frozen and there was one variety of tomato – maybe two. Australia is now the envy of the world for its climate and range of produce, and is a food-lover's destination, spurred on by generations of keen home cooks. The recipes in Matt Moran's Australian Food span the country food traditions of regional Australia to the rugged coastline, which offers amazing fresh seafood.
The variety of recipes shared in this title will surprise and inspire. Many have international flavors (Thai-style fish curry; Red lential dhal), desserts look incredible (Triple-chocolate tarlets; Rice pudding with strawberries and pistachios) and the photography is stunning. Matt brings Australia and delicious food to the forefront here. I'm off to track down his other titles now.
Our
gives you a look inside and features the following
If you order Matt Moran's Australian Food before December 31st, 2018, register here (be sure you have a photo of your receipt or screenshot from your online order ready to upload). Once your purchase has been verified, this button
will appear on the book on your Bookshelf next to the title and will take you to the digital access for this gorgeous book.
Below are screenshots showing how these features will appear.
Special thanks to the publisher, Murdoch for working with us to bring this exclusive incentive to our members as well as for providing three copies of this title in our giveaway below.
The publisher is offering three copies of this book to EYB Members in the US, CA, UK and AU. One of the entry options is to answer the following question in the comments section of this blog post.
Which recipe in the index would you try first?
Please note that you must be logged into the Rafflecopter contest before posting or your entry won't be counted. For more information on this process, please see our step-by-step help post. Be sure to check your spam filters to receive our email notifications. Prizes can take up to 6 weeks to arrive from the publishers. If you are not already a Member, you can join at no cost. The contest ends at midnight on December 17th, 2018.