Northern Hospitality – Promotion
October 6, 2018 by Jenny
Northern Hospitality with The Portland Hunt + Alpine Club: A Celebration of Cocktails, Cooking, and Coming Together by Andrew and Briana Volk is the debut cookbook from the owners of the The Portland Hunt + Alpine Club. The Volk's restaurant is a two-time James Beard semi-finalist in the Outstanding Bar Program category. This couple takes care of their guests as if they were welcoming them into their own home – making them comfortable with cocktails that are as carefully crafted as the main entrees themselves.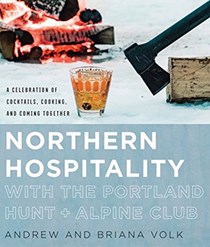 Northern Hospitality shares Andrew's cocktail recipes and lessons on batching cocktails, warm drinks, and Mezcal as well as recipes that are inspired by Portland and Scandinavia. Bar snacks include green chile popcorn, cured venison, and house-made pretzels and Smorgasbords feature smoked fish, cheese, and house-made cider pickles. Classic to lesser known plates range from Swedish meatballs with spaetzle and nutmeg cream to nori hashbrowns and trout roe.
Features on ice fishing, shucking oysters, how to build a bonfire, and après-ski provide an experience as unique as the club itself. Through beautiful photography, cocktails and recipes, you too can celebrate the seasons the way those in the north do: with warmth, fun, and a sense of wonder.
Our
takes you inside the pages of this beautiful book and shares
for the following:
The publisher is offering three copies of this book to EYB Members in the US and Canada. One of the entry options is to answer the following question in the comments section of this blog post.
Which recipe in the index would you try first?
Please note that you must be logged into the Rafflecopter contest before posting or your entry won't be counted. For more information on this process, please see our step-by-step help post. Be sure to check your spam filters to receive our email notifications. Prizes can take up to 6 weeks to arrive from the publishers. If you are not already a Member, you can join at no cost. The contest ends at midnight on November 21st, 2018.
Seen anything interesting?
Let us know
& we'll share it!