Simply Vibrant – Promotion
October 8, 2018 by Jenny
Simply Vibrant: All-Day Vegetarian Recipes for Colorful Plant-Based Cooking by Anya Kassoff shares simple, everyday recipes in the signature style that the popular blogger is known for. Her debut cookbook, The Vibrant Table, is a stunning book that laid foundation work with staple recipes such as Homemade ricotta, Almond milk and Sesame Tahini. In addition to those staples, she delivered a total of 100 recipes from breakfast to dessert in her first offering.

In her latest, Anya puts an emphasis on easy-to-find ingredients and simple preparations. With practicality in mind, she presents ways to make cooking easier and makes those meals go farther by focusing on using in-season produce, teaching us how to use the parts of produce often are tossed in the compost, and providing ways to give new life to leftovers.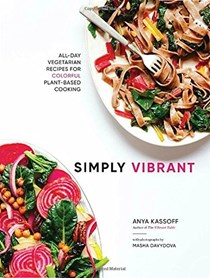 I particularly love the internationally-flavored dishes such as Smoky cauliflower and black bean hummus burritos and Chilled Thai coconut soup with zucchini and carrot noodles. These are the type of recipes that we can insert into our menus during the upcoming food-laden holiday months. By keeping the balance of our meals fresh, we keep a handle on our health so that we can indulge on those special occasions.
Take a look inside this book with our
that features the following colorful dishes in our
The publisher is offering five copies of this book to EYB Members in the US and Canada. One of the entry options is to answer the following question in the comments section of this blog post.
Which recipe in the index would you try first?
Please note that you must be logged into the Rafflecopter contest before posting or your entry won't be counted. For more information on this process, please see our step-by-step help post. Be sure to check your spam filters to receive our email notifications. Prizes can take up to 6 weeks to arrive from the publishers. If you are not already a Member, you can join at no cost. The contest ends at midnight on November 18th, 2018.
Seen anything interesting?
Let us know
& we'll share it!