Little Everyday Cakes by Candace Floyd
November 1, 2018 by Jenny
There are times when we are hit by a cake craving or someone unexpected is popping over for dinner but you don't have the time or need to make an elaborate multi-layered dessert. Little Everyday Cakes: 50+ Perfectly Proportioned Confections to Enjoy Any Day of the Week by Candace Floyd delivers over fifty recipes for those occasions.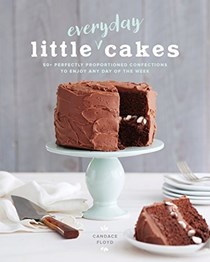 Most of the cakes in this book are baked in a single standard eight inch layer cake pan or a standard loaf pan. The author includes recipes for two layer, six inch cakes for special occasions which is the perfect amount for everyone to enjoy a slice of decadence. I find myself making smaller cakes or treats more often than not for many reasons including not being tempted by over-indulging and being less wasteful if we can't eat the entire regular sized cake before it becomes stale.
I love the variety and range of recipes from Honey ginger sour cream cake, Butterscotch pecan loaf, to a Lemon-rosemary yogurt loaf. The author also provides the measurements in weight and volume which is a bonus. Beautiful photographs and helpful hints fill the pages of this delightful title.
Special thanks to Spring House Press for sharing a recipe with our members and for providing three copies of Little Everyday Cakes in our giveaway below.
One egg dinner cake
Add this recipe to your Bookshelf (click the blue +Bookshelf button).
SERVES 8
Here's the cake that started my fascination with little cakes. My grandmother Queenie made this often and served it in a variety of ways-with sliced fresh peaches and ice cream, with strawberries and Sweetened Whipped Cream, or with Fudgy Chocolate Sauce.
2 cups all-purpose flour (240g)
3 teaspoons baking powder
1/2 teaspoon salt
1/2 cup unsalted butter, softened (113g)
1 cup granulated sugar (198g)
1 egg, room temperature
1 teaspoon vanilla extract
3/4 cup whole milk, room temperature (170g)
1 tablespoon coarse sugar (optional)
Preheat the oven to 350°F (180°C). Grease a 9-inch round cake pan. Line the bottom with parchment paper, and grease the parchment. Dust the pan with flour.
Whisk together the flour, baking powder, and salt in a small bowl.
Place the butter in a mixing bowl, and beat with an electric mixer at medium-high speed until creamy. Add the granulated sugar, and beat until fluffy, about 5 minutes. Add the egg and vanilla, and beat until well combined. Reduce the speed to low, and add the flour mixture and milk a little at a time, beginning and ending with the flour mixture. Beat until just smooth. Scrape into the prepared pan.
Bake the cake 25 to 30 minutes, until golden brown and a tester inserted in the center comes out clean. Place the pan on a wire rack, and let the cake cool 15 minutes. Turn the cake out of the pan, and return it to the rack, top side up. Sprinkle the coarse sugar on top, if using, and let the cake cool completely.
Cut the cake into wedges, and serve with sliced fruit or berries, ice cream, sweetened whipped cream or chocolate sauce.
The publisher is offering three copies of this book to EYB Members in the US and Canada. One of the entry options is to answer the following question in the comments section of this blog post.
Which recipe in the index would you try first?
Please note that you must be logged into the Rafflecopter contest before posting or your entry won't be counted. For more information on this process, please see our step-by-step help post. Be sure to check your spam filters to receive our email notifications. Prizes can take up to 6 weeks to arrive from the publishers. If you are not already a Member, you can join at no cost. The contest ends at midnight on December 31st, 2018.
Seen anything interesting?
Let us know
& we'll share it!