Uncomplicated by Claire Tansey
November 12, 2018 by Jenny
Even this cookbook lover admits that there are times when I don't want to think about dinner. Any number of things can throw my carefully balanced juggling act off course. Claire Tansey is an accomplished chef, but also a busy working mom, so she knows the stress that takes over when deadlines are looming but we need to put dinner on the table. In her debut cookbook, Uncomplicated: Taking the Stress Out of Home Cooking, Claire has streamlined classic dishes so that cooking doesn't take more time than it needs to.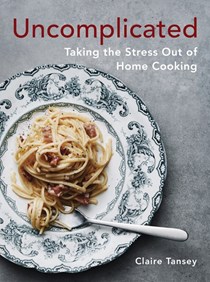 The author knows how to filet a fish or slow roast a duck, but admits that sometimes she is just hungry and wants to make a simple meal to sit down and enjoy with her family. The recipes in Uncomplicated are those that she prepares on the regular. For instance, the Gingery beef and broccoli with cashews that can be made ahead and served up before takeout can be called in. There are over 125 recipes from breakfast to dessert, including dishes for entertaining and the holidays.
Our
takes you inside this title highlighting the following
Special thanks to Penguin Random House Canada for providing the materials for our EYBD Preview as well as three copies of this title in our giveaway below.
The publisher is offering three copies of this book to EYB Members in the US and Canada. One of the entry options is to answer the following question in the comments section of this blog post.
Which recipe in the index would you try first?
Please note that you must be logged into the Rafflecopter contest before posting or your entry won't be counted. For more information on this process, please see our step-by-step help post. Be sure to check your spam filters to receive our email notifications. Prizes can take up to 6 weeks to arrive from the publishers. If you are not already a Member, you can join at no cost. The contest ends at midnight on January 13th, 2019.
Seen anything interesting?
Let us know
& we'll share it!