Extra Helping – EYBD Promotion
November 13, 2018 by Jenny
Now with EYBDigital, if you buy a print book within the promotional period, for the first time you will have access to the full EYBD cookbook wherever you can access our site – on vacation, at work, in the grocery store, etc. In addition to the digital book, all the features of EYB will be included in the access, at no cost to the book purchaser. For more information see our EYBD Page.
• Recipe search
• Bookmarks
• Recipe ratings and reviews
• Photo upload (personal photos of dishes cooked)
• Shopping lists
We are pleased to share a promotion for Extra Helping: Recipes for Building Community One Dish at a Time by Janet Elsbach, our latest EYBD Book on its publication day. Janet's events are shared on our calendar.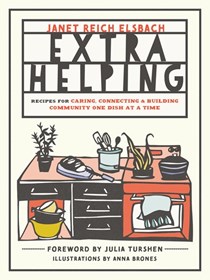 One of the essential ways to show up for people is to feed them. When our son was in and out of the hospital for almost a three month period last year, it would have meant everything to me if someone would have brought over a meal. When your mind and body is exhausted, that basic act – even if it is a take-out pizza – is life giving.

This year when we moved our friend prepared dinner for us which we shared at 9 pm with the moving employees on a make-shift picnic table set up in the garage – it was wonderful. The movers stated no one had ever did that for them – sat and shared a meal after they had been working all day. (Our friend also had bought breakfast sandwiches for us all including the movers and we bought pizza for the guys for lunch. She saved that day and we will never forget that.)
Extra Helping is for anyone who wants to nurture others. With recipes tailored to meet many of the dietary modifications that illness and recovery (not to mention modern life) often entail, as well as suggestions that range from mailing a care package to bringing over a full, hot meal, this title will guide us in the best ways to offer our support.
In eight chapters,
Extra Helping
walks the helpful friend through cooking for people who are dealing with illness, recovery, and loss – or celebrating babies, birthdays, and new homes. Personal stories from the front lines of care, shortcuts for the time-strapped, and sidebars full of tips and embellishments round out a collection of over 60 recipes (ingredients given in both volume and weight measurements), aid readers in developing a style of caregiving all their own. The true beauty of this special book is its cause – a portion of the sales will go toward Feeding America.
Our
takes you inside this book with the following
If you order before February 16, 2019 register here (be sure you have a photo of your receipt or screenshot from your online order ready to upload). Once your purchase has been verified, this button
will appear on the book on your Bookshelf next to the title and will take you to the digital access for this book.
Below are screenshots showing how these features will appear.
Special thanks to the publisher, for working with us to bring this exclusive incentive to our members as well as for providing five copies of Extra Helping in our giveaway below.
The publisher is offering five copies of this book to EYB Members in the US and Canada. One of the entry options is to answer the following question in the comments section of this blog post.
Which recipe in the index would you try first?
Please note that you must be logged into the Rafflecopter contest before posting or your entry won't be counted. For more information on this process, please see our step-by-step help post. Be sure to check your spam filters to receive our email notifications. Prizes can take up to 6 weeks to arrive from the publishers. If you are not already a Member, you can join at no cost. The contest ends at midnight on January 13th, 2019.