Sister Pie by Lisa Ludwinski
November 13, 2018 by Jenny
"Sister Pie aims to celebrate the seasons through pie
to provide consistently delicious, thoughtful,
and inventive food; to foster a welcoming environment
for employees and customers through transparency,
community engagement, and education."
The above quotation is a part of Sister Pie's mission statement and the reminder of this statement is set out in a flyer that the bakery's employees see every day. The bones of this policy should be a part of how we all live our lives with kindness.
Sister Pie: The Recipes and Stories of a Big-Hearted Bakery in Detroit by Lisa Ludwinski is special not only for the stunning photography and tempting recipes but for the spirit behind this bakery. The shop's focus is on sustainability, paying their employees above-average wages, promotion from within and training plans. They recycle, set monthly water-usage goals, and buy compostable paper goods from a local supplier. There are many other ways that this business is making a difference including their "Pie-it-Forward" program which allows customers to pre-purchase pie slices for anyone to use for any reason. They don't talk the talk, they walk the walk. Lisa is touring in support of this title and her schedule can be found on our calendar.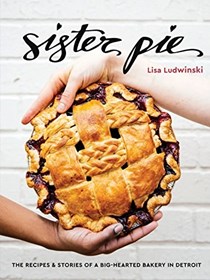 As any good pie primer begins – it all starts with the dough which includes a variety of special crusts such as Cornmeal rose galette dough, Aged gouda pie dough and a Toasted pecan pie dough. A collection of inspirational sweet and savory pie recipes are shared before the "everything else" chapter begins. Here, recipes such as Salted rosemary shortbread, Rhubarb blondies, and Blackberry peach coffee cake, for Jane (not our Jane but former employee) are set out.

To state that I am in love with this book is an understatement. The book itself and spirit of the author are magical and will provide many delicious bakes as well as feel good moments for years to come.
Our
takes you inside this gorgeous book and features the following
The publisher is offering three copies of this book to EYB Members in the US. One of the entry options is to answer the following question in the comments section of this blog post.
Which recipe in the index would you try first?
Please note that you must be logged into the Rafflecopter contest before posting or your entry won't be counted. For more information on this process, please see our step-by-step help post. Be sure to check your spam filters to receive our email notifications. Prizes can take up to 6 weeks to arrive from the publishers. If you are not already a Member, you can join at no cost. The contest ends at midnight on January 11th, 2019.