Cooking South of the Clouds – Georgia Freedman
November 14, 2018 by Jenny
Yunnan is a province in southwestern China with a varied landscape. The snow-capped mountains, rice terraces, lakes and deep gorges – all contribute to its varied cuisine. Travel guides refer to this area as China's wild west. Georgia Freedman, the author of Cooking South of the Clouds: Recipes and Stories from China's Yunnan Province states on her website: "For centuries retreating armies (and persecuted ethnic groups) have climbed up into Yunnan's mountainous country, …. And like the American West, Yunnan is known as a laid-back place, the region with the best weather, the most comfortable lifestyle, and the best vacation destinations."
Yunnan cuisine is a blend of Han Chinese and other ethnic minority groups in southwestern China and is one of the most delicious places on earth due in large part to its landscape. The region is famous for its mushrooms, hams, pickles, edible flowers, its use of potatoes, and its love of chiles and Sichuan peppercorns.
Yunnan's food is exciting and unfamiliar, but much of it is quite easy to make, using simple techniques already familiar to Western cooks. Each chapter in this captivating book covers a different area featuring that area's core recipes. Complete with profiles of local cooks, artisans, and farmers, as well as stunning on-location photography, Cooking South of the Clouds takes readers on an unforgettable journey through the land of Shangri-La and we are all the richer for the journey.
Georgia's love affair with Yunnan began in Kumming, the capital of the province, with a bowl of noodle soup know as crossing the bridge rice noodles (recipe shared below). Her stories and recipes will no doubt have you falling for this flavorful cuisine and has me eager to order a Yunnan steam pot. I have a number of recipes bookmarked to make – the Meat filled momas, Home-style stir fried pork with garlic chives, Chicken and chestnut soup as well as dozens of others.
This title is one of my top books of 2018. It is spectacular in every way – the recipes are approachable and exciting, the stories and photographs are mesmerizing, and I find myself wanting to curl up on the couch to savor every word.

Special thanks to the publisher, Kyle Books, for sharing the recipe below with our members as well as providing three copies of this title in our giveaway below.
Crossing the bridge rice noodles
Add this recipe to your Bookshelf (click the blue +Bookshelf button).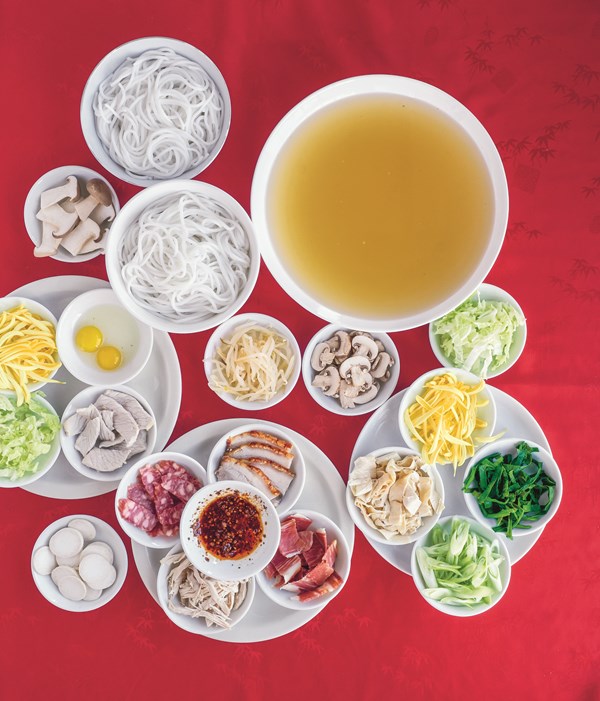 For the Broth:
1 lb. pork bones
1 whole chicken, plus 2 whole legs with thighs and 2 more thighs (about 4 1/2 lbs. total)
1 rack spareribs (3 to 3 1/2 lbs.)
4 whole star anise
3 black cardamom pods
1/4 cup light soy sauce
For the Add-ins:
1 cup lightly packed bean sprouts
1 cup garlic chives cut into 2-inch pieces
8 quail eggs
3 oz. lean pork, such as a boneless chop, very thinly sliced (1/3 cup)
2 oz. Yunnan ham or Spanish Jamón Serrano, very thinly sliced and cut into 1-inch squares (1/3 cup)
3 oz. flavorful mushrooms, such as shiitake or trumpet, cut into thin slices (about 2 tbsp.)
1/2 cup fresh or rehydrated tofu skin, cut into strips about 1/3 inch by 2 to 3 inches
6 oz. Chinese roast pork with crispy skin, thinly sliced and cut into 1- to 11/2-inch squares (1 cup)
3/4 cup chicken left over from making the broth, shredded
2 lbs. fresh or cooked rice noodles (about 8 cups)
2 scallions, both white and green parts, very thinly sliced
4 tbsp. thin golden chrysanthemum petals (optional)
Seasonings on the Side:
Light soy sauce
Dried Chile Oil (page 276)
Dark Chinese vinegar
This gorgeous soup from the city of Mengzi is Yunnan's most famous dish. According to popular legend, there was once a scholar who was studying for his exams on the island in the center of beautiful South Lake, a kilometer's walk from the old town. His wife (whose name is lost to antiquity) brought the scholar food for lunch every day, but it always got cold before she arrived. One day, when she hadn't had time to prepare a full meal, the wife grabbed a pot of rich broth, gathered all the raw ingredients she could find in her kitchen, and made her way to the lake. When she arrived, she realized that the fat in the broth had risen to the top of the pot and solidified, keeping the soup underneath piping hot, and she quickly added all her other ingredients to the bowl, where the heat of the broth cooked them perfectly. The scholar loved the resulting soup, and just like that, a delicious classic was born.
The soup is extremely impressive looking when served, with the ingredients displayed in tiny saucers or arrayed on a plate, ready to go into the bowl of hot broth. But that doesn't mean the dish is difficult to prepare. The key to making this soup in as quick and easy a way as possible is to embrace what is available. If you have a Chinatown nearby, grab some roast pork belly and see if you can hunt down some fresh tofu skin to cut into thin strips or small squares. If Chinese roast meats are not available, American-style bacon would not be out of place. Raw quail eggs can be replaced with a very thin, crepe-like omelet cut into strips. As long as you have five or more ingredients, the rich broth will carry all the flavors and bring them together in a cohesive whole. And as for the broth, if you don't eat pork, go ahead and try making the base with chicken and duck or even some goose. As long as there's plenty of meat-and, ideally, a few kinds of it – you'll end up with something fragrant and ambrosial.
In Mengzi, this soup is assembled in huge bowls nearly the size of a cooking pot. Diners choose how many ingredients they want to add to the broth (restaurants offer sets ranging from ten to twenty different toppings), then load it up with as many noodles as they like. This recipe is adapted to make four slightly smaller portions of soup (to fit in more conventional bowls), but if you have extra-large bowls, try making the original size by using eight cups of broth and twice the amount of noodles called for below. Cooks in Mengzi also keep their broth cooking for months or even years, adding more meat and water every day and building up a base of flavor. When starting from scratch, roasting some of the meat can help approximate the broth's rich, layered flavor. Makes four medium servings.
Preheat the oven to 450°F. Put the pork bones and the chicken legs 
and thighs on a rimmed baking sheet and roast until golden brown, about 25 minutes.
Transfer the cooked meat and bones to a large stockpot, add the ribs, whole chicken, star anise, and cardamom, and cover with 5 quarts of water. Cover the pot and bring to a boil, then reduce the heat to low and continue cooking, covered, at a low boil for 4 to 6 hours (the longer the broth cooks, the more flavorful it will be). When the broth is ready, stir in the soy sauce, then strain out the meat, bones, and seasonings. Reserve 
3/4 cup of the chicken meat, removing it from the bone, to add to the soup. (The broth can be made a day or two before you plan to serve the soup and refrigerated until use.)
Bring a medium pot of water to a boil. Boil the bean sprouts until tender, 1 to 2 minutes, then remove them from the pot with tongs or a perforated scoop, rinse with cold water, squeeze out as much moisture as possible, and set aside. Use the same pot to boil the garlic chives for 30 seconds, then rinse with cold water, squeeze out as much moisture as possible, and set aside. Divide all the soup add-ins into four servings and arrange them in little saucers or on a plate for each diner. Crack the quail eggs into small bowls or saucers, two eggs for each diner. If the tofu skin is folded into tight layers, pull them apart so that they resemble noodles, or cut them into small squares.
When the add-ins are all prepared, bring the broth back to a boil, then quickly divide the broth into four very large, deep soup bowls (4 to 5 cups each). Immediately serve with the rest of the ingredients on the side.
To assemble the bowls, diners should begin by stirring the broth with their chopsticks and adding the raw eggs (which should become wispy in the moving broth), followed by the raw pork or any other raw meats, the ham, tofu skin, mushrooms and any other ingredients that need to be cooked, and then the already-cooked ingredients, such as the roast pork, chicken, and cooked vegetables. Add the rice noodles to the bowl and stir, then garnish with the scallions and the chrysanthemum petals
The publisher is offering three copies of this book to EYB Members in the US and UK. One of the entry options is to answer the following question in the comments section of this blog post.
Which recipe in the index would you try first?
Please note that you must be logged into the Rafflecopter contest before posting or your entry won't be counted. For more information on this process, please see our step-by-step help post. Be sure to check your spam filters to receive our email notifications. Prizes can take up to 6 weeks to arrive from the publishers. If you are not already a Member, you can join at no cost. The contest ends at midnight on January 15th, 2019.
Recipe and photographs from Cooking South of the Clouds by Georgia Freedman, photographs by Josh Wand, Kyle Books 2018.