Celebrate National Bundt Day
November 15, 2018 by Darcie
Today is National Bundt Day (an offically-named celebration day here in Minnesota, birthplace of the Bundt). The iconic pan was invented in the late 1950s by Nordic Ware founder H. David (Dave) Dahlquist. According to the Nordic Ware website, Dave and his wife Dorothy (Dotty), created the Nordic Ware company in 1948. You can read more about the birth of the Bundt in Jenny's post from earlier this year.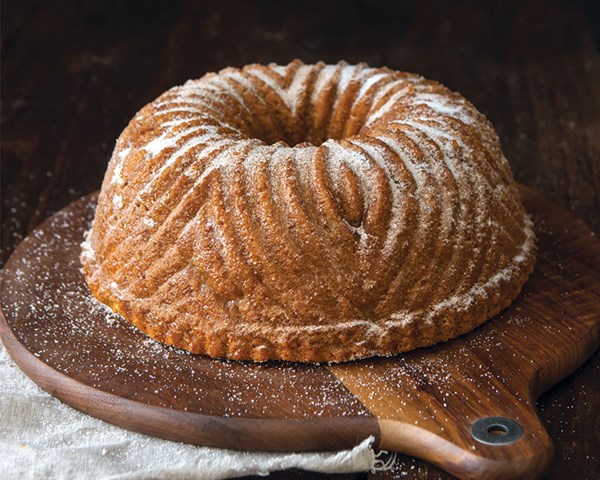 Like many businesses, it was built on a shoestring and sheer determination. Nordic Ware's fledgling product line included mainly specialty Scandinavian ethnic cookware products-the Rosette iron, Krumkake iron, Platte Panne pan, and the Ebelskiver pan. The Bundt came along later, and floundered until 1966, when the "Tunnel of Fudge" cake, baked in a Bundt pan, was a winner in the Pillsbury Bake-Off. The rest is history – delicious and beautiful history.
Nordic Ware is offering a special deal on Bundt pans until 11:59 p.m. US Central Time – you can get a free cake mix or if you purchase two Bundt pans, you will get a free Bundt cookbook. You can find several books featuring bundt cakes and bundt cake recipes galore in the EYB Library, including these favorites:
I'm partial to the Bavaria Bundt pan shape shown above, but I also like the Heritage Bundt and the Crown Bundt. What's your favorite bundt shape?
Seen anything interesting?
Let us know
& we'll share it!