Are you brave enough to attempt the turducken of pies?
November 16, 2018 by Darcie
Some culinary creations are a stroke of genius – take the Cronut, for instance. Others, well, leave you scratching your head wondering why. A layered combination of pie and cake baked together in a lumbering tower is a concoction that belongs in the latter category, yet it has developed a cult following.
Meet the turducken of desserts: the pumpecapple piecake (pictured below), which is a pumpkin pie in pumpkin spice cake, a pecan pie in chocolate cake and an apple pie in apple spice cake all baked into one and iced with cream cheese frosting. It is the creation of Three Brothers Bakery in Houston, and you can purchase one for your holiday table for a mere $250 USD. The pumpecapple piecake shot to stardom after it appeared onFood Network's Outrageous Food program in 2014.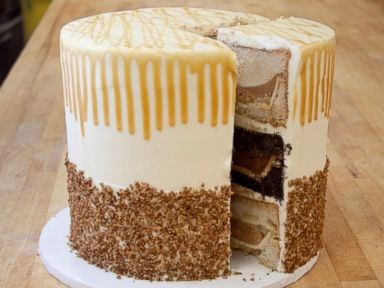 The pumpecapple piecake isn't the first of its kind. In about 2009, a similar Franken-dessert called the Cherpumple appeared. The brainchild of Charles Phoenix – an American pop culture humorist, historian, author and chef – the Cherpumple combines cherry, pumpkin and apple pies with three different flavors of cake, all stacked high under a blanket of cream cheese frosting. Phoenix calls it the turducken of desserts, as that is what inspired the concoction.
To round out a dessert trifecta, Genius Kitchen developed the Thanksgiving piecaken, which has only two kinds of pie (pumpkin and pecan), substituting an apple upside-down cake for the top layer. Baking one of these "piecakens" might earn you bragging rights, but it's doubtful it would earn the praise of your dinner guests. I can only imagine a completely soggy mess, with the pie crust going to mush and the filling leaching out to make a leaden cake. I think I'll skip this trend and just keep our holiday desserts separate.
Seen anything interesting?
Let us know
& we'll share it!