Cornersmith: Salads and Pickles EYBD Promotion
November 23, 2018 by Jenny
Now with EYBDigital, if you buy a print book within the promotional period, for the first time you will have access to the full EYBD cookbook wherever you can access EYB – on vacation, at work, in the grocery store, etc. In addition to the digital book, all the features of EYB will be included in the access, at no cost to the book purchaser. For more information see our EYBD Page.
• Recipe search
• Bookmarks
• Recipe ratings and reviews
• Photo upload (personal photos of dishes cooked)
• Shopping lists
We are pleased to share a promotion for our next EYBD Book, Cornersmith: Salads and Pickles: Vegetables with More Taste & Less Waste by Alex Elliott-Howery and Sabine Spindler.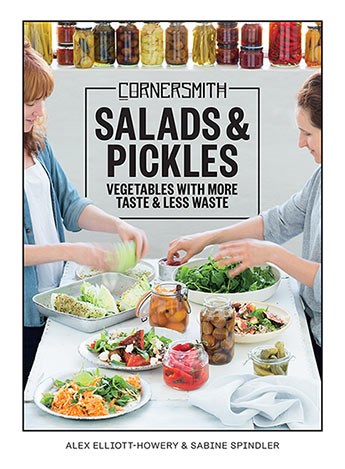 The Cornersmith way to eat is about bringing together a variety of deliciously simple elements. Make one or two vegetable dishes, open a jar of pickles or ferments, add a good loaf of bread and perhaps an easy protein – a great piece of cheese, some eggs, a slice of grilled meat or fish. No diets, no superfoods, no guilt. Just good food with more taste and the added benefit of cutting down food waste.
From the award-winning Cornersmith Cafes and Picklery comes the follow-up to their bestselling self-titled cookbook, with a focus on seasonal salads, pickles and preserving. Including dozens of simple ideas for fresh ingredients that might otherwise be thrown away,
If you order Cornersmith: Salads and Pickles before the end of our promotional period, register here (be sure you have a photo of your receipt or screenshot from your online order ready to upload). Once your purchase has been verified, this button
will appear on the book on your Bookshelf next to the title and will take you to the digital access for this book.
Below are screenshots showing how these features will appear.
Special thanks to the publisher, for working with us to bring this exclusive incentive to our members as well as for providing three copies of in our giveaway below.
The publisher is offering three copies of this book to EYB Members in the US, UK, CA and AU. One of the entry options is to answer the following question in the comments section of this blog post.
Which recipe in the index would you try first?
Please note that you must be logged into the Rafflecopter contest before posting or your entry won't be counted. For more information on this process, please see our step-by-step help post. Be sure to check your spam filters to receive our email notifications. Prizes can take up to 6 weeks to arrive from the publishers. If you are not already a Member, you can join at no cost. The contest ends at midnight on February 6th, 2019 (deadline extended for US publication copies to arrive).
Seen anything interesting?
Let us know
& we'll share it!