How to Bake by Nick Malgieri & Anolon Springform Pan Promotion
November 24, 2018 by Jenny
Dover Publications has reissued Nick Malgieri's James Beard award winning (1995), How to Bake: Complete Guide to Perfect Cakes, Cookies, Pies, Tarts, Breads, Pizzas, Muffins this month. We are in the midst of comparing and indexing this new edition to prior versions and should have this process completed soon.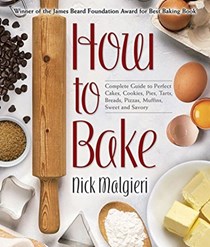 How to Bake shares scores of mouth-watering recipes for plain and fancy cakes; breads, biscuits, muffins, and scones; sweet and savory pies and tarts; brownies, macaroons, rugelach, and all manner of cookies. In addition to his clear, detailed instructions, Malgieri offers helpful tips for variations on classic recipes as well as suggestions for everything from making a pastry bag to mastering cake and pie toppings. Presented in order from the simplest to most complex, these recipes from the collection of a great pastry chef will add a whole new level of sophistication to your kitchen repertoire.
Nick was gracious enough to answer a few questions for our members:
If I have counted correctly, you have, yourself, authored over a dozen cookbooks. And now How to Bake is being reissued by Dover which is exciting. Of all your titles, why How to Bake? Is the reissue updated? Anything new?
How to Bake was my first book with Harper's that was my "home" for almost 15 years. I spent a long time developing and new recipes and tweaking old ones over a couple of years. When it comes time to make pies for Thanksgiving or cookies for Christmas I still consult some of those recipes as they were and have remained favorites.
The whole manuscript was revised and updated, especially in the areas of ingredients, equipment, sources for ingredients and most of all many recipes. There have been many changes in the breads and an entirely new section on sourdough – both propagating and maintaining the starter and recipes for using it.
Are there plans for other reprints?
I would love to bring back my chocolate book but it's not as yet out of print.
Which of your books is your favorite, if you could name a favorite? I have them all – and I would be hard pressed to name a favorite myself.
It's hard to name a favorite but How to Bake was my first "big" book and It will always be special for me, but I love all my other "children" as much…
I just prepared questions for an interview I'm preparing for Rose Levy Beranbaum – and I want to ask you the same question – are you also a cook? Are there any plans for a savory title from you?
I LOVE to cook – Southern Italian dishes my grandmother and mother made, Turkish, Thai, you name it!
At this point in your career – do you bake for pleasure? And if you do what are your go to recipes?
I do all the time as I like to entertain and I always include a savory baked item – either an hors d'oeuvre, or focaccia or other bread, as well as a dessert. When I'm planning this kind of baking, I'm always taking off from one of my own recipes and taking it in a new direction.
What has been your biggest baking failure? Your biggest baking success?
For me, the two are linked. I remember I tried to adapt an Alice B. Toklas recipe for something called bird's nest pudding and after a dozen tries I just gave up including it in the recipes for an article. Years later I looked at it again and I realized I had been using way too much flour in the mix. But there have been plenty of other stops along the way -a chocolate sour cream pound cake that took many tweaks before it became edible.
If you were to choose five baked desserts, everyone should know, what would they be? This is like the five dishes you should know how to make – roasted chicken, pasta carbonara, etc.
A plain cake like a marble cake or pound cake
A simple fruit pie or tart
A couple of good cookies (chocolate chip included)
A flourless chocolate mousse cake (into the oven in 10 minutes)
Something savory like easy focaccia or breadsticks
Are you also a cookbook fan – do you have any favorites? How many in your collection?
When I lived in a relatively large Manhattan apartment I had 8,000 cookbooks with me. Four years ago I moved to Brooklyn and I sent 90 cartons of books to the rare book and manuscript library at University of Pennsylvania in Philadelphia. The catalog of about 3,00 is now available online:
I'm thrilled that my collection resides with that of Esther B. Aresty, who had the finest collection of the 20th century, and that of my dear late friend Fritz Blank, for years the chef owner of the elegant Deux Cheminees in Philadelphia.
I kept about 1,000 favorites with me when I moved.
What's next for Nick Malgieri?
If you find out, let me know! Presently I'm talking with someone about contributing a baking and sweets section to a savory cookbook. I'd also love to do a book of my all-time favorite recipes.
*****
Our
takes you inside to share a few recipes.
Thanks to our friends at Dover Books we are pleased to share a worldwide giveaway for How to Bake below. If you are planning your holiday shopping, Dover is offering our members 25% off of their cookbook collection using this link and the code: WRBY.
To celebrate the reissue of this classic, our friends at Anolon have provided a set of their Anolon Advanced Nonstick Bakeware 9-Inch Square Springform Dessert and 9-Inch Round Springform Pans in our giveaway below to two winners in the US.

Anolon springform bakeware is my
go-to for cheesecakes, ice cream cakes and as well as other baking projects. I've even used the wonder-pans for layered savory dishes such as a lasagna (be sure to wrap the bottom of the pan in foil) or timpano. I've tried many other brands with the conclusion that Anolon is my favorite. Other products have rusted or warped, but I've had Anolon for years with no issues.
This morning I made the Moist, buttery nut cake from How to Bake in my Anolon round springform pans. I sprayed the pans, baked and then released the latch with my cakes coming out perfectly. This cake is, indeed, moist and buttery – filled with flavor from the ground nuts (I used almond) and has a nice crumb. The batter came together so fast and I can see this cake making many appearances at our table. Thanks to Dover Publications, another generation of bakers can enjoy Nick's recipes. This baker appreciates being reminded of the beauty and perfection of the recipes in this classic title.
The publisher is offering two copies of this book to EYB Members worldwide and Anolon is providing a set of their springform pans to two US winners. One of the entry options is to answer the following question in the comments section of this blog post.
Which recipe in the index would you try first?
Please note that you must be logged into the Rafflecopter contest before posting or your entry won't be counted. For more information on this process, please see our step-by-step help post. Be sure to check your spam filters to receive our email notifications. Prizes can take up to 6 weeks to arrive from the publishers. If you are not already a Member, you can join at no cost. The contest ends at midnight on February 3rd, 2019.