SUQAR by Greg Malouf and Lucy Malouf
November 29, 2018 by Jenny
Greg and Lucy Malouf have co-written eight cookbooks. The once married couple who divorced during the production of their first effort, Arabesque, manage to continue to make beautiful cookbooks together. The Maloufs' books are excursions to the Middle East fueled by words, food and photographs. Each title has earned a spot on my bulging bookshelves.

Their latest, SUQAR: Desserts & Sweets from the Modern Middle East, will take your breath away, as it did mine. When I first received the book, I wrote my friend at Hardie Grant and stated "I just received SUQAR and I think I need to take a cold shower. This book is spectacular." Books such as this one deliver an experience l wouldn't likewise be likely to enjoy. With the Maloufs' work, I am able to walk into my kitchen, gather a few ingredients and in no time at all enjoy a Turkish pretty eye cookie or any number of Middle Eastern delights.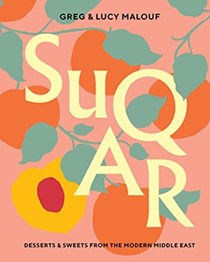 There are certain recipes that may require a trip to a Middle Eastern grocery or an order online but overall the recipes here are approachable and inspirational. I often joke that the universe doesn't need another snickerdoodle recipe but we do need to (or at least I need to) wrap my heart around new cuisines and bring the world just a bit closer via my kitchen.
This book is our baking option in The Eat Your Book Cookbook Club for February and has made my Best Cookbooks of 2018 and my Gift Guide for Cookbook Lovers. Present a copy of this stunner with a Ma'amoul mold and make a baker in your life happy. There are a variety of molds (which are optional for the Ma'amoul recipes) at Amazon.
Our
takes you inside this stunning book and features the following
Special thanks to Hardie Grant for providing us with the materials for our preview and supplying three copies of this must-have baking title in our giveaway below.
The publisher is offering three copies of this book to EYB Members in the US, UK, AU and NZ. One of the entry options is to answer the following question in the comments section of this blog post.
Which recipe in the index would you try first?
Please note that you must be logged into the Rafflecopter contest before posting or your entry won't be counted. For more information on this process, please see our step-by-step help post. Be sure to check your spam filters to receive our email notifications. Prizes can take up to 6 weeks to arrive from the publishers. If you are not already a Member, you can join at no cost. The contest ends at midnight on February 3rd, 2019.
Seen anything interesting?
Let us know
& we'll share it!