Crusts by Barbara Elisi Caracciolo
November 3, 2018 by Jenny
Crusts: The Ultimate Baker's Book by Barbara Elisi Caracciolo shares more than 300 recipes from expert and artisan bakers, covering breads, croissants, flatbreads, pizzas, and pies. Barbara is the founder and owner of Spigamadre bakery in Stockholm, Sweden and the author of the Bread and Companatico website.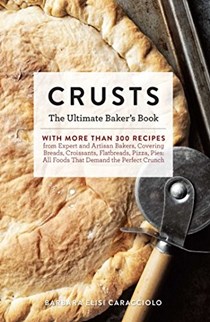 When I received this book, I was impressed with the depth of information contained within its covers, the beautiful photographs and the range of recipes. There are 300+ recipes from artisan bakers around the world; gluten-free, Paleo, vegetarian, and vegan recipes; complete how-to sections on making your own dough, bread, and pizzas with easy-to-follow instructions; helpful tips and techniques from expert bakers and chefs; culinary histories behind your favorite loaves and pastries; an illustrated catalog of more than 100 grains from around the world and throughout time and still more!
Savory kale-filled buns, Lemon rice pudding pie, Salt-n-Pepa prawn pizza, and Maple pecan pie with bourbon are a few examples of what you will find here. Profiles of bakeries and restaurants (Flour, Otto Pizza, Scoozi) and the bakers themselves (Joanne Chang, Michael Siu) are the icing on the cake. You will get lost in this beautiful book, buy a copy for yourself and for all the bakers in your life. I see a Frissant on my horizon.
The publisher is offering three copies of this book to EYB Members in the US. One of the entry options is to answer the following question in the comments section of this blog post.
Which recipe in the index would you try first?
Please note that you must be logged into the Rafflecopter contest before posting or your entry won't be counted. For more information on this process, please see our step-by-step help post. Be sure to check your spam filters to receive our email notifications. Prizes can take up to 6 weeks to arrive from the publishers. If you are not already a Member, you can join at no cost. The contest ends at midnight on January 1st, 2019.
Seen anything interesting?
Let us know
& we'll share it!