12 Bones Smokehouse – EYBD
November 4, 2018 by Jenny
Now with EYBDigital, if you buy a print book within the promotional period, for the first time you will have access to the full EYBD cookbook wherever you can access EYB – on vacation, at work, in the grocery store, etc. In addition to the digital book, all the features of EYB will be included in the access, at no cost to the book purchaser. For more information on EYBDigital see our EYBD Page.
• Recipe search
• Bookmarks
• Recipe ratings and reviews
• Photo upload (personal photos of dishes cooked)
• Shopping lists
We are pleased to share a promotion for our next EYBD Book 12 Bones Smokehouse: An Updated Edition with More Barbecue Recipes from Asheville, NC by Bryan and Angela King, Shane Heavner and Mackensy Lunsford.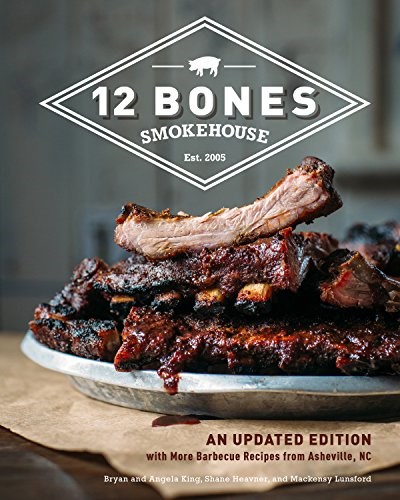 When 12 Bones Smokehouse opened in Asheville, North Carolina, many doubted that it would succeed. From a squat building in a flood plain, the owners were serving up creative barbecue that wasn't 100-percent true to any single region. Yet more than a decade later, 12 Bones is a local institution that rivals the Biltmore Estate in popularity.
In this newly updated edition of
12 Bones Smokehouse
, you'll find recipes that draw inspiration from all over the South (and sometimes the North), from old family favorites, to new recipes invented on a whim. You'll enjoy page after page of the classics as well as 12 Bones' most popular specials and desserts.
Yes, I realize this is a smokehouse cookbook, and the savory food will inspire you to head out in the midst of winter and start up the smoker/grill, but the desserts are equally impressive: Peanut butter-banana upside down cake (I am so making this soon), Midnight pies and the
Peanut butter pretzel bars
(featured in our EYBD preview) are swoon-worthy, or should that be spoon-worthy? Either way, start your dinner with any of the recipes in this book and invite me over, I'll bring dessert!
Our
takes you inside this book and features the following dishes
If you have pre-ordered or order before December 31st, 2018, register here (be sure you have a photo of your receipt or screenshot from your online order ready to upload). Once your purchase has been verified, this button
will appear on the book on your Bookshelf next to the title and will take you to the digital access for this gorgeous book.
Below are screenshots showing how these features will appear.

Special thanks to the publisher, Voyageur Press/Quarto Cooks for working with us to bring this exclusive incentive to our members as well as for providing three copies of this title in our giveaway below.
The publisher is offering three copies of this book to EYB Members in the US,UK and Canada. One of the entry options is to answer the following question in the comments section of this blog post.
Which recipe in the index would you try first?
Please note that you must be logged into the Rafflecopter contest before posting or your entry won't be counted. For more information on this process, please see our step-by-step help post. Be sure to check your spam filters to receive our email notifications. Prizes can take up to 6 weeks to arrive from the publishers. If you are not already a Member, you can join at no cost. The contest ends at midnight on January 12th, 2019.