Love for latkes
December 2, 2018 by Darcie
Latkes are among the many traditional foods that will make an appearance on tables during Hanukkah, which began today. Epicurious offers tips on how to make perfect potato latkes to ensure that each one is light, crispy, and delicious. Follow these steps and your friends and family will be asking for this classic holiday treat year-round.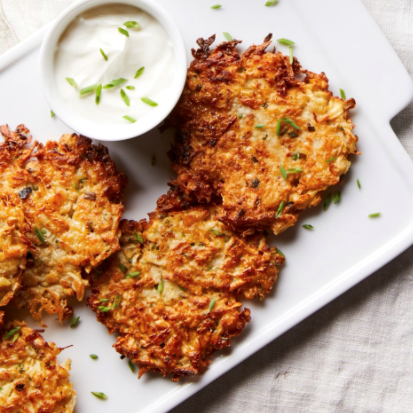 After testing different types of potatoes, Epicurious found that russets work best. Their high starch content means they are less watery and don't require a binder. Speaking of water, you want to make sure you squeeze as much as possible out your latkes before frying to make sure they achieve maximum crispness.
After you have shaped your potato mixture, the next crucial step is frying. Using the right amount of fat is important so that the latkes don't stick to the pan or become too greasy. Epicurious recommends a combination of vegetable oil and schmaltz (rendered chicken fat) to boost the flavor of your latkes.
The EYB Library has plenty of latke recipes both traditional and innovative. Here is a sampling to get you started:
Latkes from Jerusalem by Yotam Ottolenghi and Sami Tamimi
Potato latkes with apple-date chutney and cinnamon sour cream from Leite's Culinaria
Parsnip-celery root latkes from EatingWell Magazine (pictured above)
Crispy potato latkes from 'The Artisan Jewish Deli at Home' by Michael Zusman and Nick Zukin
Herb and scallion latkes from The Kitchn
Sweet potato latkes with spiked applesauce from Crossroads by Tal Ronnen and Scot Jones and Serafina Magnussen
Seen anything interesting?
Let us know
& we'll share it!